Earthquake rolls across the Bay Area Friday night
OAKLAND, Calif. - An earthquake rolled across the Bay Area Friday night with residents from multiple Bay Area cities reporting they felt the shake.
The United States Geological Survey originally estimated the quake at a 4.0 magnitude with an epicenter near Millbrae. It was upgraded shortly after to a 4.1 before being downgraded to a 3.9 and 3.7 magnitude quake.
The temblor rattled through the area at 6:38 p.m.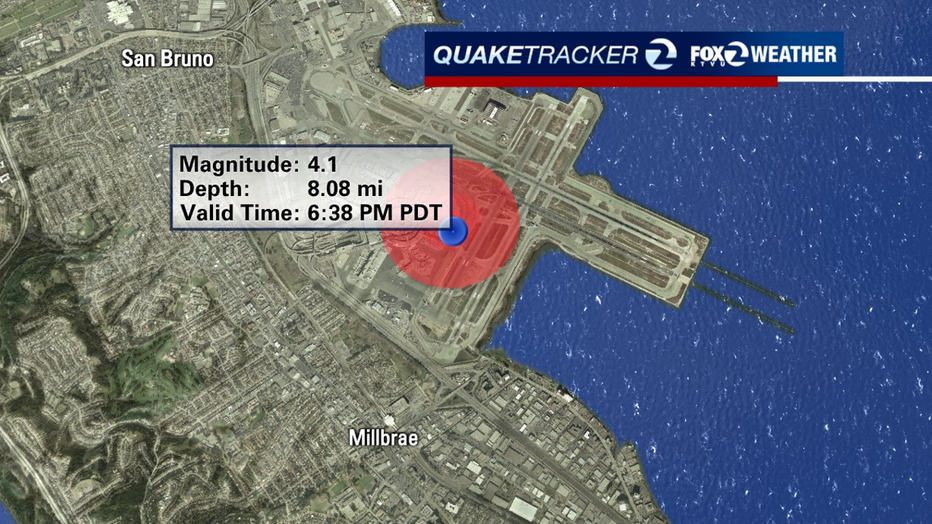 Inspectors at San Francisco International Airport said there are no reports of damage to the runways.
BART reduced speeds while crews inspected its tracks. 
Many social media users were posting that they did not receive a ShakeAlert on their devices. The USGS said that since the quake was below magnitude 4.5, the alerts were not sent out. 
No injuries were immediately reported. 
Callers from San Leandro, Oakland, San Mateo, San Francisco, Newark and other cities told the KTVU desk they felt the earthquake.
A KTVU photographer out at Fisherman's Wharf on another story spoke with Steve Mazzari. "I was just slammin' 'Dollaritas' up at the Applebee's with some friends and it was a big shake. It was only like, probably a couple of seconds. Everyone stopped talking. It was a big one," said Mazzari. 
Acknowledging he isn't the best at gauging earthquake magnitude, he underestimated the quake's strength, by guessing it was a 3.0. When we told him it was a 3.9 (when that was the accurate measurement) Mazzari said, "That might be the biggest one that I've ever felt." 
He said fellow diners got silent and everyone had a collective moment of wondering if the earthquake was going to stop. 
"And then it passed. Some people said, 'That's my first one,'" said Mazzari. "People freaked out. For like one second there was a moment of panic." 
Mazzari said he's lived in the Bay Area for six years and is no stranger to feeling an earthquake. "That's definitely one of the bigger ones I felt." Feeling festive on a Friday night, he concluded by reminding our camera person that 'Dollaritas' are back. 
One resident in Millbrae posted on X, formerly Twitter, that it sounded like a "truck crashing into something."
One resident reported feeling it in San Rafael.
It was even felt as far south as Santa Cruz, according to one X poster.
One resident said the earthquake had her "whole apartment movinnnnn," she posted on X.