'Duke' the K-9 apprehends burglary suspect hidden in backyard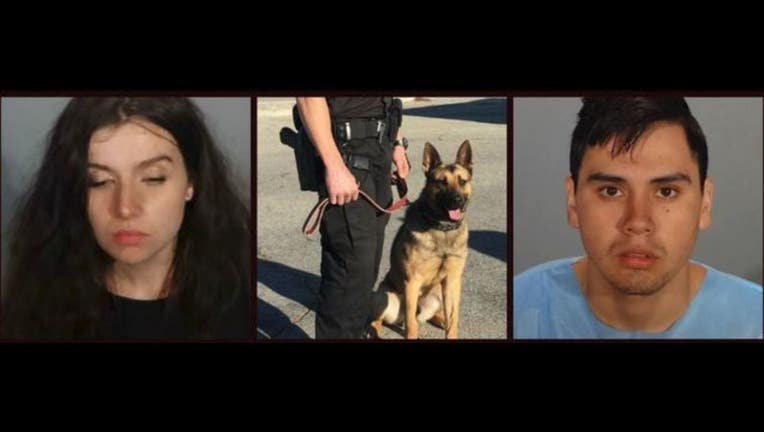 article
GLENDALE. CA (FOX 11) - Duke the K-9 and his partner in crime of the Glendale Police Department caught a burglary suspect and his companion hiding out in a back porch of a residence last Friday.
Glendale officers responded to a commercial burglary that just occurred in the 600 block of North Pacific in the City of Glendale. Upon arrival, an officer located a suspect who matched the description of one of the burglary suspects. When the male suspect saw the officer he immediately fled on foot and hid within a residential neighborhood.

Responding officers established a perimeter to contain the area. Two local schools were placed on "lock down" during the search as a precaution for the safety of the students and staff.
Multiple resources responded in order to help search for the suspect, including the Pasadena Police Department airship and two Glendale Police K-9 teams.

The police systematically searched multiple residential properties in order to locate the suspect. Through investigative means, the suspect was identified as 24-year-old Joel Cotrina of Glendale, a parolee, who had served time in prison for burglary. While searching a residential property, Officer Matt Wilson and his K-9 partner, Duke, located and apprehended the suspect, who was hiding on the back porch of an occupied residence.
Further investigation revealed a female companion, identified as 19-year-old Tyler Lynn Calvillo of Los Angeles, was also involved in the burglary.
Officers located the stolen items from the burglary in the suspect's vehicle and in bushes near the burglary scene.
Both Cotrina and Calvillo were placed under arrest and booked for burglary. Cotrina was also booked for evading and domestic violence for an incident that was reported to the Glendale Police Department on November 16th.
Anyone with information regarding this case is encouraged to contact the Glendale Police Department at 818-548-4911.
Copyright 2017 FOX 11 Los Angeles : Download our mobile app for breaking news alerts or to watch FOX 11 News | Follow us on Facebook , Twitter , Instagram and YouTube .