Dolly Parton has no retirement plans, wants to 'drop dead in the middle of a song onstage'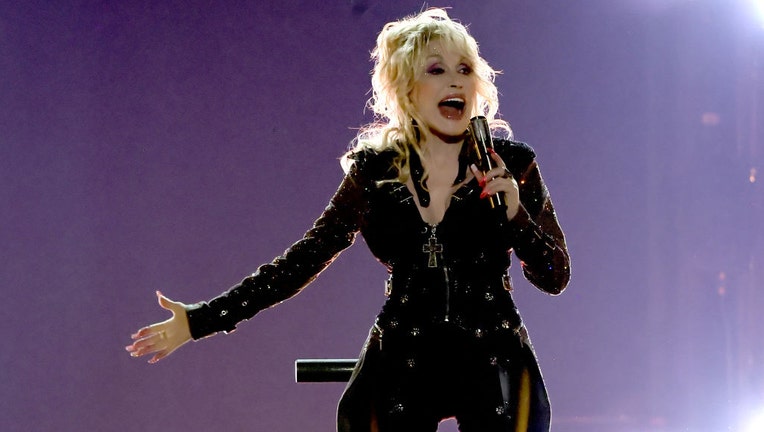 article
Dolly Parton has no plans to stop working, apparently ever.
In an interview with the "Greatest Hits Radio" show, Parton explained that she feels a responsibility to continue her career.
"I always believe that if you've wanted your dreams to come true and you are lucky enough to have that happen, then you've got to be responsible because you gotta keep the dream alive," Parton said. "And every dream kind of spawns another dream. You can branch off of almost anything that happens and make a business of that as well. So it's kind of like a tree with good roots – it's got a lot of limbs and it's also got a lot of leafs. So, why not make the most of it? And I'm not one to sit around and do nothing."
Then she joked, "I would never retire. I'll just hopefully drop dead in the middle of a song onstage someday." 
"That's how I hope to go," Parton continued. "Of course, we don't have much of a choice in that. But as long as I'm able to work, as long as my health is good and my husband is good. I mean, the only way that I would ever slow down or stop would be for that reason. But in the meantime I'm gonna make hay while the sun shines."
DOLLY PARTON CREDITS FAITH FOR BEING A 'GUIDING LIGHT': 'THROUGH GOD, ALL THINGS ARE POSSIBLE'
Parton got her start performing as a child and her sing and songwriting career took off in the 1960s. Since then, she's won 12 Grammys, been nominated for two Oscars, and earned 13 Academy of Country Music Awards, and was recently inducted into the Rock and Roll Hall of Fame.
During the interview, Parton also shared her future plans. 
"I have new dreams every day," the 77-year-old said. "I want to have my own network TV show where I can actually do a lot of new things and produce and I want to have my own story called 'The Life of Many Colors," where I have a whole series of my life, stuff that people haven't seen or known or heard about and my people where I come from, how I've got to be and how and who I am, but to really have the behind the scenes and the adventures of my life." 
She also shared she wants to add more TV hosting gigs in the future, and expand her lifestyle brand.
"But I do want to have my own line of makeup, my own line of wigs that sort of thing, and clothes. So those things all come under that 'branding' which we're doing so much of now," she said. 
"So, once you get to a certain place in your career, you get a lot of offers and some of them are just a little hard to turn down."