Dog stung hundreds of times, hospitalized after bee attack in Perris
PERRIS, Calif. - A dog was sent to the hospital Tuesday after a bee colony attacked the animal outside its Perris home.
Tommy Baker said he was looking to replace the fence in his yard, when he discovered a bee colony living in the fence recently. He told FOX 11 that he reached out to several bee removal companies to help get rid of the insects, but never received a call back. After looking up how to do it himself. Baker said he tried to remove the hive on Tuesday, but that angered the bees.
"I saw how big [the hive] was. Tt was very surprising to me. That was not what I expected when I opened it up," Baker said. "How agitated they were was not like anything I had ever seen before." 
When Baker left the area to allow the bees to calm down, Baker said the insects flew over to his neighbors' yard, and attacked their dog Chance the 2-year-old Rotweilier-pit bull mix. The bees swarmed Chance, stinging him at least 700 times on one side of his body, according to Baker.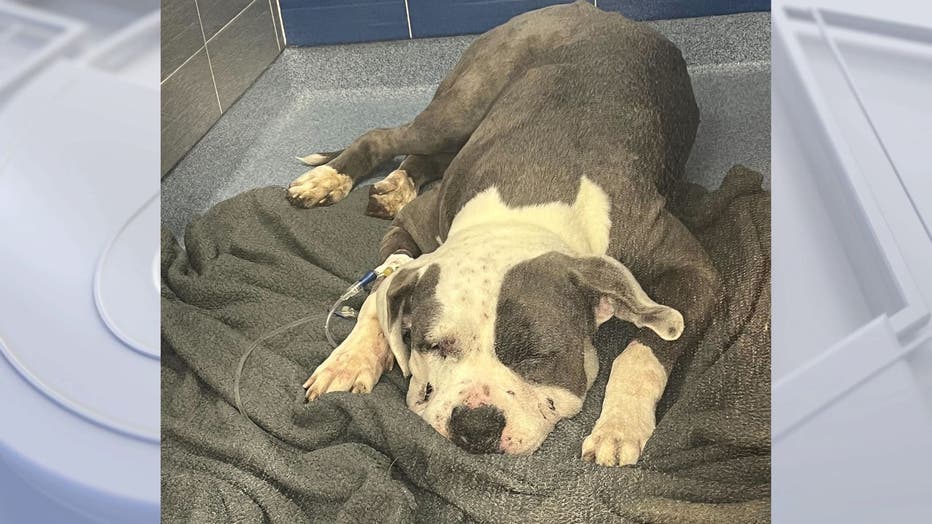 Baker's wife witnessed the swarm and jumped in to help Chance.
"She was able to run outside brought the dog into our garage, closed the door," Baker said. "She had bees in her hair there were bees on the dog, so she was able to knock the bees off and kill ones that were still there."
On Saturday, Chance's health took a turn for the worse. Chance's owner Brian Engen took the pup to the emergency animal hospital.
SUGGESTED: Encino bee attack: Bee swarm defense tips from an expert
"I thought that was it. I thought that was the phone call of 'Hey… it's time,'" Engen said.
Chance is still in the hospital. Engen said that the next 24 hours are crucial. 
"They're going to do some blood transfusions to try and up his platelet counts," Engen said. "He's a lovable dog. He's never been an aggressive dog. He's always been just a happy-go-lucky guy, and it's extremely hard on our family because he's part of our family."
As of Saturday afternoon, the GoFundMe for Chance has raised nearly $6,000.
This time of year is busy season for bees, experts told FOX 11, especially after all the rain California saw this spring. Experts say the best ways to make it through a swarm of bees unscathed is to not swat at the insects, and to hold your breath if possible.