Crews raise 'Conception' dive boat that sank after deadly fire
A salvage crew has raised the scuba diving boat that sank after a fire off the coast of Santa Cruz Island nearly two weeks ago. 
34 people died in the incident. 
A crane on a barge lifted the 'Conception' to the surface of the water on Thursday. The boat will be taken ashore for inspection by investigators.
The National Transportation Safety Board released a preliminary report saying all six crewmembers were asleep when the blaze broke out Sept. 2.
Related: NTSB: All six crew members were asleep when dive boat caught fire, killing 34
NTSB spokesman Eric Weiss says only three members of the crew were interviewed before the Coast Guard asked the agency to postpone the remaining two interviews pending further investigation. One crewmember died in the fire.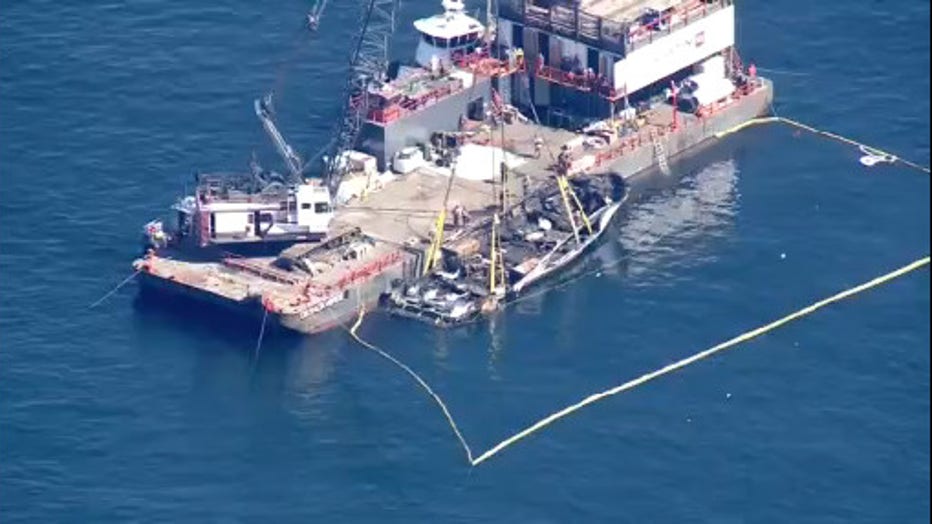 Divers have recovered the remains of all 34 victims — 21 women and 13 men ranging from 16 to 62 years old. The Santa Barbara County Sheriff's Office says the cause of death appears to be smoke inhalation, as they were trapped onboard.  
The National Transportation Safety Board has taken over the investigation.