Here are the craziest room service orders in the world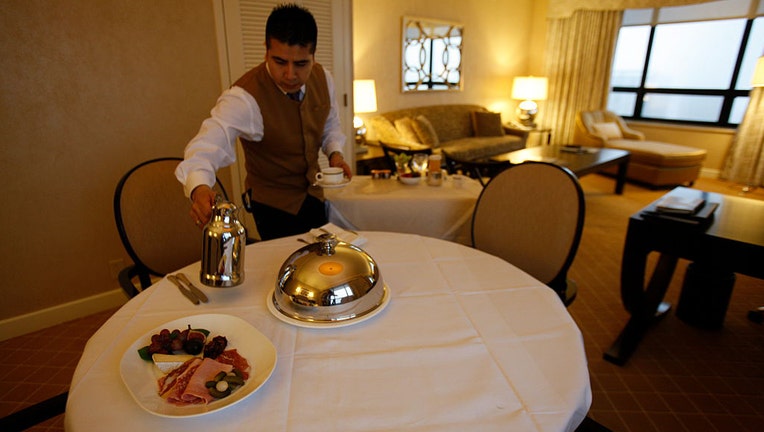 article
One of the perks of staying at a hotel is the room service, and when you're craving something to snack on, there's no shortage of tasty choices on the menu. 
But some guests take these requests to another level as Hotels.com shares in a new report.
The hotel-booking site surveyed 473 hotels globally, including in the U.S., U.K., Canada, Mexico, and South Korea, to learn the trendiest and strangest room service orders patrons ask for. 
RELATED: Become Hotels.com first official 'Poolhop' traveling the country reviewing hotel pools for $10,000
Some of the bizarre requests were "diet" water, melted ice cream, blowfish, and a raw fish caught by a traveler who wanted it cooked to order. 
Here is the full list of the 10 most unusual room service requests: 
Diet water
Melted ice cream
Blowfish
Boiled bottled water
A cooked fish that the guest brought with them
Cockle popcorn
No-egg-white omelet
Rice bowl for a dog
Bison
Eggless eggs in hell (shakshuka)
Hotels polled said burgers are the most popular room service item to order (49%) over pizza, club sandwiches, tacos, and fries.
Approximately 27% of hotels said guests spend more than $100 on room service orders, Hotels.com noted.
The report also said that steak and champagne are the most expensive items on hotel room service menus.
Yet, some odd demands extend past food because some hotels offer in-room concerts and a personal LEGO butler. Hotels.com featured unique room service experiences for guests to enjoy at their next stay. 
The Plaza Hotel in New York City is known for its famous "Home Alone Sundae" inspired by the meal from the "Home Alone" movie starring Macaulay Culkin. This massive sundae has 16 scoops of ice cream with layers of toppings for $300.
But if you have a taste for a lunch or dinner entrée, the Post Oak Hotel in Houston, Texas, serves "The Black Gold Burger" featuring 16 ounces of Wagyu beef and black truffle with a caviar-filled black and 24K gold brioche bun for $1,600.
And LEGO fans can get their own butler at Ashford Castle in Co. Mayo, Ireland. Hotel guests can choose a LEGO set and request a butler.
This story was reported from Washington, D.C.