Corona residents evacuated after retaining wall collapses
CORONA, Calif. - Eight families were evacuated Monday afternoon after a retaining wall collapsed in a Corona neighborhood, fire officials said.
The wall collapsed following a series of torrential storms that drenched California, causing flooding and severe damage to the state's 58 counties. In the northern part of the state, the storms became deadly.
However, investigators have yet to verify that weather was the official cause of the collapse. 
Authorities said eight homes were red-tagged in the 2100 block of San Diego Drive, located near the intersection of Green River Road and Paseo Grande.
"We do want to get to them back in their homes as soon as possible, but to give them a time limit would be a complete guess and I don't want to do that to them," an official with Corona PD told FOX 11. 
SkyFOX flew over the scene Tuesday morning showing the homes in the hillside community.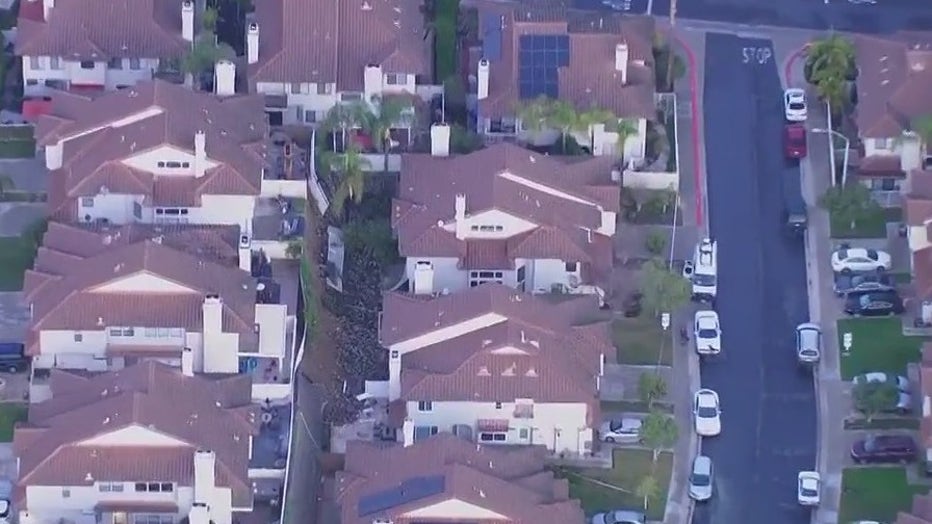 SkyFOX flew over the scene on Tuesday, Jan. 17, 2023, after eight Corona homes were evacuated after a retaining wall collapsed.
Officials with the Corona Fire Department officials wrote on social media that no injuries were reported and the Red Cross was assisting the displaced residents. 
 
Other homes in the area could be in danger but as of Tuesday morning, officials have not called for additional evacuations.