Community comes together, begins healing process after deadly school shooting in Santa Clarita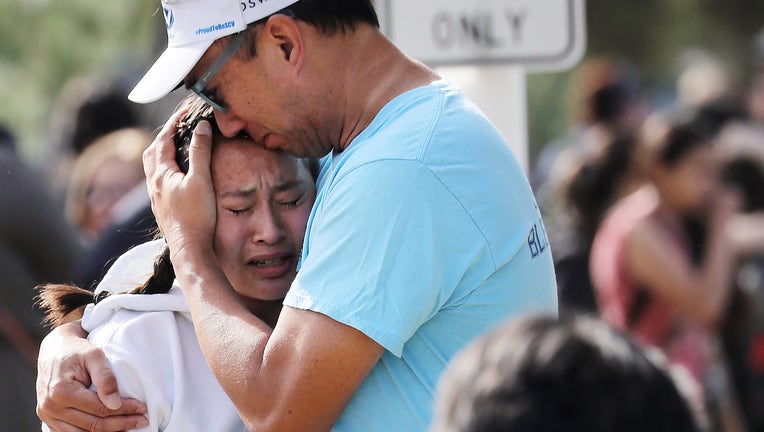 article
SANTA CLARITA, Calif. - A community left in shock was beginning its healing process on Friday after a deadly school shooting in Santa Clarita that left two teenagers dead and several others hurt.
All schools in the William S. Hart Union High School District were closed Friday and counseling was made available to staff and students. This comes one day after a Saugus High School student walked into the campus quad, pulled a .45 caliber semi-automatic pistol from his backpack and shot five classmates before turning the gun on himself on his 16th birthday, authorities said.
Related: 
• 2 dead, several hurt after gunman opens fire at Saugus High School in Santa Clarita
• What we know about the Saugus High School suspected shooter
• Saugus High School shooting suspect allegedly carried out deadly attack on his birthday, authorities say
• 15-year-old girl killed by student gunman in Saugus High School shooting identified
"Out of respect for the victims and their families, all Hart district schools will be closed (Friday)... and district counselors and support provided by neighboring districts will be available to students and staff... (Friday) from 8 a.m. to 4 p.m. at Grace Baptist Church located at 22833 Copper Hill Drive,'' Mike Kuhlman, deputy superintendent of the Hart district said.
The deadly school shooting claimed the lives of a 15-year-old Gracie Anne Muehlberger and a 14-year-old Dominic Blackwell.
At a vigil Thursday night at Grace Baptist Church in Santa Clarita, hundreds of community members gathered over their collective heartache to grieve together during such a devastating time. 
A Disaster Distress Helpline was established to provide 24/7 immediate crisis counseling and support for those affected by the school shooting. The number to call is 1-800-985-5990.
The shooter remained hospitalized Friday in critical condition from his self-inflicted gunshot wound.