City of Los Angeles 'on brink' of further shutdown orders as COVID-19 surges among youth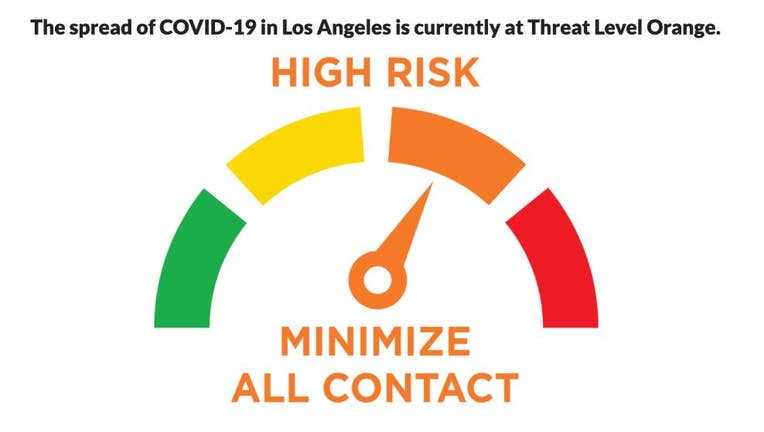 article
LOS ANGELES - Los Angeles County officials have reported the highest number of new COVID-19 hospitalizations of the entire pandemic --2,216, surpassing the previous high of 2,193, which was set Wednesday, and 15L.A. County children were reported to have developed a serious related condition that can cause death.
Mayor Eric Garcetti said on Sunday that the City of Los Angeles is "on the brink" of issuing another stay-at-home order as coronavirus cases surge in the region, as he urged the public once again to guard against complacency amid the ongoing pandemic.
Garcetti issued his statement during an interview with CNN.
Los Angeles County officials reported 2,848 new cases of COVID-19 and 11 more deaths Sunday, with 53% of the new cases occurring in people under the age of 41 years old.  
"Our thoughts and prayers are with the families that are experiencing the sorrow of losing a loved to COVID-19 and with those who are caring for a loved one experiencing illness," said Barbara Ferrer, the county's public health director.  
"We continue to reach concerning milestones and today we are seeing the highest number of COVID-19 hospitalizations.
Right now, young adults are being hospitalized at a rate not seen before. No matter how young you are, you are vulnerable to this virus. I urge everyone to take collective responsibility-- stay physically apart from people you don't live with, properly wear a face covering when you are outside your home but stay home as much as possible."  
Get breaking news alerts in the FOX 11 News app. Download for iOS or Android.
The county has identified 155,887 positive cases of COVID-19 since the pandemic began, with 4,095 deaths.  
As of Sunday, there were 2,216 hospitalizations, 28% of whom are in the ICU, and 18% on ventilators.  
Testing results are available for more than 1,515,000 individuals, with 10% testing positive. The cumulative positivity rate has increased from 9%to 10%. The majority of all cases have occurred in people under the age of 41, with 52% -- or 77,000 people -- younger than 41 years old infected with COVID-19.  
The mayor posted to Twitter saying: 
"Our COVID-19 threat level remains at orange. Our collective behavior can bend the curve and avoid going to red. Please avoid gatherings and wear your mask."
California reported on Saturday its fourth-highest daily total of newly confirmed coronavirus cases, with more than 9,000. The state also reported an additional 120 deaths.
RELATED: LA County coronavirus cases top 150,000, deaths surpass 4,000
City of LA to send business ambassadors to restaurants who fail to comply with COVID-19 guidelines
Last week Garcetti said he wouldn't hesitate to again shut down all but essential businesses. Those comments came days after California Gov. Gavin Newsom shut bars and indoor dining statewide, and ordered closures of hair salons, gyms, malls and other indoor businesses in Los Angeles and other counties experiencing the most significant surge of virus cases.
Los Angeles County reported a record-high number of COVID-19 patients in its hospitals last week, and the overall share of tests that have come back positive jumped from 8% to nearly 10%.
The mayor attributed the increase in spread not just to the reopenings, but also to people becoming less vigilant about following public health guidance and gathering with others outside their households.
Officials have reiterated that people must wear masks and maintain social distancing to slow the spread.
RELATED: Stay up to date on all coronavirus-related information
In other news about the outbreak in California:
— Officials said a rare but serious and potentially deadly inflammatory syndrome believed to be associated with the coronavirus has been identified in 15 children in Los Angeles County. Multi-system inflammatory syndrome in children, or MIS-C, can cause different parts of the body to become inflamed. Symptoms include fever, vomiting, diarrhea, neck pain, rash, bloodshot eyes and exhaustion. Of the children, 73% were Latino, representing a disproportionate burden for the ethnic group, the Los Angeles Times reported.
— Merced County in central California has not conducted contact tracing for weeks, according to the Merced Sun-Star. Kristyn Sullivan, the county's supervising epidemiologist, said the county is now only doing case investigations — reaching out to infected people to tell them to quarantine, but not asking about their close contacts or all the places they've been recently.
She said that interviewing people about their contacts has become ineffective because there are too many cases. CalMatters reached out to 27 California counties with rising infections to ask about their extent of contact tracing. Merced was the only one that confirmed in June that it was no longer conducting it at all, although six did not respond. The other 21 said they were tracing most people or at least some.
Napa County north of San Francisco will start fining people who don't wear masks from $25 to $500. County supervisors last week passed an ordinance that would also impose fines of up to $5,000 for businesses that receive repeated complaints of people not wearing face coverings. 
CNS contributed to this report.