Burger King Brazil debuts 'Barbie' pink burger ahead of movie's release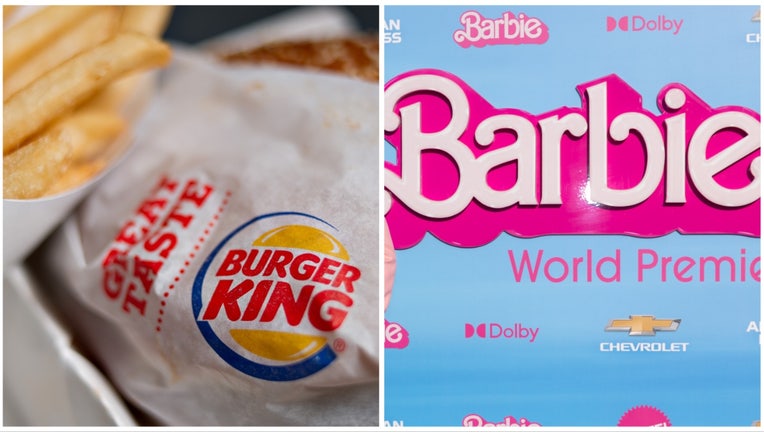 article
BRAZIL - Ahead of the opening of the new "Barbie" movie, Burger King Brazil has unveiled a Barbie Combo available across the South American country. 
And, in Barbie fashion, the burger's sauce is pink.
The fast food giant announced on social media that the combo will be available for a limited time via dine-in, drive-thru or delivery. 
"Barbies from all over Brazil, check out this news that arrived straight from Barbie Land to our kingdom!," the company wrote on Twitter. "It's real, now you can come running to BK to try the BK Barbie Combo." 
The meal features a "Pink Burger" which includes an "incredible smoky pink sauce" topped with bacon and cheddar cheese and "Ken's Potatoes" (which are French fries). 
Separately, Burger King Brazil also has a "Barbie Shake with Donut," which "complements the meal," according to the fast food chain. The shake consists of vanilla ice cream blended with strawberry Nesquik and is topped with a pink doughnut.
But Burger King is not the only brand jumping on the "Barbie" movie hyper. 
RELATED: Mattel releases new doll collection to celebrate 'Barbie' movie
Mattel recently announced a new line of dolls inspired by the upcoming film, which stars Margot Robbie and Ryan Gosling as Barbie and Ken.
RELATED: 'The Little Mermaid' McDonald's Happy Meal toys are here
The "Barbie" teaser trailer that dropped in April generated a ton of buzz and memes among fans. The official trailer was released last month, sharing more of the plot. 
In the film, Barbie becomes more self-aware and goes through somewhat of an existential crisis. Ken then accompanies her into the real world.
"Barbie," directed by Greta Gerwig and also starring America Ferrera, Kate McKinnon, Issa Rae, Rhea Perlman, and Will Ferrell, hits theaters nationwide on July 21.
This story was reported from Los Angeles.