Homeless man arrested for arson after small brush fire sparks in Malibu
MALIBU, Calif. - A homeless man was arrested for arson after a small brush fire ignited Friday morning in Malibu just off the Pacific Coast Highway near Tuna Canyon Road, according to the Los Angeles County Sheriff's Department. 
The fire broke out shortly after 5 a.m. and burned roughly an acre-and-a-half in the 18900 block of PCH. 
Fire authorities said the fire was moving uphill and with heavy fuel.
The PCH was initially closed in both directions. Just before 7 a.m., FOX 11's Stu Mundel reported there was a heavy backup on the westbound lanes.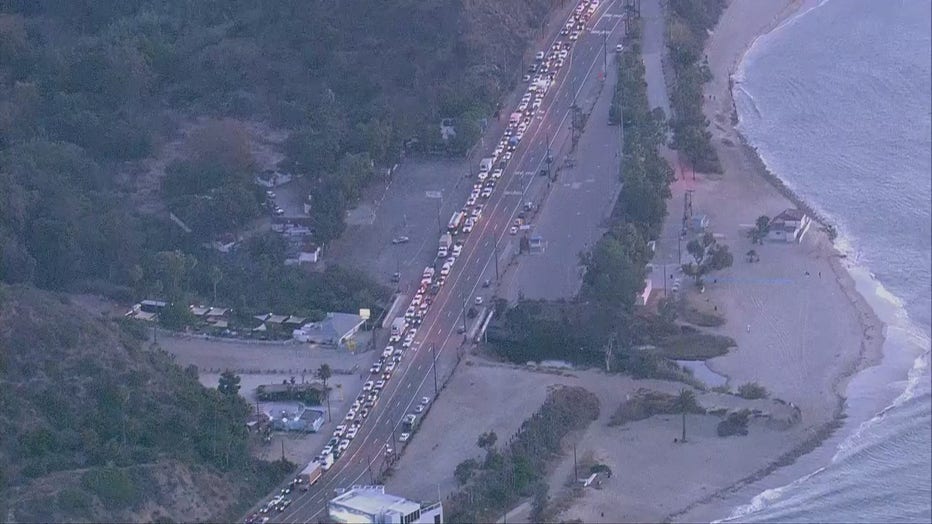 Just before 8 a.m., the Lost Hills Sheriff's Station said the eastbound lanes of the PCH had reopened. About 45 minutes later, the remaining roadways in the area were reopened, according to the sheriff's department and the California Highway Patrol.
Weather conditions were favorable in the firefight with light winds, high humidity and cool temperatures. 
The flames were confronted from the ground and the air, and after about an hour, the fire department reported that the fire's forward progress was stopped. No structures were damaged.
Just after 1:30 p.m., the sheriff's department announced Jacobo Hurtado, a 44-year-old transient was arrested for arson.
Fire crews remained on scene for several hours mopping up. The cause of the fire was under investigation.