Bringing Back Business: Robots cleaning out viruses at two iconic Beverly Hills hotels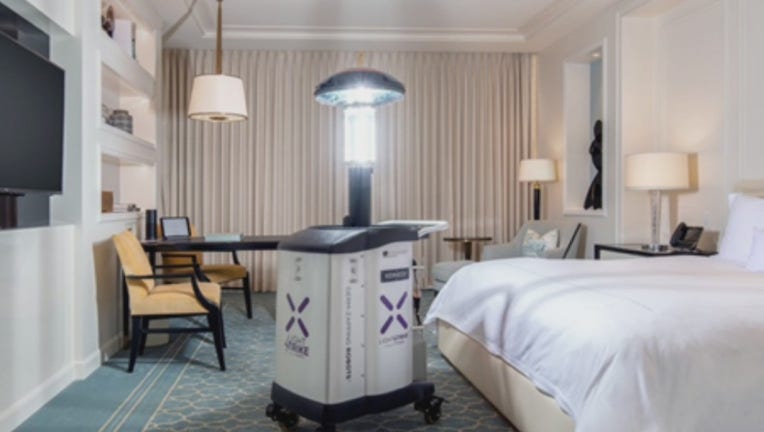 BEVERLY HILLS, Calif. - Two iconic Beverly Hills hotels are among the properties across the nation that are going high-tech and using virus-removing robots to clean and disinfect guest rooms.
Luxury and award-winning sister properties, Waldorf Astoria Beverly Hills and The Beverly Hilton are using an advanced cleaning and disinfecting strategy to ensure guest safety during the ongoing pandemic.
RELATED: Stay up to date on all coronavirus-related information
Hilton properties have implemented a new Hilton CleanStay program, which is a Lysol protection program.
In addition, the parent company of the two Beverly Hills properties, Oasis West Realty LLC, teamed up with SOS/Corporate Medical Advisors to create a "bespoke safety plan" that allows the properties to utilize advanced and hospital-grade technology.
"The health and safety of our loyal guests and dedicated team members has always been, and will always be, our number one priority. We are proud to invest in these enhanced disinfection measures across our properties to ensure we continue to keep everyone well," said Beny Alagem, CEO of Oasis West Realty LLC in a statement. "As we begin to travel again, whether that's locally, nationally or internationally, guests can rest assured they will find a safe haven at Waldorf Astoria Beverly Hills and The Beverly Hilton. We are deeply grateful to our ever-willing team members for working diligently and quickly implement these new protocols."
"What's important to note is that this does not take the place of an employee," David Alagem added. "Our housekeeping team still goes into the room and does the normal cleaning and sanitization progress…and the robot comes in after. The robot is actually the last person to leave the room."
Get breaking news alerts in the FOX 11 News app. Download for iOS or Android.