Blast kills hundreds at Gaza hospital; Hamas and Israel trade blame, as President Biden heads to Mideast
KHAN YOUNIS, Gaza Strip - A massive blast rocked a Gaza City hospital packed with wounded and other Palestinians seeking shelter Tuesday, killing hundreds of people, the Hamas-run Health Ministry said. Hamas blamed an Israeli airstrike, while the Israeli military said the hospital was hit by a rocket misfired by Palestinian militants.
The Gaza Health Ministry said at least 500 people were killed. Video that The Associated Press confirmed was from the hospital showed fire engulfing the building and the hospital's grounds strewn with torn bodies, many of them young children. Around them in the grass were blankets, school backpacks and other belongings.
Outrage over what many believed was an Israeli strike flared across the region, a day before President Joe Biden was due to arrive to show support for Israel and try to prevent the war from spreading. The carnage unfolded as the U.S. tried to convince Israel to allow the delivery of supplies to desperate civilians, aid groups and hospitals in the tiny Gaza Strip, which has been under a complete siege since Hamas' deadly rampage in southern Israel last week.
Hamas called Tuesday's hospital blast "a horrific massacre," saying it was caused by an Israeli strike.
The Israeli military blamed Islamic Jihad, a smaller, more radical Palestinian militant group that often cooperates with Hamas in their shared struggle against Israel. The military said Islamic Jihad militants had fired a barrage of rockets near the hospital at the time and that "intelligence from multiple sources" indicated it was "responsible for the failed rocket launch that hit the hospital."
RELATED: Biden to travel to Israel amid concern that Israel-Hamas conflict could expand
Hundreds of Palestinians had taken refuge in al-Ahli and other hospitals in Gaza City in past days, hoping they would be spared bombardment after Israel ordered all residents of the city and surrounding areas to evacuate to the southern Gaza Strip.
Ambulances and private cars rushed some 350 casualties from the al-Ahli blast to Gaza City's main hospital, al-Shifa, which was already overwhelmed with wounded from other strikes, said its director, Mohammed Abu Selmia. The wounded were laid onto bloody floors, screaming in pain.
"We are squeezing five beds into a single tiny room. We need equipment, we need medicine, we need beds, we need anesthesia, we need everything," Abu Selmia said, warning that the fuel supply for the hospital's generators will run out Wednesday. "I think Gaza's medical sector will collapse within hours."
Before the al-Alhi Hospital deaths, Israeli strikes on Gaza killed at least 2,778 people and wounded 9,700, according to the Gaza Health Ministry. Nearly two-thirds of those killed were children, a ministry official said. Another 1,200 people across Gaza are believed to be buried under the rubble, alive or dead, health authorities said.
Hamas' Oct. 7, attack in southern Israel killed more than 1,400 people, mostly civilians, and took some 200 captive into Gaza. Hamas militants in Gaza have launched rockets every day since, aiming at cities across Israel.
In protest over the purported airstrike, Palestinian President Mahmoud Abbas canceled his participation in a meeting with Biden, Jordan's King Abdullah II and Egypt's president set for Wednesday in Amman, Jordan to discuss the war. Abbas' Palestinian Authority runs parts of the West Bank.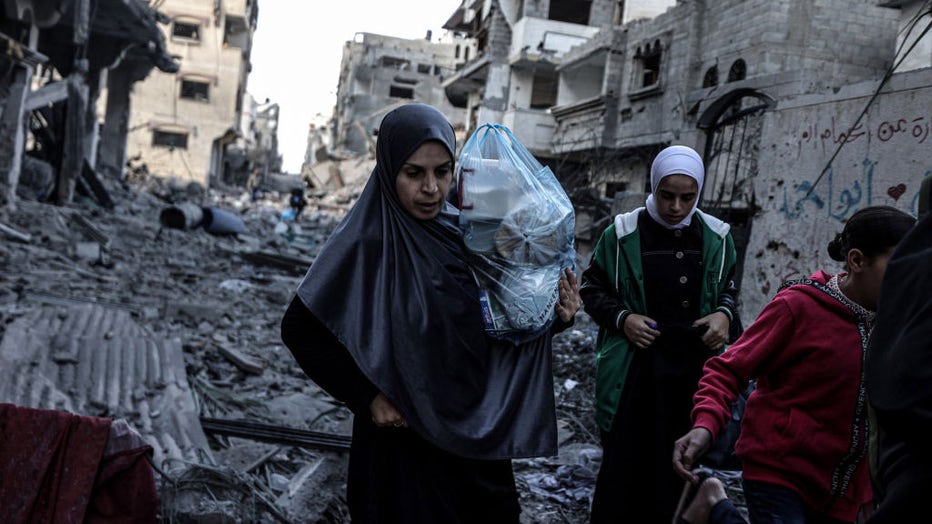 Palestinians carrying belongings flee to safer areas following Israeli bombardments on southern part of Gaza City, Tel al-Hawa neighborhood, Gaza on Oct. 16, 2023. (Photo by Ali Jadallah/Anadolu via Getty Images)
Hundreds of Palestinians flooded the streets of major West Bank cities including Ramallah, the seat of the Palestinian Authority, where protesters hurled stones at Palestinian security forces who fired back with stun grenades. Others threw stones at Israeli checkpoints, where soldiers killed one Palestinian, West Bank authorities said. Hundreds of people joined protests that erupted in Beirut and Amman, where an angry crowd gathered outside the Israeli Embassy.
Biden's visit in part aims to prevent the war from sparking a broader regional conflict. Violence flared Tuesday along Israel's border with Lebanon, where Iranian-backed Hezbollah militants operate and where Israel has evacuated nearby towns.
With tens of thousands of troops massed along the border, Israel has been expected to launch a ground invasion into Gaza, but its plans remained uncertain.
"We are preparing for the next stages of war," military spokesman Lt. Col. Richard Hecht said. "We haven't said what they will be. Everybody's talking about a ground offensive. It might be something different."
Throughout the day Tuesday, airstrikes killed dozens of civilians and at least one senior Hamas figure in the southern half of the Gaza Strip, where the Israeli military told fleeing Palestinians to go. An Associated Press reporter saw around 50 bodies brought to Nasser Hospital after strikes in the southern city of Khan Younis.
An airstrike in Deir al Balah reduced a house to rubble, killing a man and 11 women and children inside and in a neighboring house, some of whom had evacuated from Gaza City. Witnesses said there was no warning before the strike.
Shelling from Israeli tanks hit a U.N. school in central Gaza where 4,000 Palestinians had taken refuge, killing six people and wounding dozens, the United Nations Palestinian refugee agency said. At least 24 U.N. installations have been hit the past week, killing at least 14 members of the agency's staff.
The Israeli military said it was targeting Hamas hideouts, infrastructure and command centers.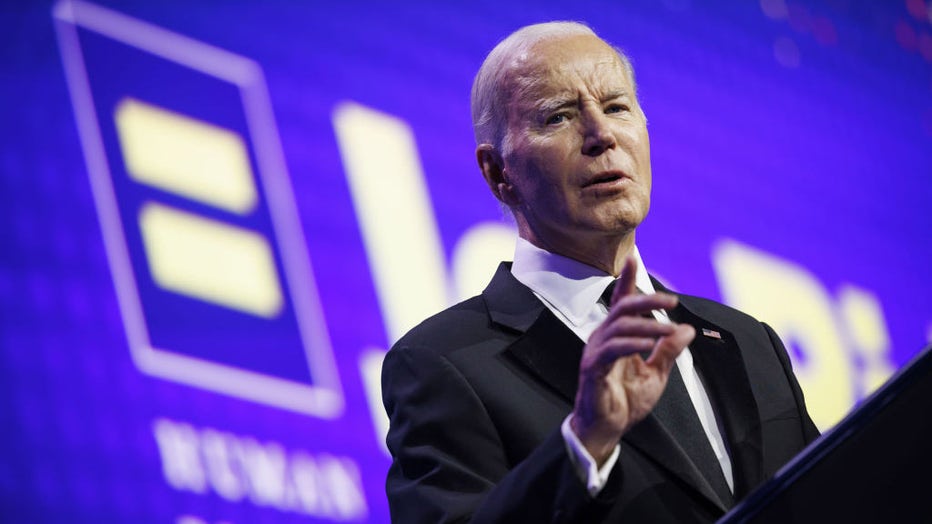 US President Joe Biden speaks at the Human Rights Campaign national dinner in Washington, DC, US, on Saturday, Oct. 14, 2023. Photographer: Ting Shen/Bloomberg via Getty Images
A barrage of strikes crashed into the Bureij refugee camp in central Gaza, leveling an entire block of homes and causing dozens of casualties among families inside, residents said. Among those killed was one of Hamas' top military commanders, Ayman Nofal, the group's military wing said — the highest-profile militant known to have been killed so far in the war.
RELATED: Yellen says US can afford to support 2 wars: 'America stands behind Israel, period'
Nofal, formerly the intelligence chief of Hamas' armed wing, was in charge of Hamas militant activities in the central Gaza Strip, including coordinating activities with other militant groups.
Israeli Prime Minister Benjamin Netanyahu sought to put the blame on Hamas for Israel's retaliatory attacks and the rising civilian casualties in Gaza. "Not only is it targeting and murdering civilians with unprecedented savagery, it's hiding behind civilians," he said.
In Gaza City, Israeli airstrikes also hit the house of Hamas' top political official, Ismail Haniyeh, killing at least 14 people. Haniyeh is based in Doha, Qatar, but his family lives in Gaza City. The Hamas media office did not immediately identify those killed.
With Israel barring entry of water, fuel and food into Gaza since Hamas' brutal attack last week, U.S. Secretary of State Antony Blinken secured an agreement with Netanyahu to discuss creation of a mechanism for delivering aid to the territory's 2.3 million people. U.S. officials said the gain might appear modest, but stressed that it was a significant step forward.
Still, as of late Tuesday, there was no deal in place. A top Israeli official said his country was demanding guarantees that Hamas militants would not seize any aid deliveries. Tzahi Hanegbi, head of Israel's National Security Council, suggested entry of aid also depended on the return of hostages held by Hamas.
"The return of the hostages, which is sacred in our eyes, is a key component in any humanitarian efforts," he told reporters, without elaborating.
More than 1 million Palestinians have fled their homes — roughly half of Gaza's population — and 60% are now in the approximately 14-kilometer (8-mile) long area south of the evacuation zone, the U.N. said.
Aid workers warned that the territory was near complete collapse. Hospitals were on the verge of losing electricity, threatening the lives of thousands of patients, and hundreds of thousands of people searched for bread and water.
The U.N. agency for Palestinians said more than 400,000 displaced people are crowded into schools and other facilities in the south with little food or water.
Israel opened a water line into the south for three hours that benefited only 14 percent of Gaza's population, the U.N. said.
At the Rafah crossing, Gaza's only connection to Egypt, truckloads of aid were waiting to enter. The World Food Program said that it had more than 300 tons of food waiting to cross into Gaza. Civilians with foreign citizenship — many of them Palestinians with dual nationalities — also waited in Rafah, desperate to get out.
Kullab reported from Baghdad. Nessman reported from Jerusalem. Lee reported from Amman. Associated Press journalists Amy Teibel in Jerusalem; Abby Sewell in Beirut; Samy Magdy and Jack Jeffrey in Cairo; and Ashraf Sweilam in el-Arish, Egypt contributed to this report.