Authorities investigate deadly deputy-involved shooting on East L.A. high school campus
LOS ANGELES - Homicide detectives with the Los Angeles County Sheriff's Department investigated a fatal deputy-involved shooting that involved a sword-wielding suspect on a high school campus in East Los Angeles Wednesday. 
Officials say two 911 calls were placed from a home located in the 900 block of Miller Avenue near City Terrace Park at 8:35 a.m. The callers reported a family disturbance and said that a family member was in violation of a restraining order. 
Deputies arrived and discovered the suspect was holding a 3-foot long sword at the property, sheriff's officials said. 
Deputies repeatedly asked the suspect to drop the weapon and he refused to comply. That's when officials say the suspect took off running and led deputies on a foot pursuit. 
The foot chase came to an end at about 9 a.m. in the outdoor lunch area at Esteban E. Torres High School on the 4200 block of Dozier Street, located near the intersection of Cesar E. Chavez and Eastern avenues.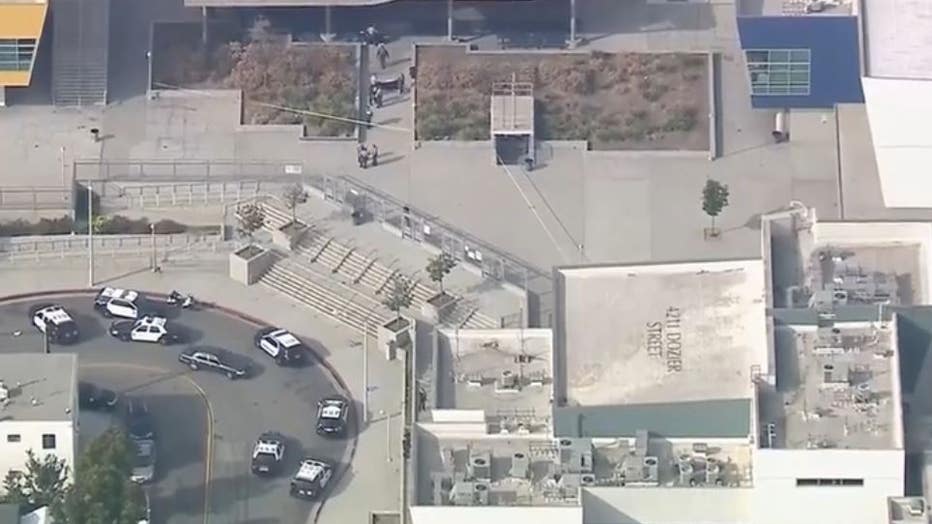 The suspect allegedly charged toward one of the deputies with his sword in the air when deputies fired at least one shot. 
Parademics with the Los Angeles County Fire Department were called to the scene and conducted life-saving efforts. The suspect, who has not been identified, was pronounced dead at the scene.
Some concerned parents arrived at the school and were not pleased about the lack of communication the school provided. 
"The school hasn't given me any information. It was my daughter who called me," a frustrated parent told FOX 11. 
LACSD confirmed no deputies, students or school employees were injured in the shooting. 
The high school was placed on lockdown but school police ensured the public that it was not an active shooter threat.
"The neighboring schools are NOT affected and are operating within normal school operations," LA School Police said in a tweet.
Investigators canvassed the school grounds and conducted interviews with students who may have witnessed the shooting. The school also informed students that counseling services were available. 
Classes would be dismissed at their regular time at 3 p.m., school officials said.
Parents who wished to pick up their kids early were asked to have proper identification.