Storm brings heavy rain and snow to SoCal, leading to mudslides in Orange County
LOS ANGELES - A winter storm warning was in effect Friday morning for Los Angeles County for a system that dropped several inches of rain in several parts of the Southland, sparked mudslides in Orange County's Silverado Canyon and was blamed for at least 50 rain-related accidents on area freeways.
BEACH CLOSURES
On Friday morning, it was announced Los Angeles County beaches from Zuma to Marina Del Rey were closed due to the potential for lightning. 
Officials in Huntington Beach called for voluntary evacuations. 
VENTURA COUNTY
A Flood Advisory went into effect for most of Ventura County through 10:30 p.m. Friday, the National Weather Service said. Moderate to heavy downpours were expected in the area. 
LOS ANGELES AND ORANGE COUNTY 
Thursday's storm started with steady rainfall ended with mudslides being spotted in parts of Orange County late Thursday night.
According to the National Weather Service, nearly 3 inches of rain fell in East Pasadena and about 2 inches in Culver City over the past three days. Bel Air, Woodland Hills and La Canada Flintridge each received more than 1.5 inches of rain and more than 1.25 inches fell in downtown Los Angeles, Beverly Hills, Burbank and Northridge over the same period.
The mudslides came hours after forecasters say "atmospheric river event" dropped more than 12 inches of rain up in parts of San Luis Obispo County. 
MUDSLIDES IN ORANGE COUNTY
FOX 11's crews were on scene when multiple mudslides broke out in Silverado Canyon.
SNOW IN THE MOUNTAINS
A winter storm warning remains in effect for Southern California counties through 3 p.m. Friday, with up to feet of snow potentially accumulating at elevations above 6,000 feet.
Snowfall accumulated in the mountain communities, as well as along the Cajon Pass in the 15 Freeway. 
EVACUATIONS
An evacuation order was downgraded to an evacuation warning on Friday morning for Mountain Home Village, northeast Yucaipa and Oak Glen amid flooding and mudslide concerns.
This applies to:
Community of Oak Glen
Northeast Yucaipa: east of Bryan Street and north of Date Avenue
Mountain Home Village: West of State Highway 38
The Red Cross has established a Reception Center at Redland East Valley High School on 31000 East Colton Avenue.
The Devore Animal Shelter is accepting large animals. 
The Orange County Sheriff's Department on Thursday morning issued voluntary evacuation warnings for residents in Silverado, Williams and Modjeska canyons, noting the potential for "heavy rain, subsequent flooding and debris flows" in the recent Bond Fire burn area.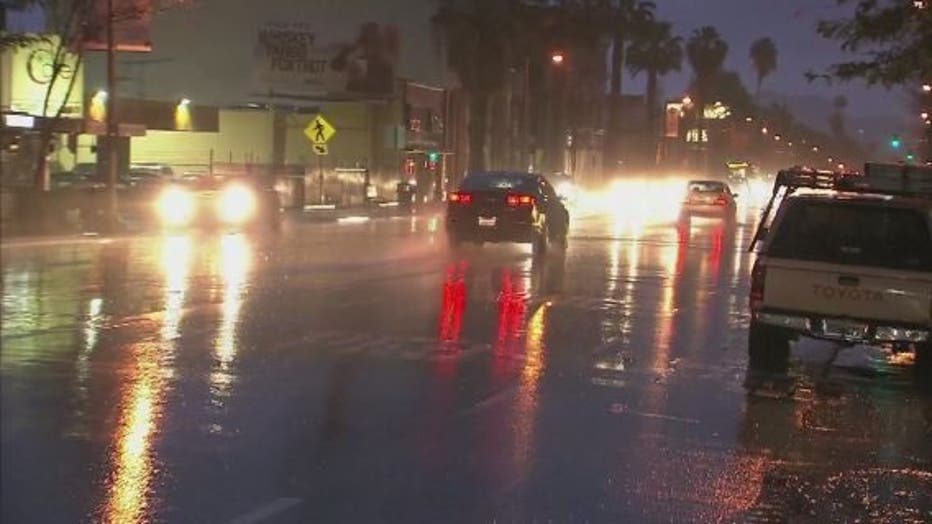 The Red Cross established a temporary evacuation point at 2 p.m. at El Modena High School, 3920 E. Spring St. in Orange, to offer resources to evacuees, such as snacks and information on available hotels and lodging. The evacuation point will not be operated as a shelter.
As of early Friday morning, officials did not say how many people were hurt in the mudslide.
MONTEREY COUNTY
Northern and Central California have been hit with a series of storms. Drivers were asked to avoid Highway 1 in San Luis Obispo and Monterey counties due to landslides. 
FOX 11's Kelli Johnson and CNS contributed to this report.
Get your top stories delivered daily! Sign up for FOX 11's Fast 5 newsletter. And, get breaking news alerts in the FOX 11 News app. Download for iOS or Android.