'Army of volunteers': Gov. Gavin Newsom calls on healthy Californians to help amid COVID-19 crisis
SACRAMENTO, Calif. - Gov. Gavin Newsom Tuesday said he hopes to assemble an "army of volunteers" with the launch of an interactive website that will enable healthy Californians to sign up and volunteer in their communities in the battle against COVID-19. 
"The happiest people I know are the people that volunteer," Newsom said. 
Those in good health are asked to sign up at Californians For All.
Newsom said volunteer opportunities include delivering meals, providing hygiene kits, donating blood, and assisting at local food banks during the social distancing era to help those in need.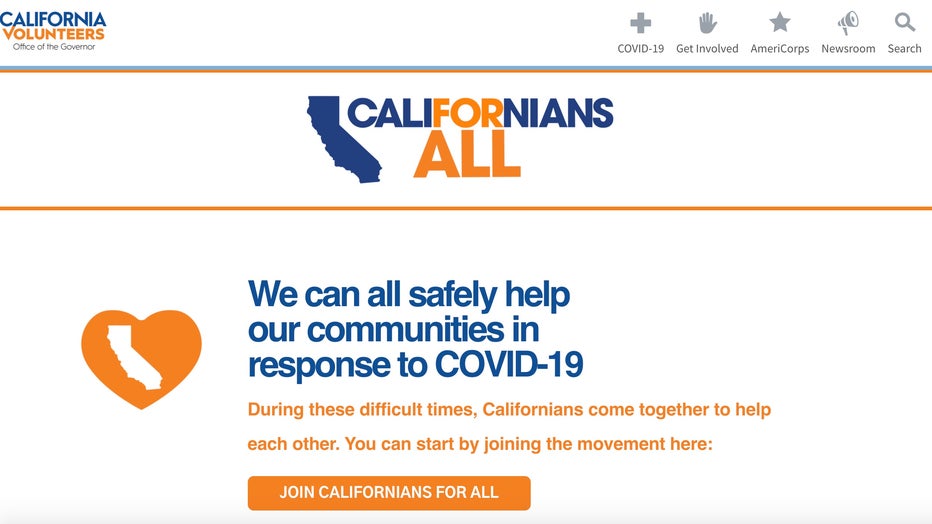 On the new website, potential volunteers will be asked to fill out their areas of interest, engage in a two-way conversation, and will be matched with opportunities in real-time. 
Those who sign up will also receive weekly emails that will keep them updated on state and local priorities and opportunities.
According to Newsom, food banks across the state have lost 70% of their volunteers since the beginning of the coronavirus pandemic. 
Newsom spoke to the "spirit" of California that he said encompasses the spirit of generosity and attention. It's the same spirit that allows "California to bend the curve," as tens of millions continue practicing physical distancing. 
RELATED: Stay up to date on all coronavirus-related information
Newsom is expected to provide further details on easing the state's stay-at-home order Wednesday. 
Get breaking news alerts in the FOX 11 News app. Download for iOS or Android.