Bassinets recalled over suffocation risks to babies; seller not offering fix
A line of rocker bassinets has been recalled over safety concerns, but the company is not cooperating with regulators or offering a fix for the faulty product.
According to the U.S. Consumer Product Safety Commission (CPSC), anyone with a 5in1 Rocker Bassinet should immediately stop using it because of suffocation, strangulation and fall hazards to infants.
READ MORE: Water Bead toys recalled after one baby dies, another seriously injured
The CPSC says the bassinets do not conform to the safety requirements for bassinets and lack required markings, labeling and instructions. The bassinets and their packaging also lack a tracking label containing certain information, such as the date of manufacture, required for children's products including durable infant or toddler products.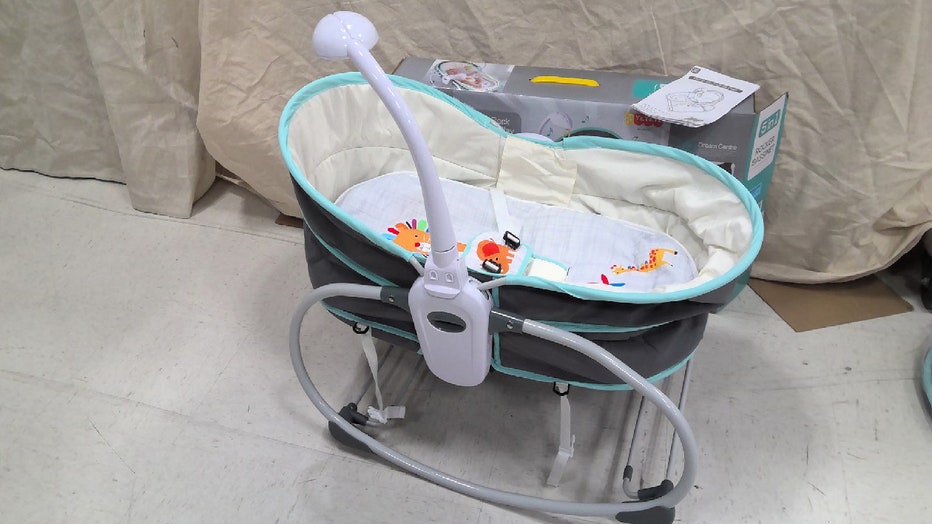 5in1 Rocker Bassinets recalled (CPSC)
The importer, Rev Grace Import Inc., of Pleasant Hill, Missouri, is not cooperating with the CPSC on the recall and not offering a fix for customers who bought it.
The bassinets were sold online at Walmart.com and other websites. The bassinets were sold in green and gray color schemes and advertised and listed as a 5in1 Rocker Bassinet on the product packaging.
READ MORE: Recent food recalls spurred by foreign objects like rocks, insects and plastic - which isn't uncommon
CPSC says anyone who has the bassinet should disassemble it and throw it away. 
Best places for babies to sleep
According to the CPSC, the best place for an infant to sleep is on a firm, flat surface in a crib, bassinet or play yard.  
Use a fitted sheet only and never add blankets, pillows, padded crib bumpers or other items to an infant's sleeping environment.
Infants should always be placed to sleep on their back. Infants who fall asleep in an inclined or upright position should be moved to a safe sleep environment with a firm, flat surface such as a crib, bassinet or play yard.