$20K reward offered for info on wild La Verne jewelry store robbery
LA VERNE, Calif. - The reward for information on a wild daytime robbery at a La Verne jewelry store last month is now up to $20,000 after the Los Angeles County Board of Supervisors decided to match the reward offered by the city. 
The attack happened back on July 1, just after noon, at Rodeo Jewelers on Foothill Boulevard in La Verne. Security camera footage from the store captured the whole thing. A white sedan was seen plowing through the front of the store, before a group of thieves got out and started smashing display cases. 
Four suspects got out of the car. One even picked up a chair in the store and started attacking an employee behind the counter with it.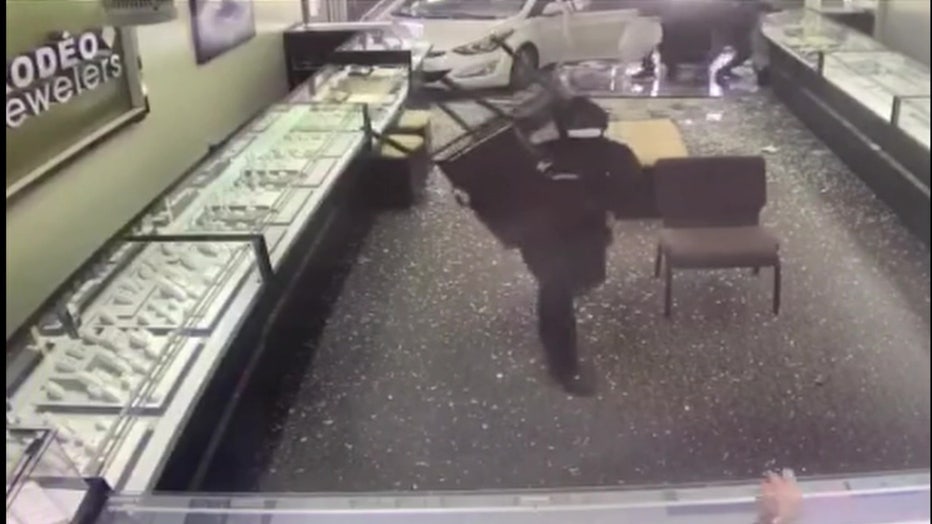 After taking what they wanted, La Verne Police said the thieves got into another car, a black sedan, and drove away. 
"This family-owned business was hit hard and deserves our support," LA County Supervisor Kathryn Barger said in a statement Tuesday. "I am hopeful this reward will encourage anyone with information to reach out."
Anyone with information on this robbery was asked to contact the La Verne Police Department by calling 909-457-6541, or emailing detectives@lvpd.org.