2 dead, 3 seriously injured following brief police pursuit in La Verne
LA VERNE, Calif. - Two people were killed and three others were seriously injured when a car being pursued by police slammed into another vehicle Thursday night, police said. 
Officers with the La Verne Police Department attempted to conduct a traffic stop after a red Acura Integra failed to stop at a stop sign near the intersection of White Avenue and Arrow Highway at 8:50 p.m.  Police chased the vehicle after the Integra continuned to travel northbound at a high rate of speed.
Nearly a mile into the pursuit, the Integra slammed into a black Toyota Corolla near White Avenue and College Lane. 
The drivers of both vehicles were pronounced dead at the scene, said Sgt. Justin Newman with La Verne police. The passenger inside the Corolla and two passengers inside of the Integra were rushed to a local hospital by the La Verne Fire Department. 
All three passengers were listed in critical condition.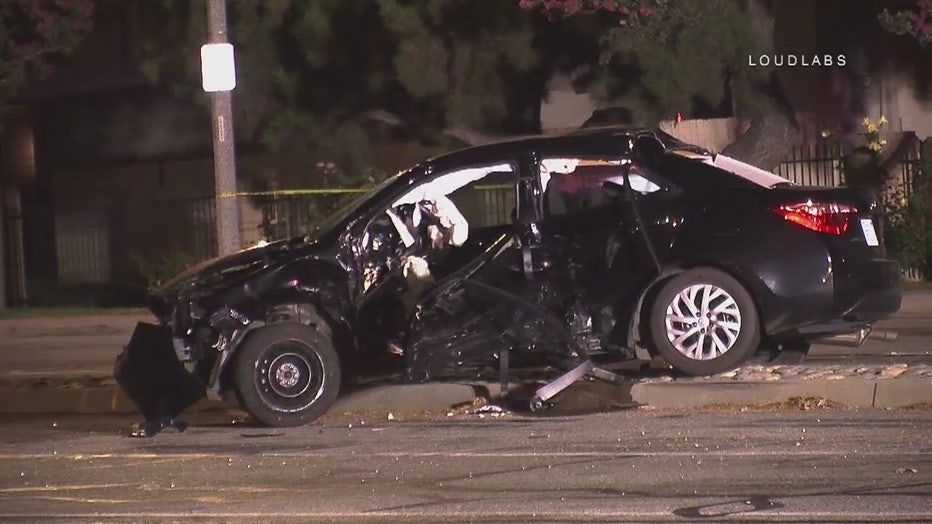 The driver of the Corolla was identified as 68-year-old Merlet Reyes of La Verne. The identities of the second driver and three passengers who remain hospitalized were not released. 
California Highway Patrol is handling the investigation. Anyone with information is asked to contact the La Verne Police Department at 909-596-1913. Those who want to provide information anonymously can do so by contacting Crime Stoppers online.