Voices of the People: A podcast remembering Kobe Bryant, hosted by Christine Devine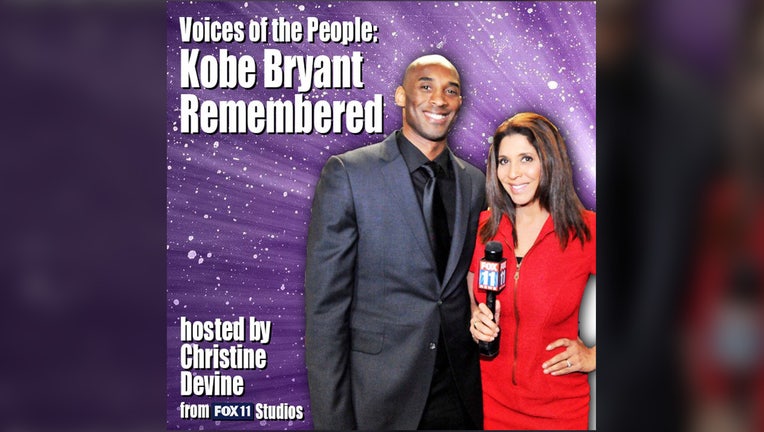 article
LOS ANGELES - "Voices of the People" is a podcast hosted by FOX 11 News Anchor Christine Devine that remembers and celebrates the life of Kobe Bryant through the lens of the people.
Entertainer and singer Tim Johnson Jr. has graciously allowed us to use his song "Wings" throughout this podcast series.
LISTEN TO THE EPISODES BELOW
Prologue: Intro to 'Voices of the People podcast series
-----------------
1. Famed LA muralist captures Kobe Bryant in art designed to make history
As the city of LA watches a mural go up on a downtown high rise, muralist Robert Vargas is working to set a Guinness World Record. It should come as no surprise that Kobe Bryant would be immortalized in the masterpiece he calls "Angelus."
-----------------
2. Filmmaker, Philanthropist, Model Cordell Broadus remembers Kobe
As the son of famous rapper Snoop Dogg, Cordell Broadus is no stranger to the rich and famous. Yet still, the son of Snoop Dogg was in awe of Kobe Bryant the first time they met. Bryant had retired and was gifted a custom Laker lowrider by Snoop.
-----------------
3. Orange County Entrepreneur/Philanthropist Scott Seigel remembers Kobe
Scott Seigel made a name for himself as the (former) owner of California Closets OC alongside his wife Leslie. The Newport Beach couple has dedicated their lives to philanthropy. As the one who booked speakers for a distinguished Speakers Series, he was set on Kobe Bryant. In 2017 Kobe spoke before a Jewish men's group, Solomon Society. Christine Devine emceed.
-----------------
4. Mother, professional make-up artist Sylvia Santana remembers Kobe
Professional make-up artist Sylvia Santana lost her father in an accident when she seventeen years old. That crash left her mother a widow with four children to still raise. Sylvia shares her life story and remembers the innocence lost. Sylvia shares loving words for Kobe Bryant's widow Vanessa and surviving children Capri, Bianka, and Natalia.
-----------------
5. AEF Pro Camp - Long Beach Youth Basketball team remembers Kobe
Kobe Bryant's legacy and inspiration through the eyes of a Long Beach youth basketball team, AEF Pro Camp. Coach Will says he was so torn when news hit of the death of Kobe Bryant that he walked out of work and just went home.
-----------------
6. Entertainer/Singer Tim Johnson Jr. remembers Kobe
Tim Johnson Jr. is a dynamic 20-year-old Philly native who came to Los Angeles to live out his dream as an entertainer. He has appeared on Television (CBS FBI, Futureman on Hulu, Ballers on HBO), in movies (Fist Fight), and in theater as Young Simba in Disney the Lion King. His new song "Wings" is a tribute to Kobe and Gig Bryant and the families that passed away in the helicopter accident on January 26th, 2020. He says proceeds from sales and downloads are going to the Mamba Sports Foundation.
Tim has graciously allowed us to use this song throughout our podcast series.
-----------------
7. Popular graffiti artist Black Light King remembers Kobe
Graffiti artist Black Light King stepped out of his norm to honor Kobe Bryant in one of the many murals popping up all over the world. Black Light King is known for elaborate fluorescent art that covers the entire side of a building all done by spray paint can. He says the hip hop community and graffiti art community loves basketball. He wanted his mural "in the hood" and says Kobe was an inspiration for many Latinos. 
-----------------
8. Former Harlem Globetrotter Tammy Brawner, High school basketball coach Tear'a Laudermill remember Kobe
Perhaps no one can appreciate the contributions by Kobe Bryant to girl's basketball than two women who play the sport. One, Tammy Brawner, is a former Harlem Globetrotter, the 10th female to play in the league. She's now a producer and actress and would love to win an Oscar-like Kobe. The other, Tear'a Laudermill(coach Tee),  traveled the world playing basketball and is now a high school coach in Riverside. She once taught an all-girls camp at Kobe's sports facility, Mamba Academy. A photo is in ESPN'S commemorative issue on Kobe. Both give Gianna Bryant major props and share their thoughts on Kobe's legacy as a player and dad
-----------------
9. Marcia and Amanda Arreola - Jonathan's Giving Tree
Marcia Arreola is a woman who knows the pain of losing a child. Her 19-year-old son Jonathan was killed in a single-vehicle accident.  Marcia and her daughter Amanda share their story of living through grief and channeling that grief into helping others. In her social meeting postings, she had Kobe Bryant's parents in mind, as well as Vanessa Bryant, Kobe's widow, who also lost a child, Gianna.
-----------------
With it being the one month anniversary this week of the passing of Kobe Bryant, a bishop shares his thoughts on moving forward after the memorial service. As part of my podcast series Voices of the People: Kobe Bryant Remembered we sit down with Bishop Craig A. Worsham of the Agape Church of Los Angeles in Baldwin Hills. He recalls being in mid-sermon when he got the news of the helicopter crash. It turned into a sermon of healing and togetherness.
-----------------
11. National Anthem singer Ranella Ferrer
Ranella Ferrer was born and raised in the Philippines. She is a known National Anthem Singer at Los Angeles top venues, but the Lakers were her first. Ranella was a Kobe Bryant fan and had studied his words of inspiration. Despite being self-conscious about her weight, this singer seized the opportunity to open a 2016 game with the National Anthem. It was Kobe's retirement year. Ranella would go on to appear on Khloe Kardashian's "Revenge Body" reality show, and lives the Mamba Mentality.
-----------------
Juan Urieta is a sketch artist on the rise. His sketch of Kobe Bryant has been in demand from friends moved by the death of the NBA great. Juan is a die-hard sports fan, and an immigrant success story. He works in the auto sales industry but never abandoned his love of art. 
-----------------
13. Recording artist Yung Muusik
"You'll be missed, King and Princess..." It's a line in a song by recording artist Yung Muusik in honor of Kobe Bryant and his daughter Gigi. As fans grieve the loss of the late Laker great and all eight on board a chopper that crashed Sunday, artists are sharing their grief through the arts.