Trump takes aim at Garcetti saying he's 'urging' undocumented immigrants to 'beat the system'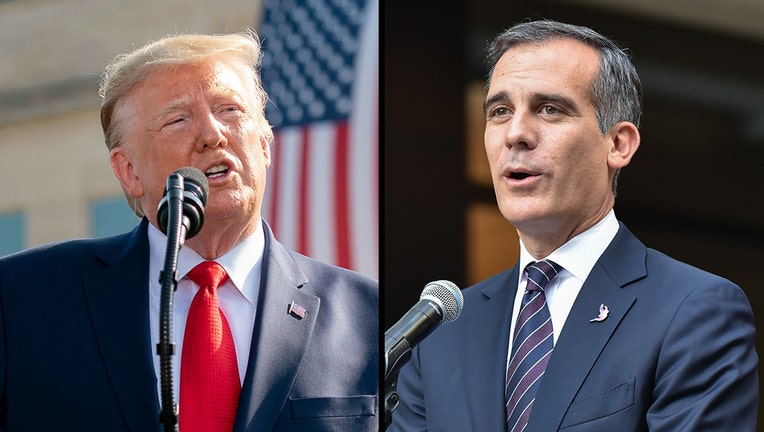 article
LOS ANGELES - President Donald Trump took aim at Los Angeles Mayor Eric Garcetti on Tuesday saying that Garcetti's efforts to "shield" undocumented immigrants "endangers the lives of the public and law enforcement" by "urging" them to "beat the system." 
Get breaking news alerts in the FOX 11 News app. Download for iOS or Android.
Garcetti posted a video on Twitter Friday alongside Los Angeles Police Department Chief Michel Moore encouraging residents in Los Angeles, "regardless" of their immigration status, to know their rights. Adding, "Here in Los Angeles, our police department does not coordinate with ICE or participate in immigration enforcement."
"I want every Angeleno to know your city is on your side," Garcetti tweeted.
"We will not enforce immigration laws that are civil in nature, and that fall under the jurisdiction of the federal government," Moore added. "Immigration is a federal matter. Safety is a police matter. And we're not going to mix those two."
Garcetti's tweet came following news that Customs and Border Protection agents would be deployed across the country in pursuit of migrants in "sanctuary" cities.
Trump responded to Garcetti's post on Tuesday in a quote tweet saying, "The Mayor's efforts to shield illegal aliens endangers the lives of the public and law enforcement who have to go into the field to apprehend those released. He shouldn't be urging illegals to beat the system, he should be urging them to safely turn themselves in!"
Since he took office, Trump's administration has continued to target migrants who have entered the U.S. without legal documents.
RELATED: President Trump to visit Los Angeles area on Tuesday
In 2017, Garcetti signed his executive directive, "Standing with Immigrants: A City of Safety, Refuge, and Opportunity for All," which expanded existing policies at the LAPD prohibiting all city employees from using public facilities or resources to assist or cooperate with federal civil immigration enforcement.
The city of Los Angeles became a "city of sanctuary" in February 2019 after being approved by the Los Angeles City Council in a 12 to 0 vote.
FOX 11 has reached out to Garcetti's office for a statement in response to Trump's tweet and is waiting to hear back.
President Trump will be in the Los Angeles area Tuesday to meet with organizers of the 2028 Olympic Games and attend fundraising events in Beverly Hills.