Top Property: Malibu home with 50-foot infinity pool that overlooks Pacific Ocean
MALIBU, Calif. - Built just above the bustling highway that parallels the Pacific in Malibu, a home designed by Janus Cercone, a former screenwriter who continues to story tell, but in a most unconventional way. 
"Instead of telling stories with movies, now we tell stories with houses," said Cercone. 
Cercone and her husband, Michael Mannheim, makeup "Jaman Properties." The two design and build with a fictional character in mind. For instance, Cercone said this week's Top Property, 22834 Beckledge Terrace, was created for someone who appreciates understated luxury. 
"There isn't a car gallery. There isn't a gym where you can pump yourself up," said Cercone. 
Instead, this three-bedroom, three-and-a-half bath home offers an incomparable view of the Pacific Ocean and well beyond. Whether you're in the great room overlooking the 50-foot infinity pool and spa or waking up in your 10-foot tall custom bed, ocean to sky blue is everywhere.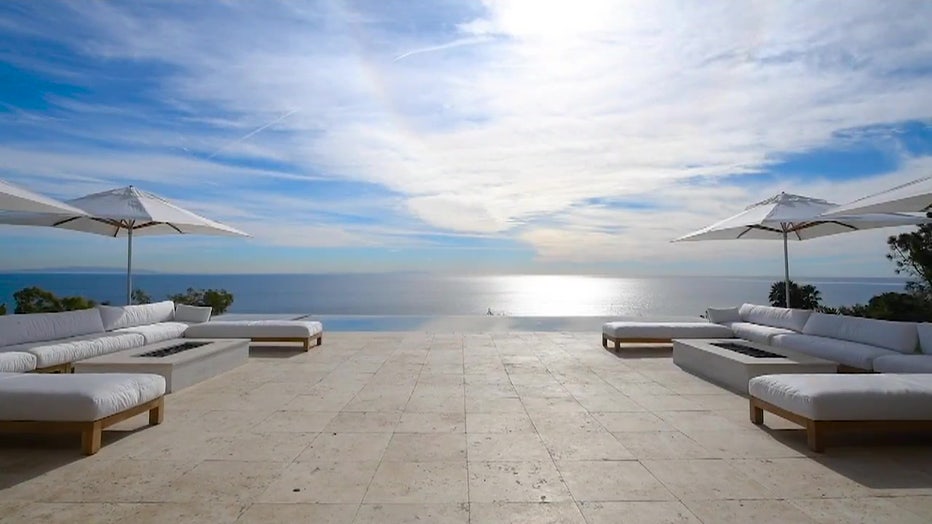 Here, indoor/outdoor living is a way of life with an exterior kitchen, dining and living spaces, patios, and fireplaces. 
The home sits on nearly an acre that includes a tiki-style treehouse and, below the backyard, a labyrinth of mystery walkways. 
So, who did Cercone and Manheim have in mind when they built this home? "The person we had in mind is an empowered woman," said Cercone.
But, get this: the day after we visited the property, a high profile-football player was scheduled to check out the listing. Go figure. 
The asking price for this Jaman property: $11,450,000.
Get these looks for less at Living Spaces:
Dean Charcoal Queen Upholstered Panel Bed
Malaga Outdoor 6 Piece Sectional