"There is plenty of food" Mayor Garcetti urges residents not to panic
LOS ANGELES - A steady stream of shoppers exiting Costco in Venice some with full carts of supplies.
"We went to Walmart it was all sold out. The shelves were completely cleared out. All canned goods are gone so my dad works here at Costco. I think they're the best place that's been kind of stocked up," said shopper Prentice Jones. 
 
 But workers say this morning about 2,000 shoppers lined up outside waiting for the store to open. The mad rush still left many items out of stock.
 
"It's empty.... I wanted to get eggs. There are no eggs and they only had 3 cartons of milk. I got one and there was only one left," said shopper Michael Homayun. 
 
 "We don't need to panic buy."
 
Los Angeles Mayor Eric Garcetti is working to deal with coronavirus developments. He says he met with grocery store leaders who assured him that supply chains will continue.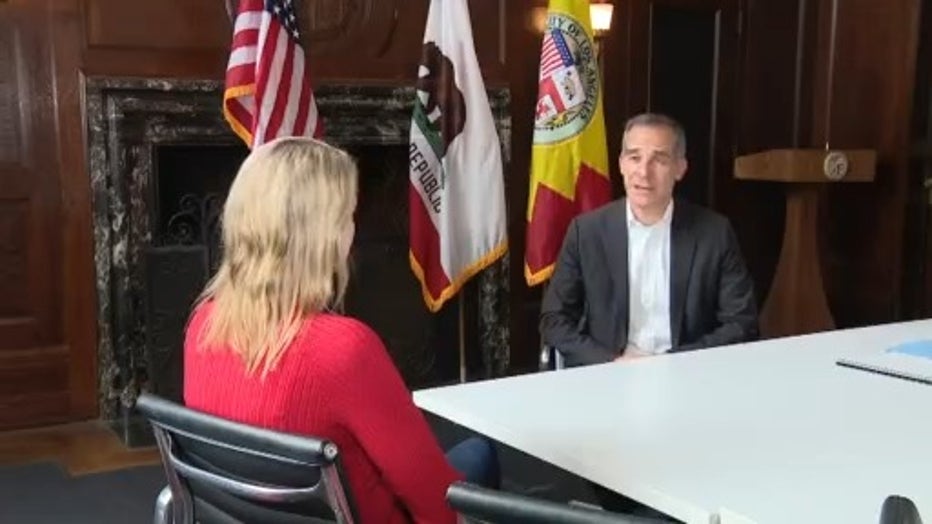 "There is plenty of food. We've been talking to the California Grocers Association we have months of food every day, it's going to be coming in, there was no need to go raid shelves and to stock up." Garcetti said.
 
The mayor also met with the heads of local hospitals preparing for an influx of Coronavirus patients. He says early testing for the virus shows low rates of infection for now. 
"The good news is that our public health test right now people who look like they have it are coming back 75% negative so only one out of four and the private lab tests are coming back 4% positive those are good early signs."
 
Still, hospitals are preparing for the worst. Cedars Sinai has set up these overflow tents in its parking lot to deal with the potential influx of coronavirus patients.
 
Garcetti says officials are also aggressively working to help prevent a COVID-19 outbreak within the homeless population by adding over 250 new sanitation places where they can make sure they are taking care of their health. The city has also shifted all outreach workers to make sure they are doing outreach on COVID-19.