Houston robbery suspect shot to death by customer in taqueria on Gessner, police say
HOUSTON - Police say a customer shot and killed a suspect who was robbing other patrons inside a Houston restaurant.
According to the Houston Police Department, the customer who shot the suspect left the scene, and they want to question him. He has not been charged.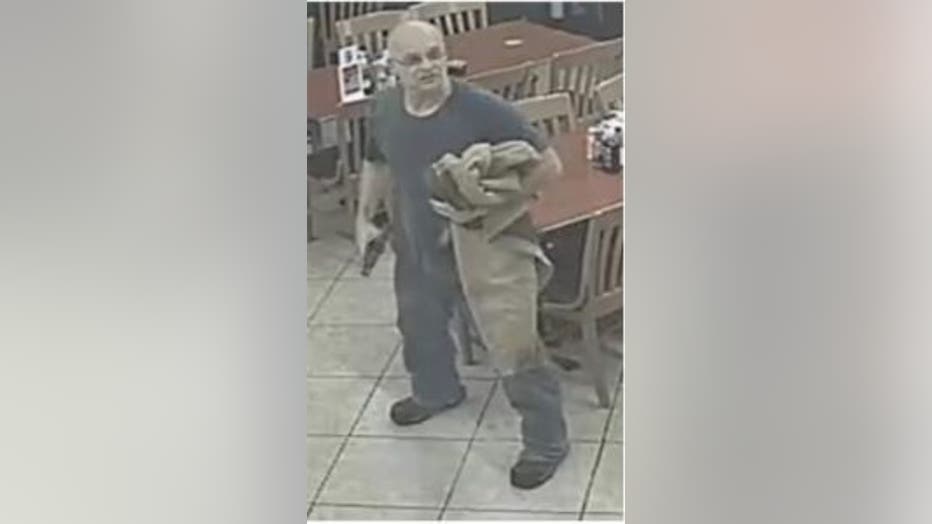 Surveillance photos of a man wanted for questioning in a fatal shooting of a robbery suspect. He has not been charged. (Photo: Houston Police Department)
Police released photos of a man they want to speak with and his vehicle, a 1970s or '80s model pickup truck with no bed.
MORE: Houston taqueria shooting: Mother of taqueria suspect killed by customer in self-defense speaks out
The shooting was reported at a taqueria in the 6800 block of South Gessner Road around 11:30 p.m. Thursday.
Police say the restaurant was open and customers were eating when the suspect came in wearing a black ski mask and gloves and demanded money from the patrons.
According to police, the suspect pointed a pistol at the customers. Police at the scene said that the gun may have been plastic, either airsoft or a BB gun, although the investigation was still being conducted.
The police department says the suspect collected money from patrons, and then one of the other customers took out his own gun and shot the suspect multiple times.
Police say the shooter then took the stolen money from the suspect and gave it back to the customers. He and the other patrons then left, officials say.
The suspect was pronounced dead at the scene.
MORE: 3-year-old dead after alleged drunk driver crashes into car in Harris County
Police said the restaurant owner and workers were the only ones who remained at the scene.
Investigators are asking the shooter and the victims who left the scene to contact the HPD Homicide Division at 713-308-3600 to provide statements regarding the incident.