Suspects accused of stealing from more than 25 homes in 'hot prowl' burglaries across 3 counties
LOS ANGELES - Three suspects were arrested following a nine-month-long investigation into "hot prowl" burglaries across three counties in which half a million dollars in cash and valuables were stolen from over 25 homes, authorities said Tuesday.
Brooks Hall, 20, Gerald Young, 19, and Clarence Steele Jr., 19, all of Palmdale, were each booked on multiple residential burglary charges. Hall faces an additional charge for being illegally in possession of a high capacity magazine.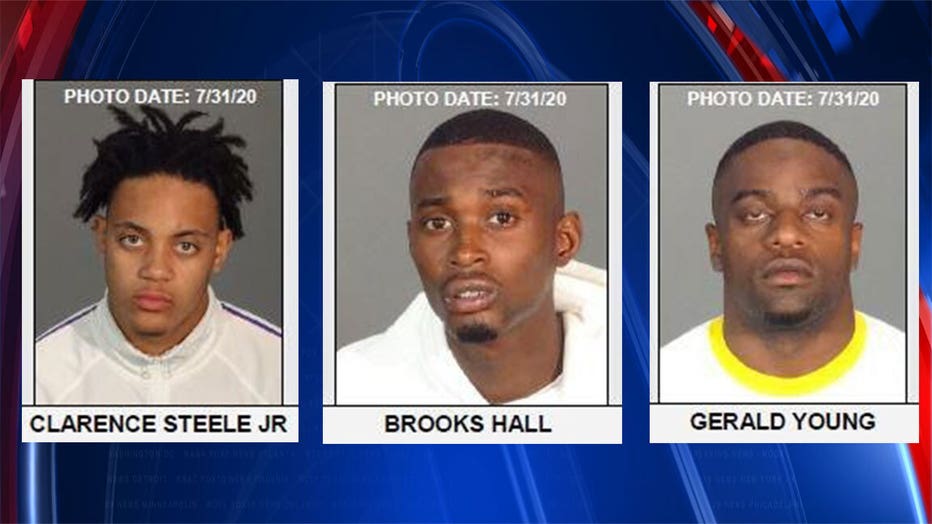 All three suspects remain in custody pending a September appearance in the Antelope Valley Superior Court.  
Investigators said that cash, jewelry and personal valuables worth nearly half a million dollars, were stolen from over 25 homes across the Antelope Valley, the San Fernando Valley, and Ventura County. The suspects often utilized rental cars and vehicles with "paper license plates."
Detectives served several search and arrest warrants at three locations in the Antelope Valley on July 31. During the search operation, authorities arrested five adult suspects and recovered three illegally possessed firearms, one of which was equipped with a thirty round magazine.
Get breaking news alerts in the FOX 11 News app. Download for iOS or Android.
The two additional adult suspects, not believed to be involved in the burglary spree, were both arrested for being felons in illegal possession of firearms. They were both booked into custody and those cases are currently ongoing.
Investigators are seeking any possible additional victims. If you feel you are possibly a victim of these suspects, their crew, or if you have information regarding these incidents, please contact the Los Angeles Sheriff's Department Major Crimes Bureau by e-mail at BRTF@LASD.org.