Suspect in officer-involved shooting found dead after hours-long standoff in Bell Gardens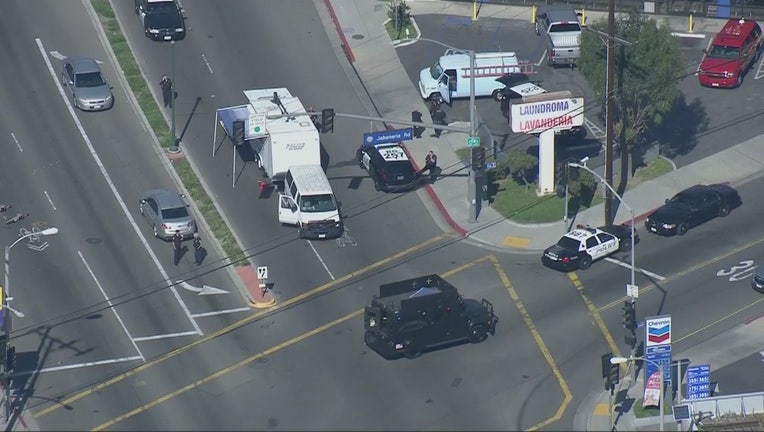 article
BELL GARDENS, Calif. - A suspect who fired at police officers was found dead after an hours-long standoff at a home in Bell Gardens. 
Officers with the Bell Gardens Police Department were in the area of Eastern and Jaboneria Road around 10 a.m. Thursday attempting to contact two known individuals. 
The two individuals acknowledged the officers and fled on foot. Officers quickly followed them; during the short foot pursuit one of suspects fired at officers. According to officials, the officers then returned fire as the suspects continued to run. 
The police department says their officers quickly established a perimeter and called for backup.  The shooting prompted a school lockdown and several street closures in the area of Eastern Avenue and Quinn Street.
One suspect was arrested and the second suspect, believed to be the shooter, was hiding in a nearby home. 
Officers say the suspect, later identified as 17-year-old Andrew Cortez of Bell Gardens, was hiding inside a home with a female and threatened to kill himself. 
For hours officers requested the suspect to come out and surrender. Around 7:15 p.m. the police department's Special Operations Team deployed tear gas into the home in an attempt for the suspect to surrender. 
"Officers attempted numerous other tactics to try and convince the suspect to exit the location but were unsuccessful," the police department wrote in a statement. 
Around 8:40 p.m. officials entered the home and located the suspect unresponsive. He was pronounced dead at the scene. 
It is unclear if the female inside the home was injured or if she knew the Cortez. It is also unclear if the apartment was his home. No officers were injured during the shooting.