Suspect in custody after robbing armored vehicle in Santa Monica, causing chaos near Third Street Promenade
SANTA MONICA, Calif. - Chaos erupted in Santa Monica on Friday morning after reports of gunfire near the Third Street Promenade. 
People in the area reported hearing gunshots near the Promenade shortly after 11 a.m.
According to Santa Monica Police, a Brink's armored truck employee was approached by a male suspect wielding a knife around 11:15 a.m. The guard reportedly fired three shots at the suspect.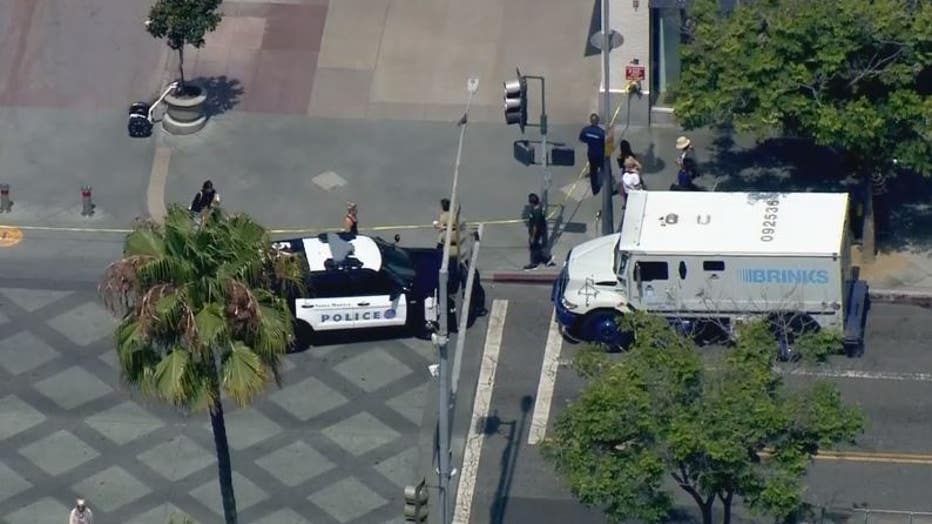 Police coordinated a grid search for the suspect, who was located in an alley behind the Promenade and arrested without incident just before 12 p.m., authorities said. Investigators said that a knife was recovered as well as the bag of cash the suspect stole from the Brink's truck.
Additionally, a stack of cash was found on the suspect's waist at the time of the arrest.
Police said this was never an active shooter situation. No injuries were reported.
Perhaps the most impacted and unintended victims of Friday's incident are the businesses located between Arizona Avenue and Santa Monica Boulevard along 3rd Street, which remain closed since the incident broke at about 11:15 a.m.
The Promenade reopened to the public around 12 p.m. 
Additional details were not immediately known.