SoFi Stadium announced as new name of Los Angeles arena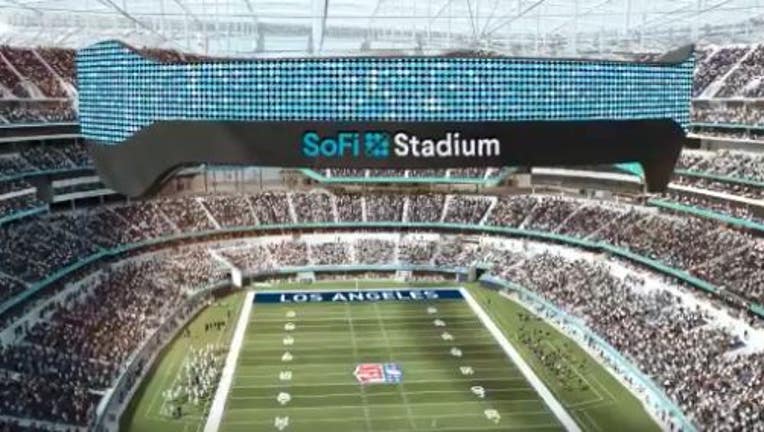 LOS ANGELES (FOX 11) - The arena that will be home to the Los Angeles Rams and the Los Angeles Chargers has a new name – SoFi Stadium. 
SoFi, a growing personal finance company, has reached a 20-year agreement for naming rights to the new football stadium in Inglewood.
SoFi Stadium is on schedule to open next summer ahead of the 2020 season for Los Angeles' two NFL teams. One season later, the stadium will host the Super Bowl.
SoFi was only founded in 2011, but the Bay Area-based online lending startup has grown rapidly into a prominent financial services business particularly successful among people refinancing student loan debt. Led by CEO Anthony Noto, a former NFL executive, and fresh off a $500 million round of equity financing led by Qatar's sovereign wealth fund in May, SoFi bought the naming rights to reap extraordinary exposure from the world's most prominent new stadium.
"It was something that really took a while for us to convince them that we were the right partner, and really gain the confidence that we could make that long-term commitment," Noto told The Associated Press. "We're super excited to have got to this point. They're building something that's unprecedented, and I think the impact it could have (on SoFi) will be equally unprecedented."
The 70,000-seat stadium is the centerpiece of a 298-acre complex developed by Rams owner Stan Kroenke and shared by owner Dean Spanos' Chargers. Along with the 2022 Super Bowl, the arena also will host the 2023 College Football Playoff national championship game, an annual college football bowl game, and the opening and closing ceremonies of the 2028 Olympics.
With SoFi's name out front, the entire complex will have a prominent role in the future of the NFL and the Los Angeles metroplex.