Sign our digital memorial book for the families impacted by the Calabasas helicopter crash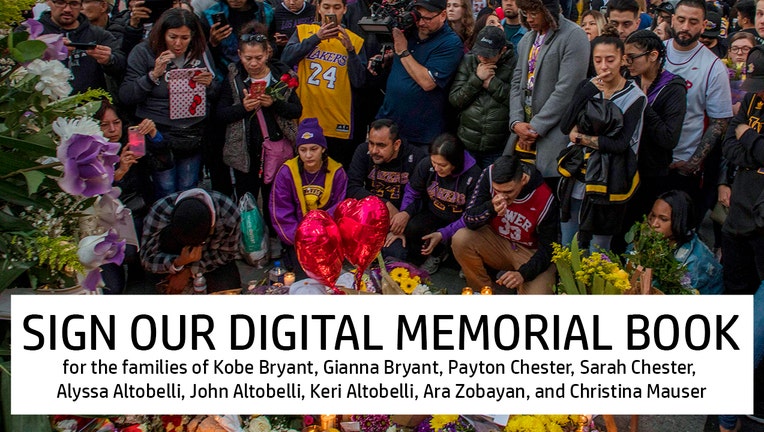 article
LOS ANGELES - With officials at Staples Center announcing plans to dismantle the makeshift Kobe Bryant memorial, some people may not get the chance to give their condolences to the families of the Calabasas helicopter crash.
For those who couldn't visit the arena over the weekend, FOX 11 would like to give our viewers the chance to pay their respects by signing our Digital Memorial Book, which are the comments on the social media posts. Comments collected through our posts on Facebook, Instagram, and Twitter will then be handed to the families of the nine victims. 

Enter your comments on Facebook here:
Enter your comments on Instagram here:
Enter your comments on Twitter here:
Over the past week, thousands of people have stopped by the Staples Center to pay their respects to NBA legend and Laker Kobe Bryant. 

Related: News related to the life and death of NBA legend Kobe Bryant
Fans have been leaving items like jerseys, basketballs, flowers, cards, and candles outside the arena for Bryant, his 13-year-old daughter and the seven victims killed.  
Vanessa Bryant, Kobe's wife, has requested all memorabilia be sent to the family.