Secura air fryer recall: Product sold on Amazon can overheat, posing fire hazard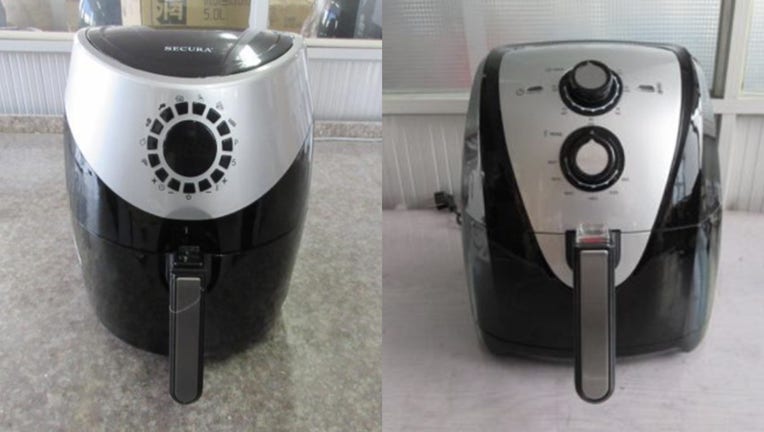 article
More than 6,400 air fryers are being recalled over their potential to overheat, posing fire and burn hazards to those who use them. 
The recall involves Secura Air Fryers that were sold online at thesecura.com and on Amazon for between $48 and $90, according to the U.S. Consumer Product Safety Commission. They were sold between May 2019 and October 2020. 
RELATED: Seasonings recalled over rodent feces in oregano samples from Pennsylvania food manufacturer
A wire connection in the air fryer can overheat, posing both a fire and burn hazard, the CPSC said in a Sept. 28 notice. There have been nine reports of the air fryers catching fire, burning and smoking. 
No injuries or property damage have been reported.
About 6,400 air fryers are being recalled in the U.S., in addition to about 680 sold in Canada. 
The Secura air fryers measure about 12 inches high, 11 inches deep and 12 inches wide. They are black with a silver accent, and the brand name "Secura" is on the top of each unit. 
The recalled products have the model number SAF-53D (TXG-DT16E) with date code 1901, and model number SAF-53 (TXG-DS16) with date codes 1903 and 1904, according to the CPSC. The model number and four-digit date code are printed on the silver labels located at the bottom of each unit. 
Consumers were advised to stop using the recalled air fryers and contact Secura for an Amazon gift card in the amount of $45 or a free replacement. To receive the gift card or replacement product, customers must provide their contact information and submit photos of the recalled unit with the power cord cut off and include information of the product's date code located at the bottom of the product, the CPSC said. 
Secura was also contacting all known purchasers.
RELATED: Bassinets recalled over suffocation risks to babies; seller not offering fix
This story was reported from Cincinnati.