San Bernardino County officials working to increase resources after county's first coronavirus death
SAN BERNARDINO, Calif. - San Bernardino County officials Wednesday provided updates after the county had its first coronavirus death.  
San Bernardino County is the largest geographical county in the United States with a population of 2 million. 
Contact the San Bernardino County coronavirus public information line at 909-387-3911.
By Wednesday morning, there were 38 coronavirus cases in San Bernardino County, 59 in Riverside County with 6 deaths, 152 in Orange County, 662 in Los Angeles County with 11 confirmed deaths, and 39 in Ventura County with 1 confirmed death.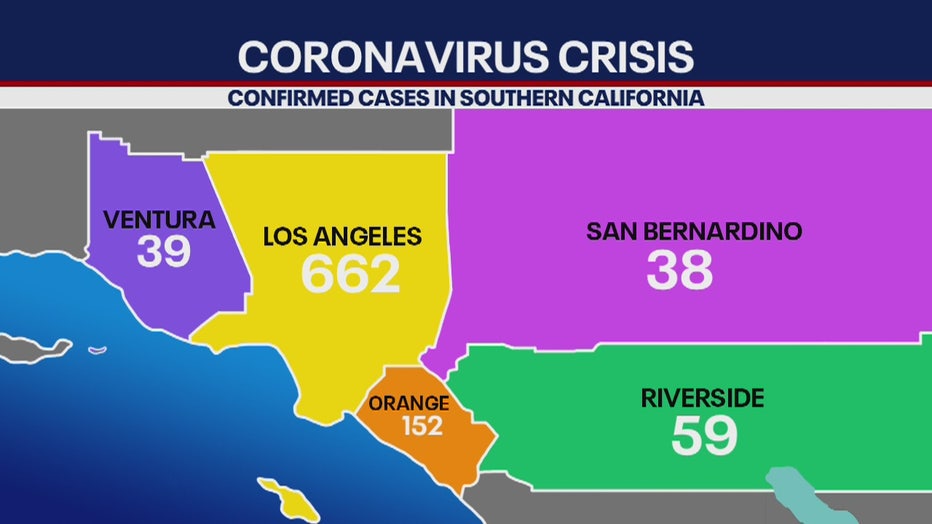 San Bernardino and Orange counties reported its first deaths Tuesday night.
RELATED: OC reports first death from coronavirus
Board of Supervisors Chairman Curt Hagman said the county is waiting for more supplies to come in that will protect first responders and healthcare workers who are working on the frontlines of the COVID-19 crisis. 
Hagman also said there is no shortage of food and discouraged residents from bulk purchasing. He referred to the area as the "warehouse capital of the west coast." 
While Hagman did confirm 38 cases in the county, authorities will not be releasing precise locations. Officials believe the virus will continue to spread and will eventually hit each city within the county.
Hagman said they will continue to work with state and federal authorities to get more resources to the area. 
San Bernardino County Sheriff McMahon said deputies are patrolling areas to make sure nonessential businesses are following the proper protocols under Gov. Gavin Newsom's stay-at-home order. 
RELATED: Governor Newsom issues statewide order for people to stay at home amid virus outbreak
McMahon also added the number of bookings at county jails has reduced, admitting he wasn't sure if fewer crimes were being committed or if deputies and officers were being allocated to different assignments given the circumstances amid the coronavirus crisis.
Earlier this week, it was confirmed a sheriff's deputy was diagnosed with COVID-19. 
RELATED: San Bernardino County Sheriff's deputy tests positive for coronavirus
McMahon confirmed Wednesday the deputy is self-isolating and is doing well. 
Representative Gilbert R. Cisneros, Jr. (CA-39) issued the following statement:
"My heart goes out to the patient's loved ones. This is absolutely devastating," said Rep. Cisneros. "I stand with San Bernardino County and all our communities across California's 39th District as we work together to combat COVID-19. It's more important now than ever that we follow the guidance and advice of our healthcare professionals. Every single day, we need to remain focused on keeping each other safe and stopping the spread of the coronavirus."
RELATED: CoronavirusNOW.com, FOX launches national hub for COVID-19 news and updates. 
Residents can call the coronavirus public information line at 909-387-3911.
Get breaking news alerts in the FOX 11 News app. Download for iOS or Android.