Rogan says California in state of 'f---ing madness' under Newsom, says he could not run for presidency in 2024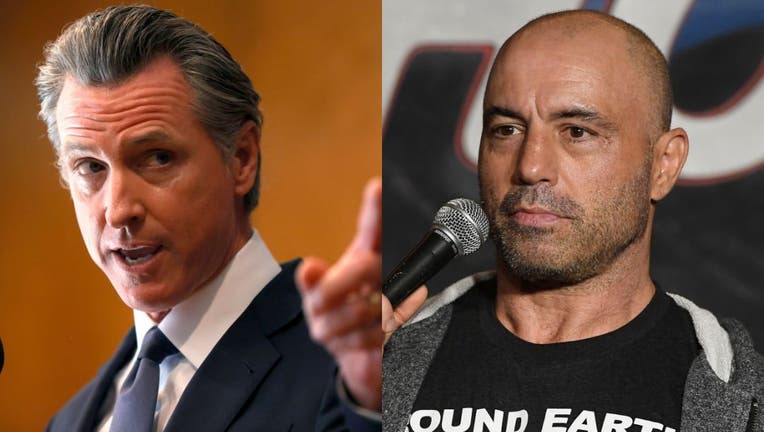 article
Podcaster Joe Rogan theorized that while scandals may bring down President Biden before the 2024 election, California Gov. Gavin Newsom would not be a viable replacement.
President Biden faces increased scrutiny over his alleged involvement with his son Hunter Biden's business dealings. Rogan noted that while the allegations against Biden seem "real valid," he theorized that some Democratic leaders may use the controversy to nominate another leader in his place.
"It also seems like if this is all coming out, what a good way to remove a president that is mentally compromised," he said. "It seems like if you were in the Democratic Party and you thought like 'Listen, there's a certain amount of people that are going to vote blue no matter who, we just need a better representation.'"
The podcast host then declared Biden's vice president does not look electable either, especially after her widely reported history of verbal gaffes and "word salads."
"You could not have Kamala Harris. She would not win, people would be very, very reluctant to vote for her for president I think after just listening to her talk for the last 3 years, like 'What?'"
Canadian professor Gad Saad joked by suggesting another replacement for Biden, "Californian Justin Trudeau, it's Gavin Newsom."
"The problem is he did such a bad job with California, they're so vulnerable," Rogan replied, though he noted that Newsom "does spit out some good propaganda."
Rogan said that while Newsom may be able to boast about the amount of major companies and influential intellectuals in California, "You've got to know the real stats of how many of them feel stuck, because if you ask people on the street in California, I think the number was 4-out-of-10 people they surveyed are thinking about moving out of California."
He noted that he himself got the idea to leave amid the riots in 2020 after the death of George Floyd, "I was like 'This ain't going in a good direction and I f---ing smell chaos."
He then cited numerous policies in California such as a far-left approach to crime and homelessness to the point stores have to lock up merchandise, "It's f---ing madness. There's so many businesses that are closing down, they don't want to be a part of it anymore."
Rogan went on to say, "I don't like when I don't see any course correction, I don't see any readjustment, I don't see any 'Hey we need to take care of disenfranchised people, but we also need to keep our streets safe, and we have to stop crime.'"
He added, "There's none of that, there more ridiculous laws, more lax on crime, more money for the homeless people 'Give them free drugs, give them needles, they need clean needles,' like what?"
He added that Californian progressives are some of the most unreasonable in America, suggesting the "overwhelming amount of people" in California's major cities "believe all sorts of wacky s---," claiming they were the first people to be happy about lockdowns and mask mandates.
Get the latest updates on this story on FOXNews.com.