Red Cross trailer full of supplies stolen in Riverside, suspects sought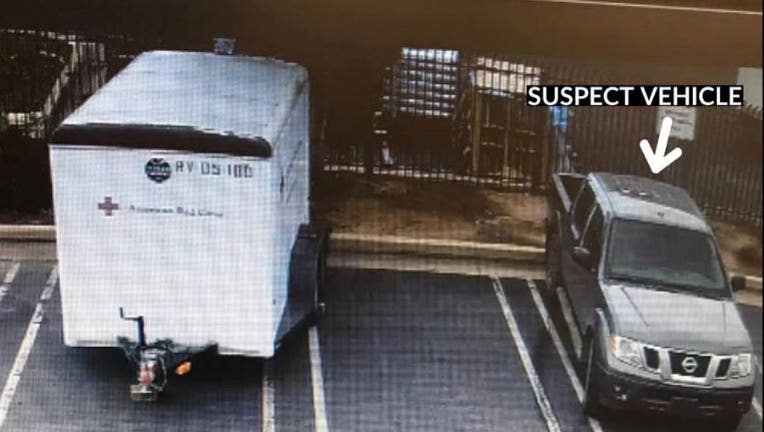 article
RIVERSIDE, Calif. - A Red Cross trailer with thousands of dollars worth of medical supplies were stolen from a parking lot in Riverside.
Police say two men in a gray or silver Nissan Frontier pickup truck entered a parking lot at 6235 River Crest Dr. on March 22 and pried the locked hitch on the Red Cross utility trailer.
Police say they then connected the trailer to their truck and drove off. 
According to the Riverside Police Department, the trailer was being used for shelter deployment and was carrying equipment like cots, blankets and masks. Police say the trailer was worth about $3,500 and contained approximately $4,000 in supplies.
The suspects are described as white or Hispanic male adults. Suspect one was wearing a black short-sleeved shirt, dark colored pants, light colored shoes, and a black hat.
The second suspect was wearing a gray & white long-sleeved shirt, black pants, light colored shoes, and a white hat. The suspect vehicle is described as a gray or silver 2010 to 2018 Nissan Frontier pickup truck with no front license plate.
The 1997 Wells Cargo utility trailer is white, with Red Cross emblems on its side and has a California plate of 15912.
Anyone with any information is urged to contact Detective Ron Knoffloch at (951) 826-8718 or rknoffloch@riversideca.gov. Those wishing to remain anonymous can email rpdtips@riversideca.gov or utilize the Riverside Police Department's mobile app "Submit a Tip" feature while referencing report number 200008551.