Princess Diana's 'black sheep' sweater sets record by selling for $1.1M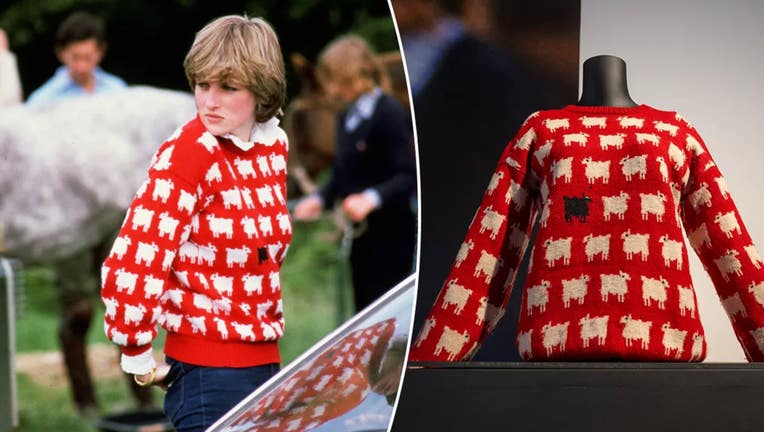 article
Princess Diana's red "black sheep" sweater has set a new world auction record for any article of clothing worn by the late royal.
The sweater sold for $1.1 million at Sotheby's inaugural Fashion Icons auction on Thursday, becoming the most valuable sweater ever sold at an auction. Diana's garment was estimated to sell for $80,000.
PREVIOUS COVERAGE: Princess Diana's iconic sheep sweater up for auction
Cynthia Houlton, Sotheby's global head of fashion and accessories, commented on the price of the sale.
"These striking garments and accessories belonging to and worn by some of the most celebrated individuals across the worlds of fashion, film, music and politics each possess a unique narrative in the wide-spanning history of fashion," she began.
"Sotheby's is immensely privileged to showcase these treasures to the world, catering to the passions and enthusiasm of fashion aficionados and collectors alike," Houlton concluded.
SUGGESTED: Princess Diana's car auctioned as 25th anniversary of her death nears
In June 1981, the newly engaged Diana donned the red sweater at one of Prince Charles' summer polo matches. The sweater has several white sheep on it with just one black sheep. It was created by Sally Muir and Joanna Osborne and their knitwear label Warm & Wonderful.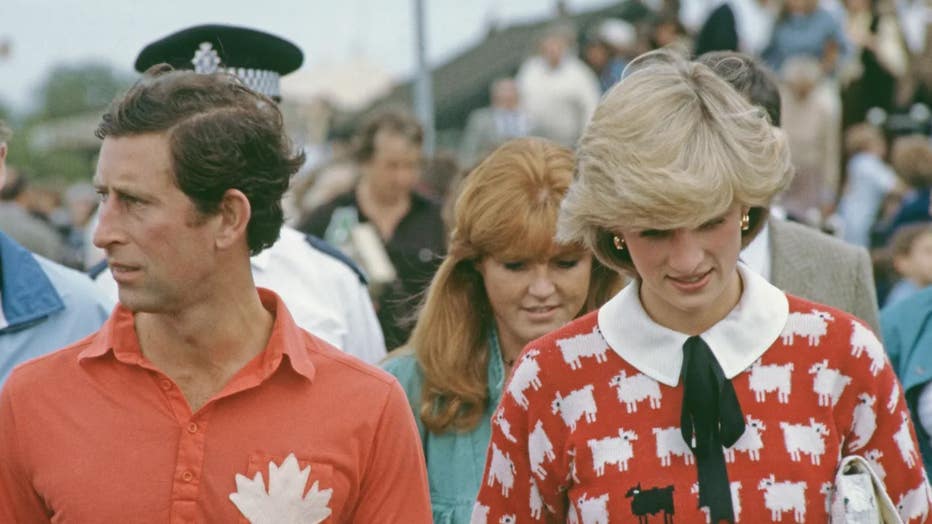 Princess Diana and Prince Charles with Sarah Ferguson at a polo match at Smith's Lawn, Guards Polo Club, Windsor. (Princess Diana Archive / File / Getty Images)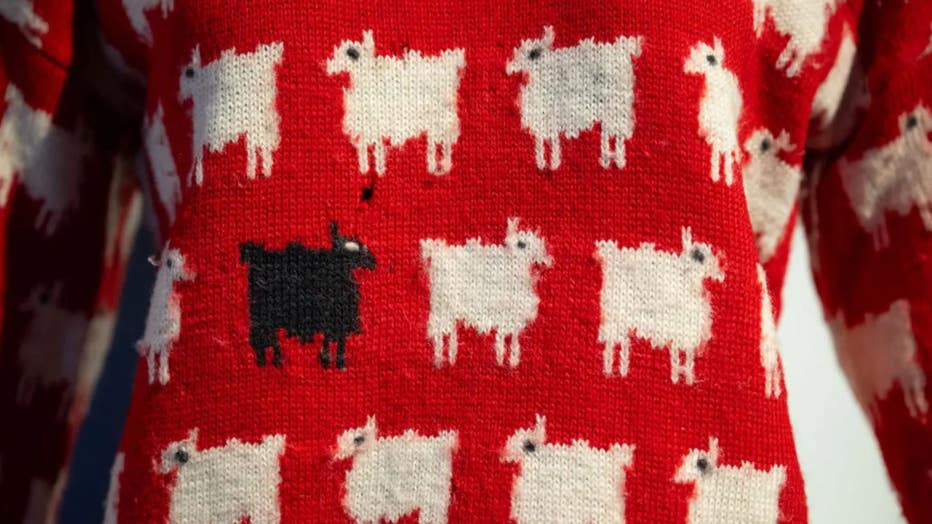 Princess Diana's "black sheep" sweater featured several white sheep with only one black sheep. (Alexi Rosenfeld / File / Getty Images)
"Much to our amazement, the first we knew of Lady Diana Spencer wearing the sweater was when we saw her on the front page of one of the Sunday newspapers. Her influence was impactful almost immediately thereafter, leading to a surge in sales and public awareness of our small label, for which we will be forever grateful," Muir and Osborne shared with the auction.
The sweater was rediscovered this year in the attic of English knitwear shop Warm & Wonderful after the sweater, which had been torn by Diana on the sleeve, was put away in a box decades ago and a replacement was knitted for the royal.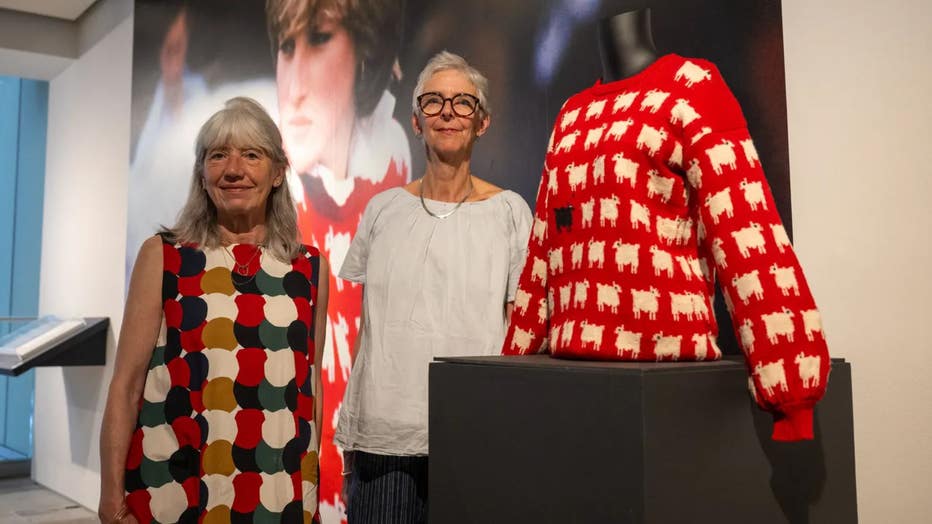 Designers Sally Muir and Joanna Osborne pose with their "black sheep" sweater worn by Lady Diana Spencer. (Alexi Rosenfeld / File / Getty Images)
"Apparently, when the letter came from the palace requesting a new one, they said either a repair or a replacement," Frank Everett, Sotheby's senior VP and sales director for jewelry, previously revealed to the "Today show." "They decided to knit her a new one, and there are some design differences in the second one she wore, and someone just threw it [the first sweater] in a box, and it went in the attic. Forty years later, now here it is at Sotheby's."
SUGGESTED:
Diana wore the replacement sweater in 1983.
Given the timing of when Diana first sported the bold sweater, it quickly became an international spectacle. People around the world began chiming in on whether the garment choice had a deeper meaning since she first sported it four months after her engagement to Charles and was facing scrutiny from the media.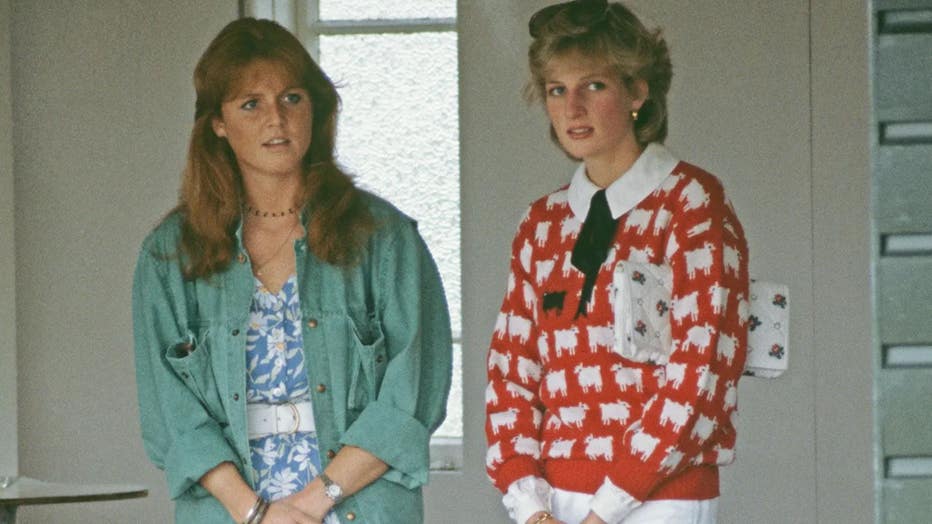 Princess Diana with Sarah Ferguson at a polo match in June 1983. (Getty Images / File / Getty Images)
Sotheby held the previous record for the most valuable piece of clothing Diana owned. In January, the late princess' "Infanta" Style Ball Gown, designed by Victor Edelstein, sold for $604,800. It was estimated to sell for between $80,000 and $120,000.
That same month, Sotheby's sold the amethyst and diamond "Attallah Cross," which was worn by Diana on several different occasions, to Kim Kardashian for $197,453.
Princess Diana died after a car crash in August 1997 in Paris. Her sons, Prince William and Prince Harry, attended the funeral service alongside their father, now King Charles.