Power shutoffs possible for 162K SoCal Edison customers amid return of high winds, fire weather
LOS ANGELES - An estimated 162, 276 SoCal Edison customers may lose service as high winds and fire weather conditions are expected to return to Southern California beginning Thursday. 
Public Safety Power shutoffs (PSPS) are under consideration due to the potential of elevated fire risk in Los Angeles, Ventura, Orange, Kern, Riverside and San Bernardino counties, the electric supply company said. 
RELATED: Elevated fire weather conditions expected through Wednesday in SoCal
SoCal Edison is considering power shutoffs in the following communities: 
Kern County (13,268)
-Tehachapi
-Unincorporated areas of Kernville, Cyrus Flats, Golden Hills, Old Town, Alpine Forest, Weldon, Lebec, Walker Basin, Bear Valley Springs, Stallion Springs, Keene, Loraine, Sand Canyon, and Twin Oaks
Los Angeles County (21,302 customers)
-Azusa
-Covina
-Glendora
-Lancaster
-San Fernando
-Santa Clarita
-Unincorporated areas including Rowland Heights, Vincent, Falling Springs, Leona Valley, lake Hughes, Green Valley, Lake Elizabeth, Cantillas, Canyon Country, Lakeview Terrace, Agua Dulce, Mint Canyon, Chatsworth, Alta Dena, Acton, Singing Springs, Letteau Canyon, White Heather, Boiling Point, Portal Ridge, Castaic, Mountain Disappointment and Mountain Wilson
Orange County (5,758)
-Irvine
-Orange
-Unincorporated areas including El Modena, Trabuco Canyon, and Robinson Ranch
 
Riverside County (48,037)
-Banning
-Beaumont
-Desert Hot Springs
-Palm Springs
-Manifee
-Perris
-Unincorporated areas including Banning Pass, North Palm Springs, Moreno Valley, lake Elsinore, Temecula, Cherry Valley, Lakeview Hot Springs, Cabazon, Med Valley, Goodhope, Eden Hot Springs, Juniper Flags, Gilman Hot Springs, Big Oaks Canyon, portions of Desert Hills Outlet Mall and Mountain Center
San Bernardino County (53, 501 customers)
-Fontana
-Rancho Cucamonga
-San Bernardino
-Rialto
-Upland
-Yucaipa
-Unincorporated areas including southern Morongo Valley, Oak Glen, Lytle Creek, Etiwanda, Hudson, Ridgeline, Cajon, Arrowhead, Phelan, Devils Canyon, Serrano Village, Kendall, University, Arrowhead Farms, North Park, San Bernardino High School, Shandin Hills, Rim of the World, Del Rosa, NE Sterling, Nena, Big Oaks Canyon, Snow Peak, Devore Heights, Devore, Wildwood Park, Cedar Pines Park, Valley of Enchantment, Crestline, Silverwood Lake, Twin Peaks, Agua Fria, Muscoy, Carey, Lincoln Crest, Leona Valley, Las Plazas, Alessandro, Roosevelt, Mount Vernon, Mentone, Running Springs, and North of Lake Arrowhead
 
Ventura County (20,410)
-Camarillo
-Fillmore
-Ojai
-Ventura
-Unincorporated areas including El Rio, Santa Susana Mountain, Sespe, Oak Village, Barsdale, Lotus Canyon, Cavin, Saticoy, Limon, Somis, Buckhorn, and Piru
See the maps on the SoCal Edison website.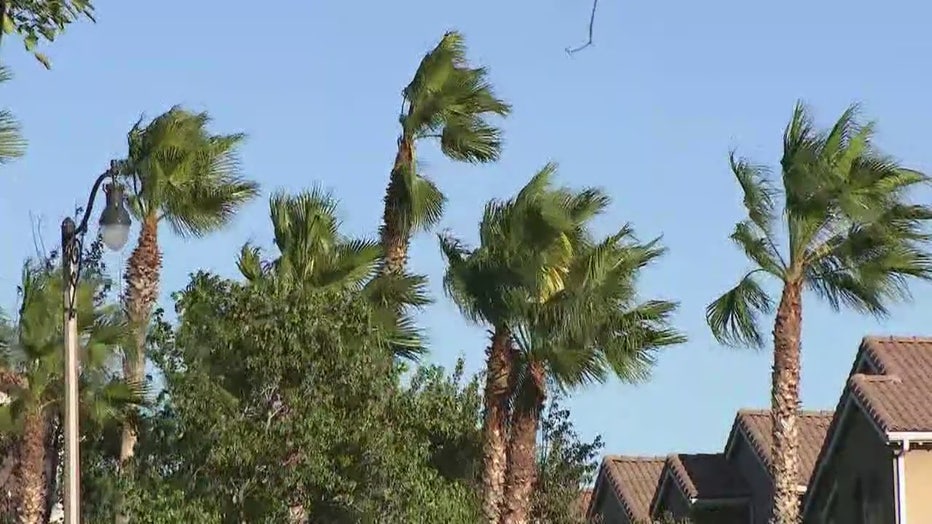 The National Weather Service forecasts elevated fire weather conditions starting Thursday.