Posters containing racial slurs, swastika, 'Death to America' found taped to Calabasas condo
CALABASAS, Calif. - A hate crime investigation was underway Wednesday in Calabasas after posters containing swastikas, racial slurs and phrases like "Death to America" were found taped to the doors of a condo.
"This type of material does not belong on anyone's door and does not belong in our community," said Calabasas Mayor Alicia Weintraub. "It's upsetting to the residents that live there, the residents that drive by, and to our entire community."
The signs were posted on the doors of a top floor Park Sorrento condo located on Calabasas Road. The complex is right across the street from the Calabasas Tennis and Swim Center.
"It's extremely upsetting and sickening," Mayor Weintraub told reporters Wednesday. "Everyone is welcome in Calabasas and we will not stand for this type of material being displayed for everyone to see."
Neighbors say the signs have been up for about a day and that the man they believe posted the signs is the owner of the condo. One neighbor told FOX 11 that he has threatened other neighbors in the past and that there is a restraining order against him.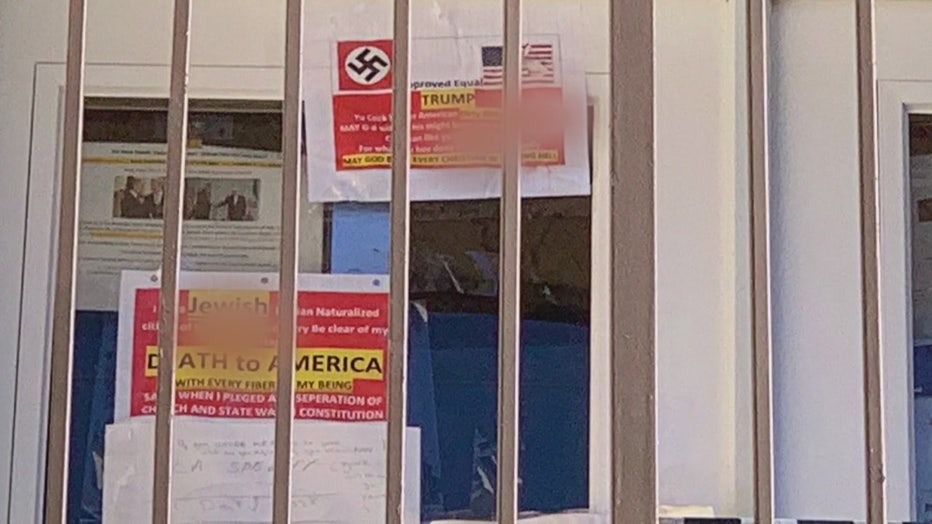 The Los Angeles County Sheriff's Department is investigating this as a possible hate incident. 
Authorities have not stated whether a suspect has been identified.
Additional details were not immediately available.