Photo shows alleged Levi's Stadium suspect who stabbed soccer fan
SANTA CLARA, Calif. - A person is recovering after being stabbed during an international soccer match at Levi's Stadium on Sunday, according to Santa Clara police. Police are now seeking a suspect and a person of interest. 
The stabbing happened during a fight in the stands during the CONCACAF Gold Cup match between Mexico and Qatar, according to Lt. Cuong Phan of the Santa Clara Police Department.
The wounded man suffered a stab wound to the upper collarbone area, Phan said. He said the victim is recovering, and the investigation is ongoing.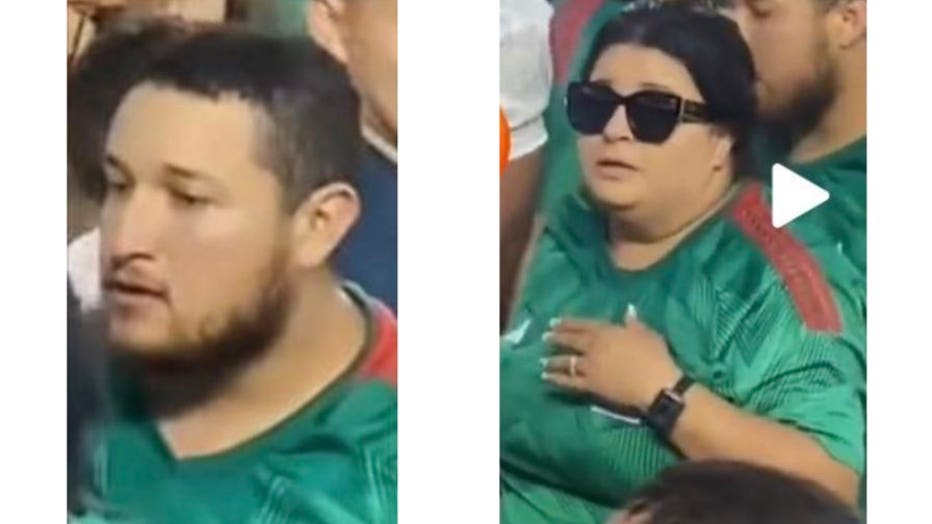 Santa Clara police are asking if you recognize these individuals to contact the police. This is connected to the stabbing at Levis Stadium during a Gold Cup soccer match.
Police said the suspect fled from the scene. A photo of the suspect was issued, who is described as a man between 25 and 35 years old, with dark facial hair. He was last seen wearing a green-colored Mexican national team soccer jersey.
He was with a woman with dark-colored hair and a similar soccer jersey. The woman is considered a person of interest. 
Police are asking anyone who recognizes these people to contact Detective Sgt. Doug Gerbrandt (408) 615-4823. You can also share "personally owned video footage" of the incident at this link.
One gratuitously graphic video from the @JaliscoMX_Twitter account shows the bloody melee in the stands. Fans are punching one another, and drinks are being thrown. Viewers can see what appears to be the stabbing victim rinsing off his gushing wound with a beer. Police eventually arrive, and the wounded victim appears to get an escort to exit the stadium, where he would eventually receive proper medical treatment.
The soccer competition at Levi's Stadium featured matches between Jamaica and St. Kitts & Nevis, as well as Mexico and Qatar. Despite high temperatures in the 90s, the event drew thousands of soccer fans.