No Mask, No Taco: Hugo's Taco stand to reopen Studio City location
STUDIO CITY, Calif. - One of LA's oldest and well-known taco stands will reopen with new safety measures to keep employees safe from unruly customers angered by required coronavirus safety measures.
Nearly two weeks ago, the owners of Hugo's Tacos closed their popular restaurant due to growing conflict of guests not wearing masks.
In June the owners said their employees were getting harassed, called names and even had objects thrown at them so the owners made the decision to close their Studio City and Atwater Village locations.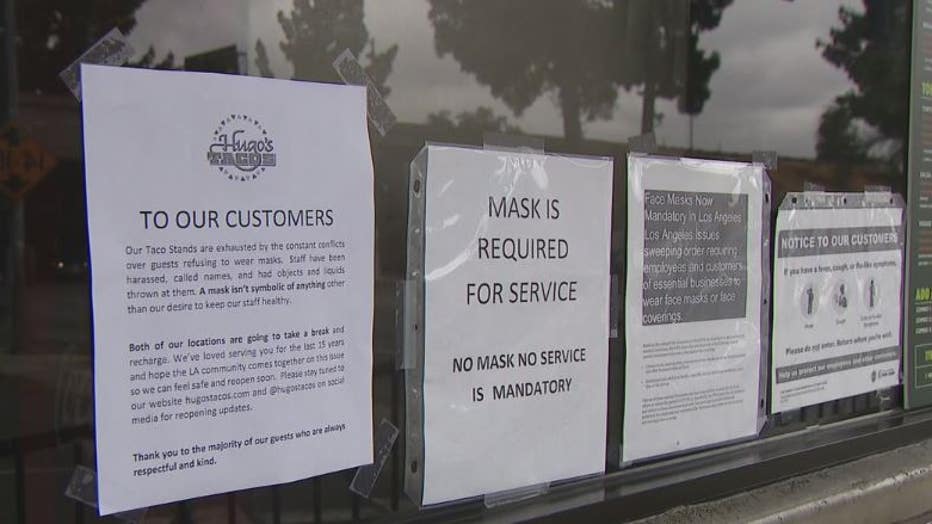 RELATED: Hugo's Tacos temporarily closes both restaurant locations due to the safety of its workers
This week the owners released a statement saying with new added safety protocols they will be able to reopen their taco stand in Studio City. 
The new protocols include have a security guard during busier hours as well as having an increased emphasis on curbside services. 
"Supporters from across the country advocating for us, sharing the message of peace and a plea for cooperation in their own communities. We found out that we are not alone, the conversations about masks are happening across America. We received a huge virtual huge that affirms our belief that we can do better to protect each other," read a statement they posted online. 
Masks will be required. There is no word yet on when their Atwater Village location will reopen.