Man found guilty in 2020 ambush shooting of 2 LASD deputies in Compton
LOS ANGELES - A jury on Thursday found Deonte Lee Murray guilty of a series of crimes in Sept. 2020, including the ambush shooting of two Los Angeles County deputies in Compton.
On September 12, 2020, officials said Murray was the gunman who shot at Deputies Claudia Apolinar and Emmanuel Perez-Perez while they sat in their patrol car outside the Martin Luther King Jr. Transit Center. Two days earlier, prosecutors said he shot a man outside the Compton Courthouse. 
Earlier that month, authorities said he also shot a man in the leg and stole his vehicle. 
Murray was convicted on all 10 counts, including three counts of attempted murder, carjacking, robbery, assault with a semi-automatic firearm and illegal possession of firearms.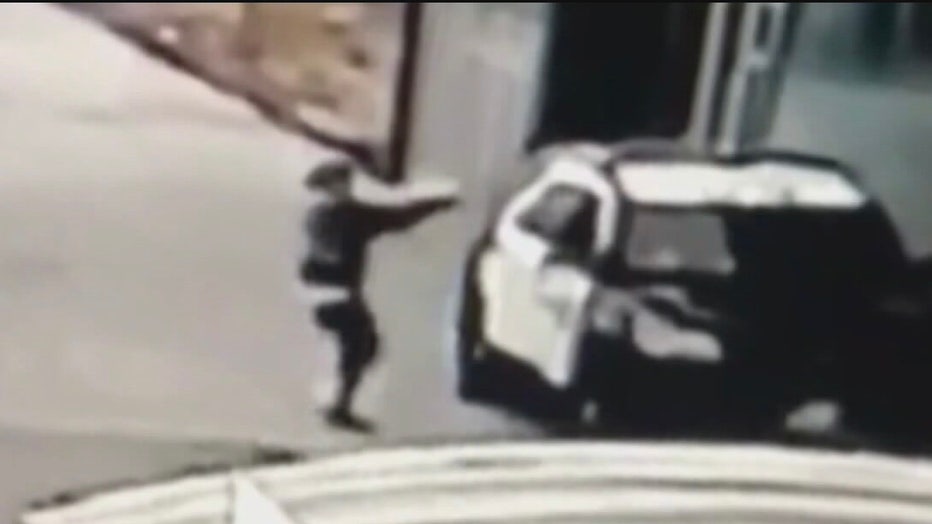 "Today, justice has been served. The man responsible for ambushing and shooting two Los Angeles County Sheriff's deputies during a crime spree has been found guilty," said LA County DA George Gascón in a statement. 
The statement continued to say, "This verdict reaffirms our commitment to protecting those who serve and sends a clear message that acts of violence will not go unpunished.  We stand united, honoring the bravery of our law enforcement and upholding the principles of justice in our community."
Murray -- who is tentatively due back in a Compton courtroom for sentencing Oct. 16 -- is facing a potential life prison term, according to Deputy District Attorney Stephen Lonseth.
The prosecutor told the jury that Murray shot four people and tried to kill three of them, including the two sheriff's deputies whom he allegedly tried to ambush in what the prosecutor said was "no impulse."
Lonseth noted that Murray allegedly said afterward that he couldn't believe that the deputies hadn't died.
The prosecutor told the panel that Murray "did everything he could to end the lives of Claudia Apolinar and Emmanuel Perez-Perez," saying that "this wasn't some impulsive thing."
"They're alive because of frankly a miracle," Lonseth said, citing the "heroic actions" of Apolinar in trying to aid her partner despite being wounded herself in the jaw and arms.
The prosecutor had told jurors during his opening statement in August that Murray "lost it" and "sought to take out revenge" after sheriff's deputies shot and killed his best friend, Sam Herrera, while serving a search warrant in Compton on Sept. 10, 2020, two days before Apolinar and Perez-Perez were ambushed.
Murray allegedly "unloaded over and over again" by firing upon a man he mistakenly believed was a detective in an unmarked car near the Compton courthouse on Sept. 10, 2020, then fleeing in a black Mercedes-Benz that had been carjacked nine days earlier from a man who was shot in the leg with a rifle, Lonseth told the panel.
The defendant -- who allegedly abandoned the Mercedes-Benz near an elementary school -- was arrested Sept. 15, 2020, after leading police on a chase in which he tossed a "ghost gun" from the Toyota Solara he was driving and then fleeing into a neighborhood, where he was subsequently found hiding under a chicken coop in a resident's backyard, the prosecutor said.
Ballistics testing subsequently determined that the .40-caliber weapon had been used to shoot the sheriff's deputies, authorities said.
Murray's attorney, Kate Hardie, told jurors that her client was under the influence of drugs and alcohol and grief-stricken over his best friend's shooting death by other sheriff's deputies two days earlier.
The defense lawyer told jurors that the "closest person" to Murray had been killed, calling the days between Sept. 10 and Sept. 12 of that year "the worst time in Mr. Murray's life."
Hardie told jurors that her client's actions were "impulsive" and fueled by alcohol, methamphetamine and grief over his best friend's death.
She told the panel that they had heard about evidence of Murray's intoxication from six separate sources, saying that and his mental state negate both premeditation and intent to kill involving the attempted murder charges.
Hardie accused the prosecutor of trying to sway the jurors' emotions by arguing that it would have been a murder case if it wasn't for Apolinar's actions.
"You can, in your outside lives, think these deputies are heroes ...," Murray's attorney said, while urging jurors to consider only the evidence and jury instructions during the trial.
The defense lawyer conceded an assault charge involving the first shooting on Sept. 1, 2020, along with a series of counts against Murray alleging that he was a felon in possession of a firearm. She described her client as having been convicted of "small stuff."
But she told jurors that the defense was contesting other charges against him, including the attempted murder counts involving the deputies and the carjacking and robbery counts involving the first shooting victim named in the assault count.
The defense lawyer told jurors that the defense was "not asking you ... to let him go," but was asking them to "follow the law."
During the trial, jurors heard from the two wounded deputies along with Murray, who testified in his own defense.
Wearing a sheriff's uniform while on the stand, Apolinar told jurors that she heard gunshots and that her vision went blank for a few seconds after she and her partner were shot.
She testified that she didn't immediately know where she had been shot but felt a "warm sensation in my mouth" and tried to speak over a police radio to report what had happened to her and her partner.
She told jurors that she felt her tongue flapping around in her mouth and that the dispatcher was having difficulty understanding her plea for assistance.
"I knew I was hit in the mouth," Apolinar, the mother of a then 6- year-old child, told jurors.
She said she subsequently tried to help her partner, who was struggling to put a tourniquet on after she saw his face and right arm covered in blood.
"I didn't know where the suspect was at, if he was going to come back," the deputy told jurors, saying later that she did not see who he was and that neither she nor her partner fired any shots in response.
Surveillance video shows the gunman walking up to the passenger side of the sheriff's vehicle, firing and then quickly fleeing, then Apolinar subsequently coming to her partner's aid and the two -- both of their uniforms stained with blood -- hurrying to a waiting patrol vehicle that rushed them to a hospital.
She said she later learned that one round struck her in the jaw and "nearly cut my tongue off" and that she also suffered gunshot wounds to both of her arms, which were broken in the shooting. The deputy said she still has scars on both of her arms and her face from the attack, and that she returned to work at the sheriff's department last September.
Apolinar was praised for helping her wounded partner despite her own injuries, with then-District Attorney Jackie Lacey calling her actions "heroic." The deputy was subsequently honored with the 2021 American Legion, Department of California's Law Enforcement Officer of the Year for Valor award.
Apolinar's partner was shot in the forehead and an arm.
City News Service contributed to this report.