Madalina Cojocari: North Carolina police release new photo of 11-year-old missing since November
CHARLOTTE, N.C. - North Carolina police have released a new photo of Madalina Cojocari, a missing 11-year-old girl whose disappearance was reported to police nearly two months ago.
Madalina's disappearance wasn't made known to Cornelius police until Dec. 15, when her mother, Diana Cojocari, told school officials and local police that she hadn't seen her daughter since she went to her bedroom the night of Nov. 23 around 10 p.m. after she and her husband, Christopher Palmiter, got into an argument, court documents state.
"It has been 85 days since Madalina was last seen getting off her school bus on November 21, 2022. It has been 61 days since Cornelius Police learned on December 15, 2022, Madalina was missing," the Cornelius Police Department (CPD) said in a Tuesday social media post. "'[CPD], the SBI and the FBI continue to search for Madalina. Detectives are working tirelessly and are following up on many leads to bring Madalina home."
Cornelius police arrested stepfather, Christopher Palmiter, 60, and her mother, Diana Cojocari, for failing to report the disappearance of missing 11-year-old Madalina Cojocari. (Mecklenburg County Detention Center)
In December, authorities arrested and charged Diana Cojocari and Palmiter with failure to report a missing child to law enforcement after Madalina's disappearance from her hometown in Cornelius, which is just north of Charlotte, around Nov. 23, 2022.
On Nov. 24, Palmiter drove to his relatives' home in Michigan "to recover some items" after an argument with his wife.
Cojocari went into her daughter's room around 11:30 a.m. that morning to discover that the 11-year-old was gone. 
MISSING MADALINA COJOCARI: NORTH CAROLINA POLICE ASK LOCALS TO 'FLOOD THE AREA WITH HER PRECIOUS FACE'
She waited three days, until Nov. 26, when her husband returned home to Cornelius, to ask whether he knew where Madalina was. Palmiter apparently asked her the same question in return, according to an affidavit.
When detectives asked Cojocari why she waited until Dec. 15 to report her daughter missing, the mother said "she was worried it might start a 'conflict' between her" and Palmiter. Cojocari is originally from Moldova, where Madalina was born.
MADALINA COJOCARI'S PARENTS 'HAD NO FRIENDS,' WERE 'QUIET' DURING GROUP VACATIONS, ACQUAINTENCE SAYS
Security camera footage from a Cornelius school bus shows the girl exiting the bus Nov. 21 — the last day Madalina, a 6th grader, showed up for class at Bailey Middle School — around 5 p.m.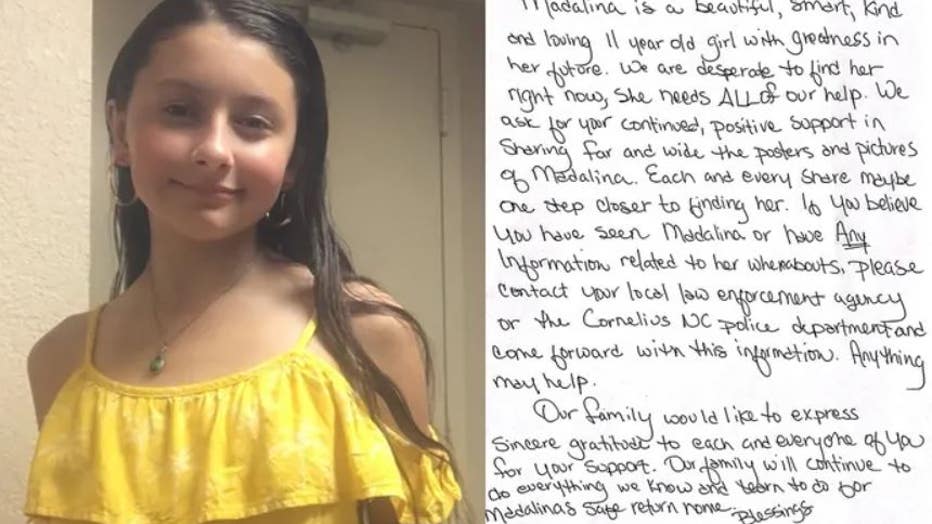 Investigators on shared a handwritten, personal message from the family of Madalina Cojocari. (FBI Charlotte / Cornelius Police Department)
Cornelius authorities have asked the public for "firsthand eyewitness information from anyone" who may have spotted Cojocari's light green Toyota Prius in the Madison County area between Nov. 22 and Dec. 15. Madison County is a rural area near Asheville situated in the Appalachian Mountains.
MISSING MADALINA COJOCARI SEARCH EXPANDS IN WESTERN NORTH CAROLINA: REPORT
Madalina's family penned a handwritten note expressing their concern for the missing 11-year-old, which the CPD shared with the public Dec. 22.
CLICK HERE TO GET THE FOX NEWS APP
"Madalina is a beautiful, smart, kind and loving 11-year-old girl with greatness in her future," the family wrote. "We are desperate to find her right now, she needs all of our help."
Authorities are asking anyone with information about Madalina's whereabouts to contact the CPD at 704-892-7773.
Read more of this story from FOX News.