Local family business now making 10,000 masks per day to help during pandemic
LOS ANGELES - A local family business that normally manufactures and produces basic bedding items has changed operations to make thousands of masks per day. 
Allied Home, a subsidiary of Allied Feather & Down Corp. has traditionally made products like pillows, comforters, mattress pads, featherbeds, blankets, and throws. Since the pandemic hit, the CEO and founder, Steve Uretsky and CFO, Nate Hascalovici, decided to utilize their resources to produce masks. 
"As soon as the pandemic hit home we saw the major impact it was going to have to every day life. Aside from the obvious impact, we were concerned for the welfare of our staff both on the job and at home. We saw that business, for the foreseeable future would not be the same and we expected production and sales to slow down. After meeting internally, we tried to get creative with ways we can both contribute to the public and keep our staff working because Allied is a Family business and our employees are part of our Family. We realized that we had all the necessary materials and the skilled staff and we immediately designed and implemented a plan to roll out mask production at our three US facilities," said Uretsky.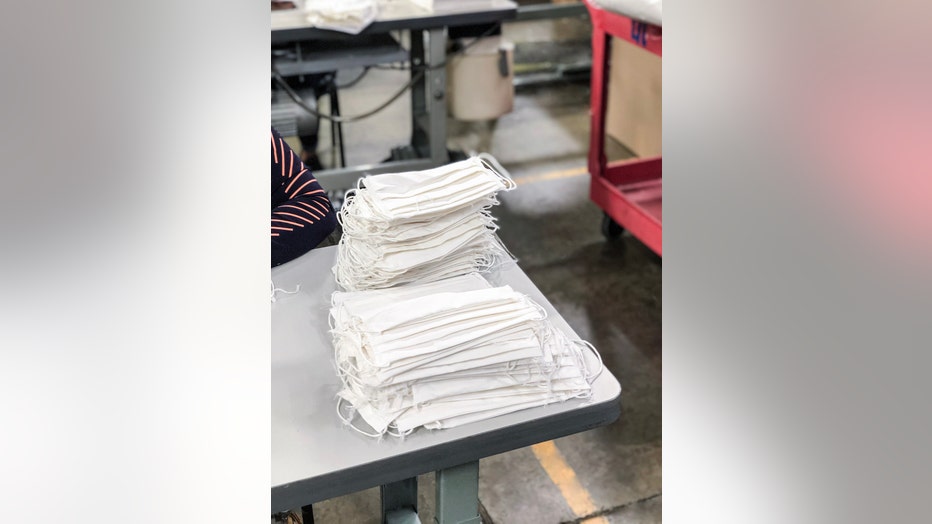 The company now makes approximately 10,000 masks per day, and donates one mask for every mask sold. So far, the company has donated masks to the City of Los Angeles which distributed the masks through local shelters. The masks are 100% cotton, reusable allergen barrier masks with two layers of fabric. 
Uretsky, who created the company in 1987 said the mask production is an opportunity to make a difference during the pandemic. 
RELATED: Stay up to date on all coronavirus-related information
"During times like these its easy and natural to be afraid, tense up and lose focus. By making these masks we have managed to turn a terrible and scary world crisis into an opportunity for our company and our staff to make a difference. We are in a unique position to effect positive change and we are so proud to be a part of the solution. It is amazing to see the resiliency of our staff and their creativity. Within a matter of days we had a mask designed, production aligned, raw materials procured and selling avenues secured. This accomplishment speaks to the overwhelming impact the crisis had and the true resilient nature of our staff," said Uretsky. 
The company operates in Montebello and Commerce, and masks can be purchased on the company's website, www.alliedhomebedding.com. 
Get breaking news alerts in the FOX 11 News app. Download for iOS or Android.