LAPD shoots man allegedly armed with knife in Highland Park
LOS ANGELES - Los Angeles Police Department officers shot a man who allegedly came at them with a knife in hand in Highland Park Saturday.
It happened just before 12:30 p.m., when officers were called out to the 800 block of N. Nolden Street, after reports that there was a man with a gun who was threatening to hurt someone. When police got to the scene they said they found the suspect in a nearby stairwell, but armed with a knife, not a gun.
That's when police said the man came at them with the knife, and officers shot him. Officers then provided first aid until paramedics with the Los Angeles Fire Department were able to bring the man, identified only as a 51-year-old Hispanic man, to the hospital. By Saturday night the man was listed in stable condition and is expected to survive. 
SUGGESTED: Video shows 2 women shot at Guaranteed Rate Field during White Sox game
No one else was injured in the shooting.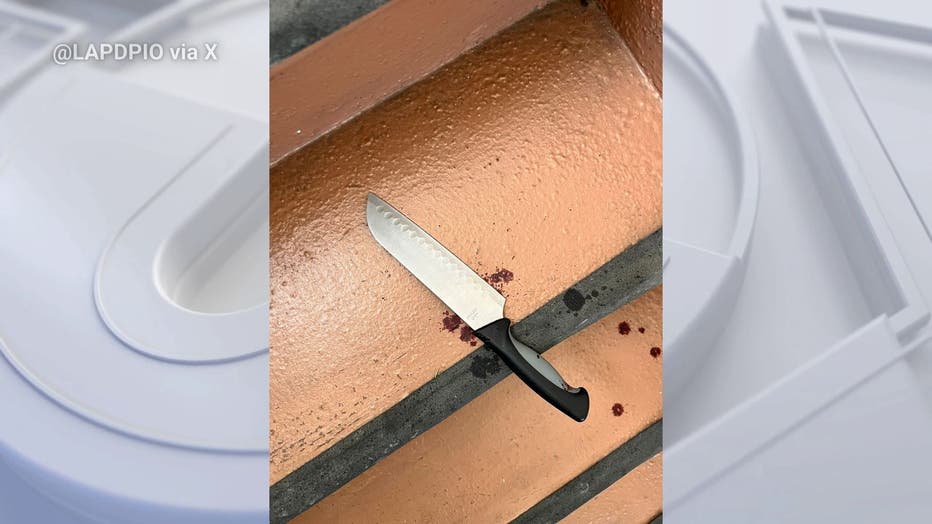 A knife recovered by police at the scene of a police shooting in Highland Park (Credit @LAPDPIO via X)
Police did share a photo of a knife, allegedly the one held by the suspect, that was recovered at the scene of the shooting.
The area of York Boulevard and Avenue 56 saw traffic delays while police investigated.