LA sheriff announces multi-agency task force to investigate deadly use of force
LOS ANGELES - Sheriff Alex Villanueva announced the creation of a multi-agency task force that he said will investigate cases in which a law enforcement agency's use of force results in death.
"Recent events have led community based groups to highlight the issue of law enforcement agencies investigating their own shootings. I hear you,'' the sheriff said in a prepared statement. "The main goal ... will be for Los Angeles County agencies to form a joint task force of investigators from multiple agencies to conduct investigations for use of force incidents which result in death.
"I have complete confidence in our homicide detectives, and the other  detectives throughout our county, but we want to continue building trust,
increasing transparency and making the process more reassuring for our
communities,'' he said.
The task force will include "stakeholders from across the county, which also includes the Office of the District Attorney and State Office of the Attorney General,'' according to Villanueva's statement.
The sheriff, District Attorney Jackie Lacey and Los Angeles Police Chief Michel Moore had been scheduled Wednesday to publicly announce the creation of the task force, but the news conference was abruptly canceled hours beforehand due to "unforeseen circumstances,'' according to the sheriff's department.
In a released this afternoon that was devoid of details, Villanueva said he met with fellow law enforcement leaders this week to discuss the creation of the task force. Members would apparently be prohibited from investigating officers or deputies from their own agencies.
"In the coming weeks, we will access the resources needed to develop a definitive plan and make this concept a reality,'' Villanueva said. "The
community wants change and we will usher in that change, together."
The announcement comes as two civilian county institutions charged with monitoring the sheriff's department say they're being stonewalled by 
Villanueva as they try to investigate two back-to-back fatal shootings
involving deputies, and the sheriff's handling of the death of Robert Fuller,
who was found hanging from a tree near Palmdale City Hall.
RELATED: Palmdale community holds rally for Robert Fuller, demanding justice and an arrest in his death
New details released on the deputy-involved shooting of 18-year-old security guard in Gardena
Inspector General Max Huntsman, who heads the investigative arm of the
Sheriff Civilian Oversight Commission, said his office on Monday asked for
reports, documents and video relating to the June 18 shooting death of 18-year-
old Andres Guardado, who was killed by a deputy near a Gardena-area auto body shop, but hasn't received a response.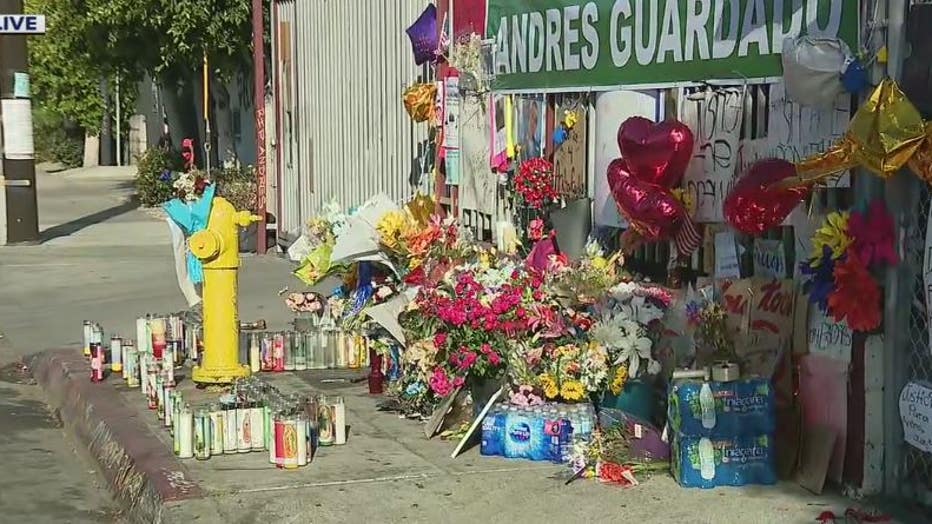 Huntsman told the Los Angeles Times that the office also requested the
report that detailed events surrounding the death of Fuller's half-brother,
Terron Jammal Boone, who was killed June 17 in a shootout with undercover
detectives in Kern County, to "analyze the underlying reason for the manner in
which the arrest was conducted. But they refused to give it to us.''
The watchdogs' functions were centerpieces of reforms enacted at the
Sheriff's Department following a corruption and brutality scandal in the jails
that led to indictments of several deputies and high-ranking commanders,
including former Sheriff Lee Baca. But the agencies have increasingly
complained that Villanueva's administration is refusing to share information
and stonewalling efforts to provide true oversight.
"We can't make recommendations if we don't get information from them.
So our work can be stymied when there's not cooperation and collaboration,'' Patti Giggans, chair of the oversight commission said. "We need a willing partner in the sheriff.''
The dispute over access to sheriff records prompted the Los Angeles
County Board of Supervisors in January to grant the Civilian Oversight
Commission subpoena power at a time of heightened tensions between the law
enforcement agency and those who oversee it. The oversight agencies said they were not given access to information about the agency's internal discipline
system and hiring process, as well as documents related to secret deputy
cliques with matching tattoos that have been accused of misconduct.
The Sheriff's Department said at the time that increasing the inspector general's power could harm investigations and would pit county departments against one another.
The Sheriff's Department has said little about what led up to the shooting of Guardado, which has sparked large protests and widespread demands
for answers.
Villanueva has asked Attorney General Xavier Becerra to monitor the investigations of Guardado and Fuller's deaths, citing the public outcry.