Kit Kat launches new churro flavor for limited time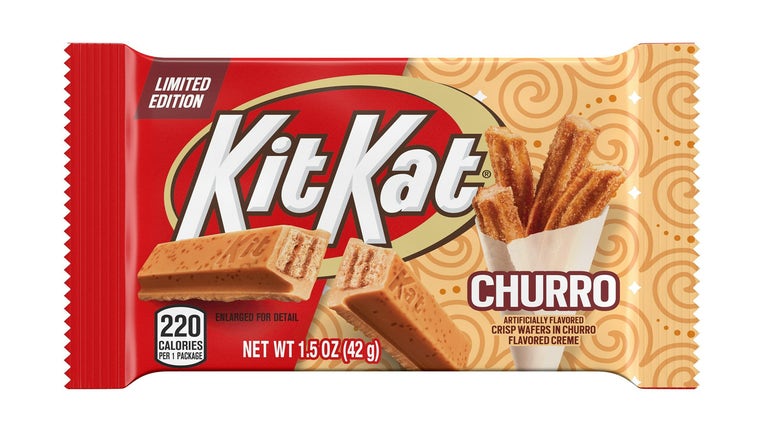 article
Kit Kat recently announced the launch of a new flavor coming to store shelves next month in honor of National Churro Day. 
The limited-edition flavor, called Kit Kat Churro, was inspired by the deep-fried pastry coated in cinnamon sugar that's popular in Spain, Mexico, and increasingly across the U.S.
The new Kit Kat product features a "buttery churro-flavored creme with sugar mixed between the brand's fan-favorite wafers," according to an announcement from the Hershey Company.  
Kit Kat Churro will be available in time for National Churro Day on June 6 in standard, king, and snack size. 
The brand has recently unveiled other limited-edition flavors to generate fan buzz, including Kit Kat Fruity Cereal, and Kit Kat Blueberry Muffin.
RELATED: Kit Kat cereal launches in US, General Mills confirms
"We love seeing fan's responses to our limited-edition KIT KAT flavors – especially one as universally loved as churros," Alex Herzog, Associate Kit Kat brand manager, said in a statement. 
"We hope that every bite of the buttery, churro flavor and familiar crispy crunch of our wafers unlocks memories of the delightful experience of enjoying freshly baked churros from the boardwalk stand, amusement park, or the local fair," Herzog added.
Other churro-inspired foods have made headlines in recent months. Last fall, Krispy Kreme unveiled "ChurrDough" treats with a variety of toppings.
In February, Burger King said it was testing a new "Fries, Your Way" menu with classic chicken, churro and mozzarella fries – while Ben & Jerry's launched a "Churray for Churros" ice cream flavor with a "crunchy buttery texture, cinnamon, and sugar."
This story was reported from Cincinnati.