Johnsonville issues recall for over 42,000 lbs of 'Beddar with Cheddar Smoked Sausage' links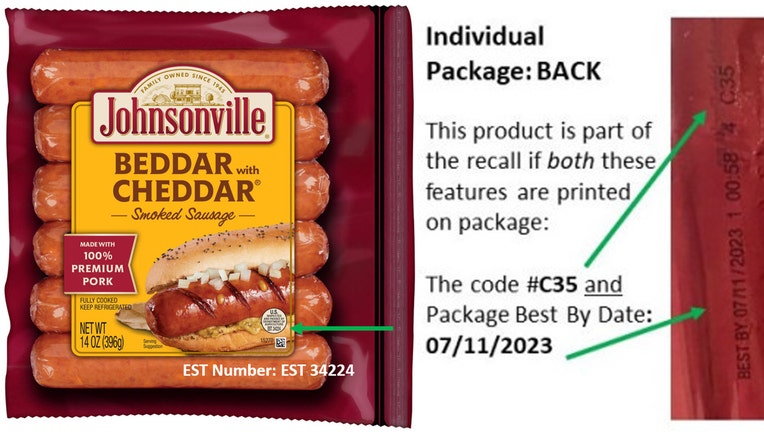 article
Johnsonville has issued a voluntary recall for more than 40,000 pounds of sausage links due to a report of a small, black, flexible thread-like material found in a link.
In a statement, the company identified the 14 oz. packages of "Beddar with Cheddar Smoked Sausage" in the Class 2 voluntary recall.
The amount of product affected in the recall is 4,807 cases or approximately 42,062 pounds of links. 
The affected smoked sausage links were shipped to 10 retailers' warehouses in 8 states, including Nebraska, North Dakota, Iowa, Missouri, Kansas, Colorado, Oklahoma and Texas.
JOHNSONVILLE RECALLS ABOUT 95,000 POUNDS OF JALAPEÑO CHEDDAR SMOKED SAUSAGES
The company says due to the small size and flexible nature of the material, FSIS (Food Safety & Inspection Service) believes it poses a very low risk for adverse health effects if consumed.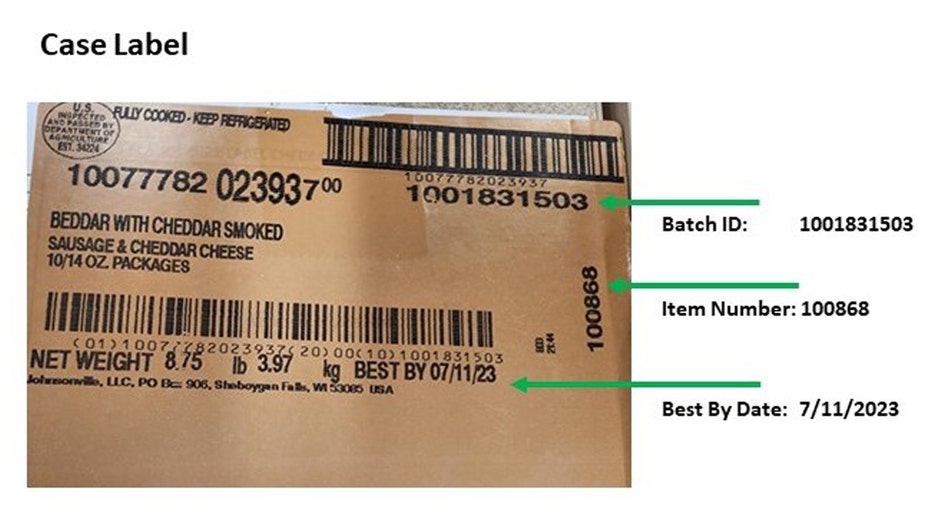 The case label for retailer identification. (Photo: Provided)
Johnsonville has alerted its retail partners to remove the affected product from their stores immediately.
STRAWBERRIES SOLD AT WALMART, COSTCO, HEB RECALLED OVER POSSIBLE HEPATITIS A CONTAMINATION
Consumers should be aware of three important pieces of information.
A "Best By" date of 07/11/2023 followed by the figure "C35" (found on back side of package along zipper closure); AND
An "EST 34224" number (found on the package's front side, lower right corner).
Consumers who have purchased the affected products are encouraged not to consume them. 
FROZEN FRUIT SOLD AT COSTCO RECALLED AMID OUTBREAK OF HEPATITIS A INFECTIONS
Consumers who have additional questions can call or text the Consumer Relations team at 888-556-2728 or complete a brief form in the "Contact Us" section of Johnsonville.com.