Idaho murders: Suspect charged with first-degree murder in killings of 4 college students
MOSCOW, Idaho - Authorities in Pennsylvania have arrested a suspect in the killings of four slain Idaho students, who were found stabbed to death in their beds more than a month ago, Moscow Police Chief James Fry said Friday.
The killings initially mystified law enforcement and shook the small town of Moscow, Idaho, a farming community of about 25,000 people that had not had a murder for five years. Fears of a repeat attack prompted nearly half of the University of Idaho's over 11,000 students to leave the city and switch to online classes.
Bryan Christopher Kohberger, 28, was arrested early Friday morning by the Pennsylvania State Police at a home in Chestnuthill Township, authorities said. He is being held for extradition to Idaho on a warrant for first degree murder, according to arrest paperwork filed in Monroe County Court. An extradition hearing is scheduled for Tuesday.
Awaiting extradition from Pennsylvania
Kohberger is being held without bond in Pennsylvania and will be held without bond in Idaho once he is returned, Thompson said, and the affidavit for four charges of first-degree murder in Idaho will remain sealed until he is returned. He is also charged with felony burglary in Idaho, Thompson said. An extradition hearing is scheduled for Tuesday.
Kohberger is a PhD student in the Department of Criminal Justice and Criminology at Washington State University. He is also a teaching assistant for the university's criminal justice and criminology program, according to WSU's online directory. University police assisted Idaho law enforcement in executing search warrants at Kohberger's home and office on campus, the university said. WSU officials did not immediately respond to a request for comment about Kohberger's work as a teaching assistant.
He graduated from Northampton Community College in Pennsylvania with an associate of arts degree in psychology in 2018, said college spokesperson Mia Rossi-Marino. DeSales University in Pennsylvania said that he received a bachelor's degree in 2020 and completed graduate studies in June 2022.
In a statement on his arrest, WSU said: 
"On behalf of the WSU Pullman community, I want to offer my sincere thanks to all of the law enforcement agencies that have been working tirelessly to solve this crime," said Elizabeth Chilton, chancellor of the WSU Pullman campus and WSU provost. "This horrific act has shaken everyone in the Palouse region."
"We also want to extend our deepest sympathies to the families, friends, and Vandal colleagues who were impacted by these murders," Chilton said. "We will long feel the loss of these young people in the Moscow-Pullman community and hope the announcement today will be a step toward healing."
This morning, the Washington State University Police Department assisted Idaho law enforcement officials in the execution of search warrants at Mr. Kohberger's apartment and office, which are both located on the WSU Pullman campus. WSU Police are working closely with local, state, and federal law enforcement officials as they continue their investigation.
Kohberger had completed his first semester as a PhD student in WSU's criminal justice program earlier this month."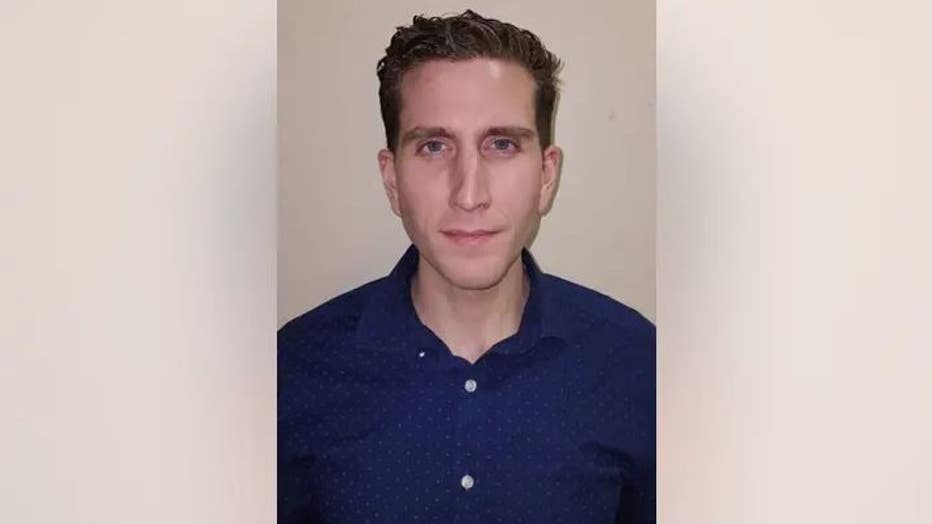 Bryan Christopher Kohberger, 28, was arrested in connection to four murders in Moscow, Idaho.
The Idaho students — Kaylee Goncalves, Madison Mogen, Xana Kernodle and Ethan Chapin — were stabbed to death at a rental home near campus sometime in the early morning hours of Nov. 13. Investigators were unable to name a suspect or locate a murder weapon for weeks.
The case broke open after law enforcement asked the public for help finding a white Hyundai Elantra sedan seen near the home around the time of the killings. The Moscow Police Department made the request Dec. 7, and by the next day had to direct tips to a special FBI call center because so many were coming in. By mid-December, investigators were working through nearly 12,000 tips and had identified more than 22,000 vehicles matching that make and model.
Search for the murder weapon
"We are still looking for the weapon," Fry said. "I will say that we have found an Elantra."
RELATED: Bryan Kohberger: What we know about suspect in deaths of Idaho college students
Goncalves, 21, of Rathdrum, Idaho; Mogen, 21, of Coeur d'Alene, Idaho; Kernodle, 20, of Post Falls, Idaho; and Chapin, 20, of Conway, Washington, were members of the university's Greek system and close friends. Mogen, Goncalves and Kernodle lived in the three-story rental home with two other roommates. Kernodle and Chapin were dating and he was visiting the house that night.
Fry was emotional as he announced the arrest, calling the victims by their first names. The chief has said in the past that everyone on the force feels strongly about solving the crime, at times choking up when discussing the impact on the victims' families and the close-knit rural community.
Autopsies showed all four were likely asleep when they were attacked. Some had defensive wounds and each was stabbed multiple times. There was no sign of sexual assault, police said.
Chief Fry said they're still "putting all the pieces together" to determine motive.
Victim's families react
Shanon Gray, an attorney representing Goncalves's father, Steve Goncalves, said law enforcement officials called the family last night to let them know about the arrest, but gave no additional information about how or why they believe he might be connected to the murders.
"Obviously they're relieved that someone has been arrested," Gray said. "You guys know about as much as we do right now."
On Facebook, Chapin's mother, Stacy Wells Chapin, wrote: 
"We are relieved this chapter is over because it provides a form of closure. However, it doesn't alter the outcome or alleviate the pain. We miss Ethan, and our family is forever changed. Over the last seven weeks, we stood by the Moscow Police Department, FBI, and Idaho State Police, confident they would solve this crime. So, when we received the phone call last night, we congratulated them for their diligent work and service.
We remain grateful to the University of Idaho and the Sigma Chi fraternity for their ongoing support. We also appreciate the outpouring of kind words from so many others, which we'll need as we enter the next chapter of this nightmare. Today, we marvel at the continued stories about Ethan and the lives he touched in his short 20 years. If we all lived and loved as Ethan did, the world would be a better place." 
Ben Roberts, a graduate student in the criminology and criminal justice department at WSU, described Kohberger as confident and outgoing, but said it seemed like "he was always looking for a way to fit in."
"It's pretty out of left field," he said of the news Friday. "I had honestly just pegged him as being super awkward."
Roberts started the program in August — along with Kohberger, he said — and had several courses with him. He described Kohberger as wanting to appear academic.
"One thing he would always do, almost without fail, was find the most complicated way to explain something," he said. "He had to make sure you knew that he knew it."
RELATED: Idaho murders: King Road crime scene to be cleaned starting Friday, nearly 20,000 tips received
Pullman, Washington is a 15-minute drive from the rental home where the four students were stabbed to death.
Police said Thursday the rental home would be cleared of "potential biohazards and other harmful substances" to collect evidence starting Friday morning. It was unclear how long the work would take, but a news release said the house would be returned to the property manager upon completion.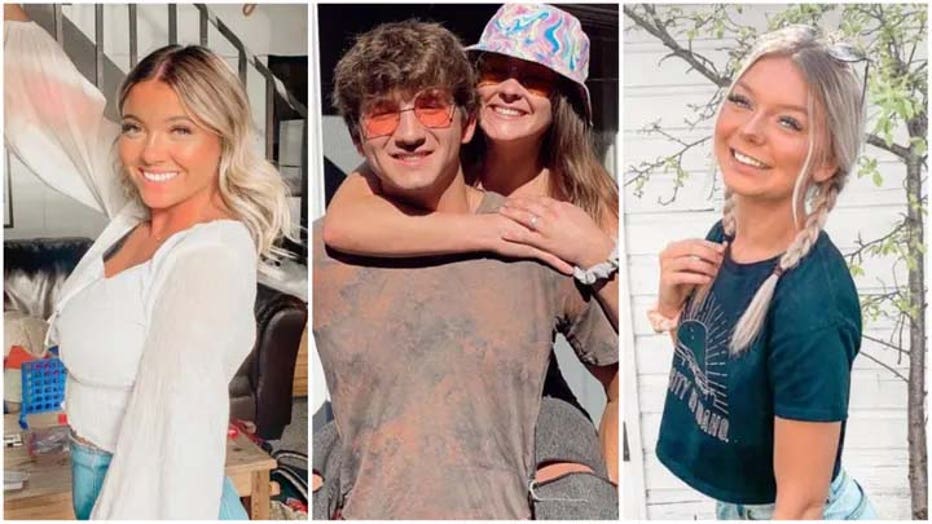 From left to right: Kaylee Goncalves, 21, Ethan Chapin, 20, Xana Kernodle, 20, and Maddie Mogen, 21, the victims of Nov. 13 University of Idaho massacre. (Instagram @xanakernodle / @maddiemogen / @kayleegoncalves)
A white Hyundai Elantra was towed from the home where the suspect was arrested, law enforcement officials said.
Moscow: Small town community
The stabbing deaths shook the small town of Moscow, Idaho, a farming community of about 25,000 people - including roughly 11,000 students - tucked in the rolling hills of the northern Idaho's Palouse region.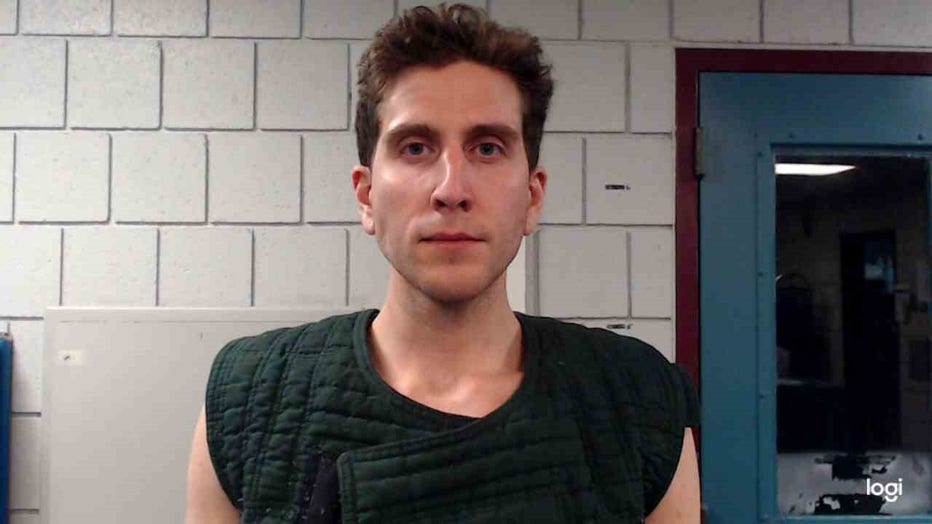 Photo shows Bryan Kohberger, 28, who was being held for extradition in a criminal homicide investigation in the killings of four University of Idaho students. (Credit: Monroe County Correctional Facility)
The four students were each stabbed multiple times in the torso and were likely ambushed in their sleep with a large fix-bladed knife between 3 a.m. and 4 a.m., according to the coroner and police.
Two surviving female roommates, who lived on the basement level, appeared to have slept through the gruesome attack.
RELATED: Idaho murders: Leaked image appears to show victims inside local bar hours before unsolved stabbings
Shortly before noon, the roommates summoned friends to the house because they believed one of the victims on the second-floor had passed out, authorities said.
Police responded to a 911 call reporting an unconscious person at 11:58 a.m. that originated from one of the surviving roommates' phones.  The responding officers found the four butchered victims on the second and third floors.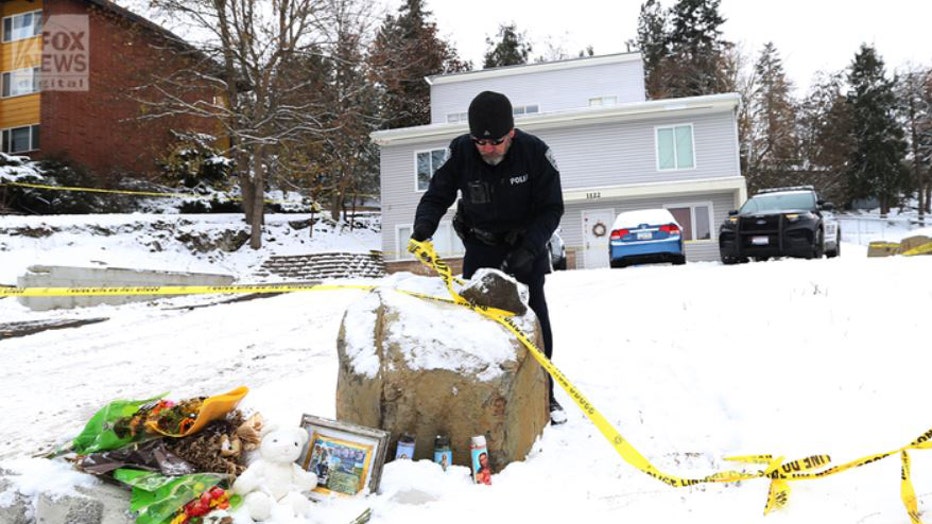 A Moscow police officer is seen fixing the crime scene tape outside of the home where four University of Idaho students were stabbed to death. (Derek Shook for Fox News Digital)
The Moscow Police Department released a detailed timeline of the victims' movements in the hours before and after the massacre. 
Goncalves and Mogen went to a bar downtown, the Corner Club, before ordering food from the Grub Truck at around 1:40 a.m.  
The women used a "third-party" driver and were home by 1:56 a.m., according to police.
Kernodle and her boyfriend, Chapin, went to a party at the Sigma Chi house on campus and returned to the King Road home at 1:45 a.m.
The Moscow Police Department, which is working with the FBI and the Idaho State Police, has said that the attacks were "targeted."
Investigators have focused on tracking down the occupants of a 2011 to 2013 white Hyundai Elantra that was spotted near the home at the time of the murders.
Chapin was a freshman from Mount Vernon, Washington, and a member of the Sigma Chi fraternity. He was studying recreation, sport and tourism management, according to the school.
Chapin's girlfriend, Kernodle, who was from Avondale, Arizona, was a junior majoring in marketing and a member of the Pi Beta Phi sorority.
Mogen was a senior from Coeur d'Alene, Idaho, studying marketing and a member of the Pi Beta Phi sorority, according to the university.
Goncalves, who was from Rathdrum, Idaho, was a senior majoring in general studies and a member of the Alpha Phi sorority.
She had been set to graduate early in December and planned to move to Austin, Texas, where she had a marketing job lined up. She was also looking forward to an upcoming trip to Europe.  
RELATED: Idaho murders: Kaylee Goncalves' Range Rover retrieved from city lot
Police Chief James Fry, along with officials from the Moscow Police Department, Idaho State Police, the City of Moscow and University of Idaho held the news conference at 1 p.m. PT in the City Council Chambers at 206 E. 3rd Street of Moscow City Hall. Watch it live here.
The case also enticed online sleuths who speculated about potential suspects and motives. In the early days of the investigation, police released relatively few details publicly.
Fears of a repeat attack prompted nearly half of the University of Idaho students to switch to online classes for the remainder of the semester, abandoning dorms and apartments in the normally bucolic town for the perceived safety of their hometowns. Safety concerns also had the university hiring an additional security firm to escort students across campus and the Idaho State Police sending troopers to help patrol the city's streets.
In an email to students, staff and parents, University of Idaho President Scott Green said: 
"Bryan Christopher Kohberger was arrested in Pennsylvania last night in connection with the King Street homicides, according to the Moscow Police Department. The U of I does not appear to have any record of Kohberger. No motive has been released by law enforcement.
This is the news we have been waiting for and a relief for our community and most importantly, the families of Kaylee Goncalves, Madison Mogen, Xana Kernodle and Ethan Chapin. We are grateful for the hard work of law enforcement to protect our community and bring justice.
It has been a stressful time for our university, but we never lost faith that this case would be solved and are grateful for the hard work of the MPD and their law enforcement partners. We appreciate the increased security presence of the Idaho State Police to bring comfort and calm to a community shocked and confused by this senseless crime. This was made possible by Gov. Brad Little's financial support. Vast and committed FBI resources brought important expertise to this complex case. Across the board, dedicated, highly competent personnel worked on this case."
Green went on to say that counseling services will remain available to all students over the break and when classes resume on Wednesday, Jan. 11. 
Classes in self-defense, vigilance, stalking awareness, healthy relationships and more, as well as the distribution of personal safety devices, will continue as planned, Green said. 
Additional security personnel have been added to the university's security team and local law enforcement will increase patrols on campus and in nearby neighborhoods.
Green ended the email with: 
"The outpouring of support from across the state and nation helped sustain us during this most trying time. For the past several weeks, we were all Vandals, and that provided the strength that helped us navigate the international scrutiny visited on our students and employees. Kindness is contagious and provided light that reclaimed ground lost to evil and darkness. We are thankful for the compassion shown to our community.
The care for each other and resilience of our students and employees has been remarkable. Our students come first, and that was proven each and every day of this investigation. We are committed to safely delivering the college town atmosphere, campus experience and high-touch, quality education for which the University of Idaho is known.
While we cannot bring back Maddie, Kaylee, Xana and Ethan, we can thoughtfully and purposefully carry their legacy forward in the work we do. The next few months will be tough on their friends and families as the legal system begins the process of publicly prosecuting these crimes to bring justice. Let's keep them in our thoughts and prayers and continue to stand #vandalstrong." 
RELATED: Idaho murders: Moscow police chief floats potential release of 911 call
The Moscow Police Department is continuing to investigate and detectives are still looking for any tips involved in the murders.
As of this week, the department has received nearly 20,000 tips related to the investigation. 
Authorities are asking anyone with information about the incident to call 208-883-7180 or tipline@ci.moscow.id.us.
The Associated Press and FOX News contributed to this report.