How reliable are old wives' tales for forecasting winter weather?
We have all heard old wives' tales and folklore passed down through generations to predict the length and severity of winter: caterpillar stripes, acorn size, and seed shape. But how reliable is the size of a pig's spleen for forecasting weather?
To write this story, we looked past all the countless meteorologists at FOX Weather with forecasts and theories about how hard winter will hit. We put aside mathematical models and computer algorithms in favor of nature's opinion. 
The Old Farmer's Almanac, first published in 1792, includes many anecdotal weather forecast tips. However, the almanac claims that the founder, a contemporary of George Washington, developed his long-term forecasting based on sunspots.
"While we can neither confirm nor deny the reliability of this folklore, we do know that, centuries ago, folks observed such phenomena and noticed corresponding weather patterns, so at The Old Farmer's Almanac, we allow that there just might be some truth to it," wrote avid gardener Robin Sweetser for the Farmer's Almanac.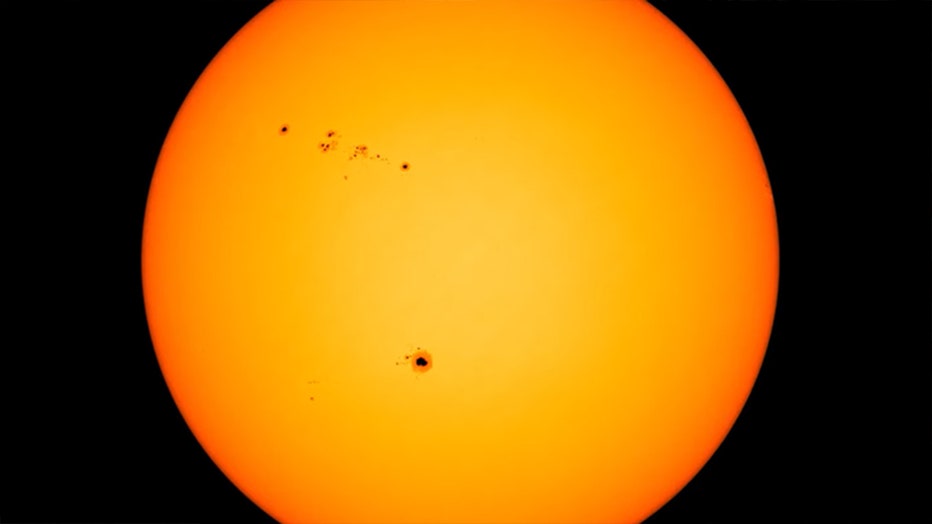 File: Under perfect viewing conditions, sunspot AR3310 can be seen without a telescope, with the right protection. (Solar Dynamics Observatory / NASA)
Wooly bear caterpillar
Our meteorologists differed on weather lore as fact or fiction, as well. We start with the wooly bear caterpillars.
STRONG EL NINO WINTER: WHAT KIND OF WEATHER YOU CAN EXPECT
"For a forecast, you have to look at what science is coming in and not coming from someone who believes in the wooly worm," said meteorologist Amy Freeze about the caterpillar, also called the wooly worm.
She said that there are 13 colored segments on a wooly bear caterpillar. Each represents one of the 13 weeks of winter. More brown segments indicate a mild winter, while more black segments call for a severe winter.
"And if you look at the wooly worm, the brown versus the black, lets you know the trending of the 13 weeks of winter. If it's all black like that, you better run for cover," she continued.
Meteorologist Stephen Morgan wasn't so quick to toss the worm theory.
"I could for sure get behind one of these because with creatures and caterpillars, the wooly worms here, they will adapt to a climate," he argued. "But what signals can these animals have that we can't."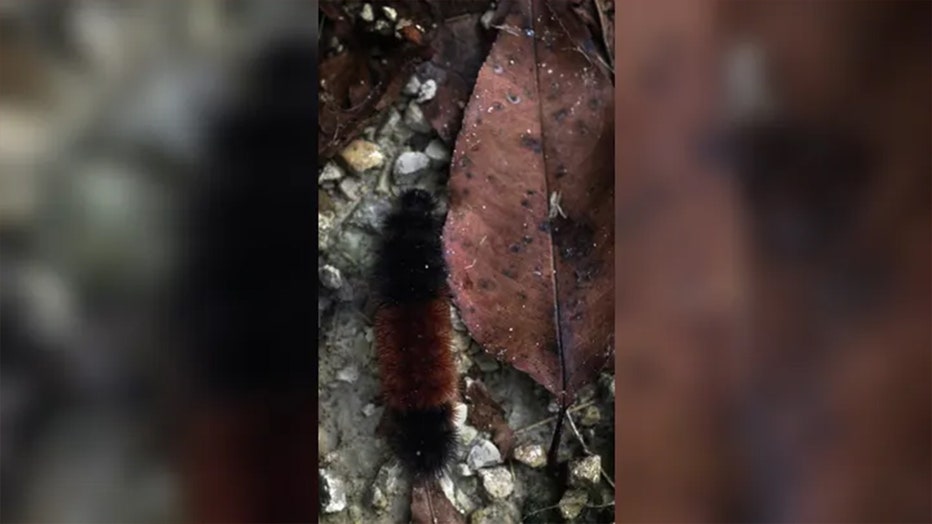 File: The wooly bear caterpillar is made of 13 colored segments. Lore says that this insect calls for a harsh several weeks to start and finish the winter but mild (brown) in between. The caterpillar will eventually become an Isabella moth. (DARLENE
According to the Farmer's Almanac, the lore started in 1948. The insect curator at New York's Museum of Natural History conducted an informal study that made the newspaper. 
The Almanac then asked an etymologist at the University of Massachusetts if there was any scientific fact in the lore. He said that "there is evidence" that the number of brown hairs has to do with the age of the caterpillar and how late it started growing in the spring. Therefore, the correlation could only be made about the previous year.
Persimmon seeds
Some look to the shape of the interior of a persimmon seed to forecast winter weather.
"If it's shaped like a spoon, you're going to get a lot of snow. If it's shaped like a fork, maybe a lighter snow," said Morgan. "If it looks like a knife, it's going to be cutting or very harsh cold temperatures."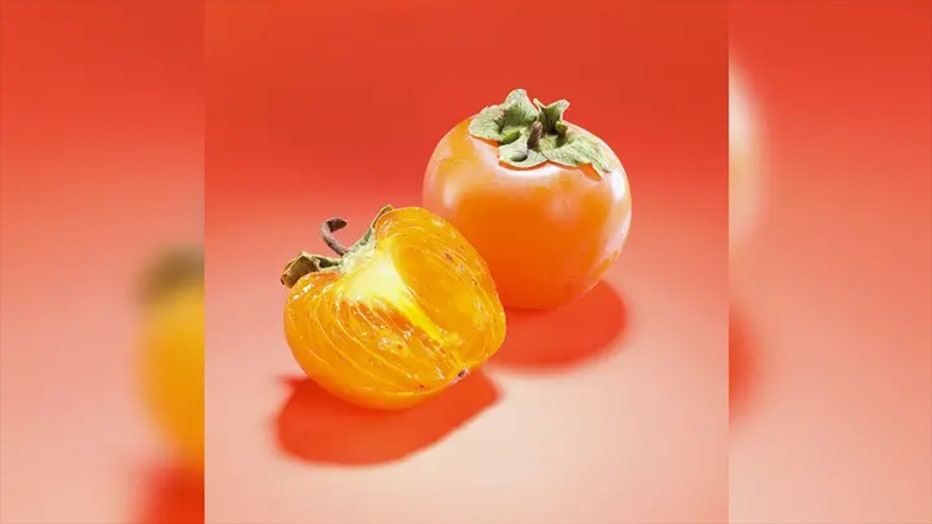 File: A whole and cut persimmon. (DeAgostini / Getty Images)
The Jefferson County Extension Office in Missouri has been slicing persimmon seeds for 20 years. The seed shapes have been accurate 75% of the time, according to Successful Farming.
Nuts, veggies and more fruit
A crop of large and plentiful acorns and pinecones means a cold winter, according to lore. The thicker and harder an acorn, hickory nut or walnut's shell, the worse the winter, according to Successful Farming. 
SEE MORE THAN 700 POUNDS OF ACORNS THAT WOODPECKERS HORDED IN WALLS OF CALIFORNIA HOME
A naysayer from the Missouri Department of Conservation told FOX 2 St. Louis that abundant acorns come from a good spring and summer.
Squirrels gathering nuts early also means a hard winter, according to FOX 8 Cleveland retired meteorologist Dick Goddard. He also suggested that thicker than normal onion skins and corn husks mean a rough winter.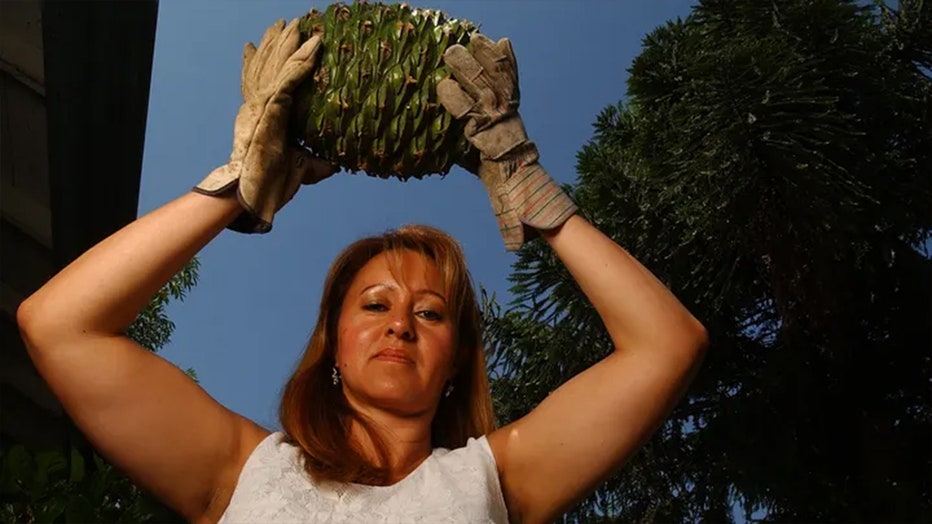 File: A huge pinecone from a Bunya pine in Sylmar, California. (George Wilhelm/Los Angeles Times / Getty Images)
The Missouri official said the thicker corn husks probably come from a wet spring and summer.
Plentiful crops of berries and fruit trees like apples indicate a cold winter. 
HOW ACCURATE IS PUNXSUTAWNEY PHIL?
Mushrooms even made the Almanac's forecast lore list, "Mushrooms galore, much snow in store. No mushrooms at all, no snow will fall."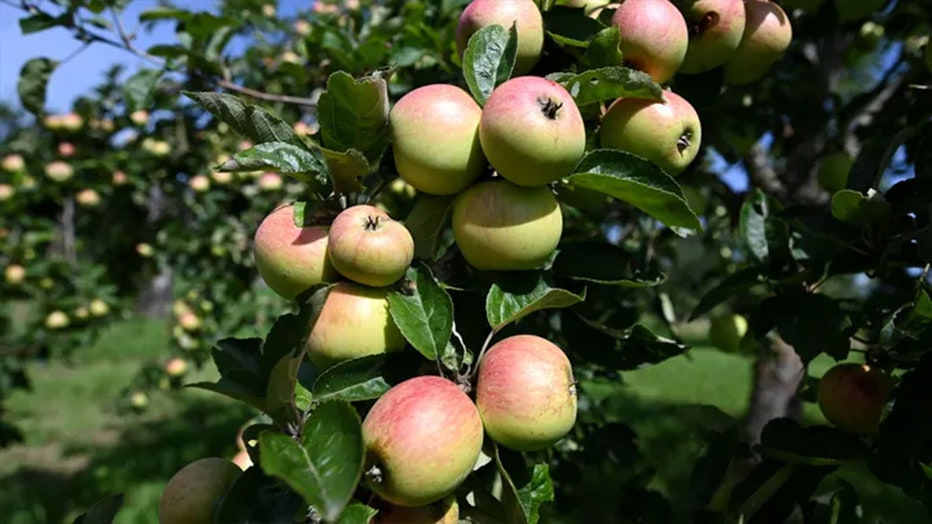 File: Branches heavy with apples. (Arne Dedert/picture alliance / Getty Images)
Pigs, squirrels and beavers – oh my
A Saskatchewan farmer insisted that a pig spleen could forecast 6-months ahead, according to Successful Farming. There is even a Pig Spleen Weather Prognostication social media page. Looking at the thickness of the six chambers of the spleen can forecast weather, it claims.
Goddard also stated that pigs gathering sticks means a hard winter. And get some good gloves if you see raccoons with thick tails and bright bands.
Squirrels with bushy tails point to a cold winter. And the higher they stash their nuts in a tree, the deeper the snow will be, writes the Almanac.
FARMERS' ALMANAC DECLARES 'THE BRRR IS BACK' WITH PREDICTED 'SNOWY' WEATHER IN WINTER OUTLOOK
A fat beaver with a thick coat calls for a harsh winter. The Almanac states that indigenous people judged the harshness of winter on the size and strength of a beaver lodge.
For the birds
Several sources suggest that early migration of geese, ducks and butterflies signals a tough winter, according to Goddard, along with woodpeckers sharing a tree.
OVER 300 MILLION BIRDS START ANNUAL FALL MIGRATION TO SOUTH FOR WINTER
"If the rooster molts before the hen, we'll have winter thick and thin," states the Almanac. "If the hen molts before the cock, we'll have winter hard as a rock."
Insect and rodent forecasters
If bees build nets inside a building, expect a hard winter. And winter snow will be as high as hornets build their nests, claimed the Almanac.
WHERE DO BEES GO IN THE WINTER
"If ant hills are high in July, winter will be snowy," the publication continued.
A mole hole deeper than 2.5 feet signals a massive snowstorm, while a shallow hole means a mild winter, according to Successful Farming.
The magazine also claims that mice and spiders will move into your home ahead of a harsh winter. Spiders also build larger webs.
Previous weather
The Almanac has several sayings to predict winter weather.
"If a cold August follows a hot July, It foretells a winter hard and dry."
"For every fog in August, There will be a snowfall in winter."
DOES MARCH REALLY COME IN LIKE A LION AND GO OUT LIKE A LAMB?
"If the first week in August is unusually warm, The coming winter will be snowy and long."
"A warm October, a cold February."
"As the days lengthen, the cold strengthens."
"Thunder in winter, it will snow seven days later."
And, of course, we know what rodent to turn to in winter to get the spring forecast. Leave it to nature.