Firefighters conduct training on High Roller in Las Vegas – tallest Ferris wheel in US
LAS VEGAS - Firefighters conducted a rescue training exercise Wednesday atop the High Roller in Las Vegas – a 550-foot-high Ferris wheel that is the tallest in North America. 
According to local media, the Clark County firefighters take part in the unique training exercise annually, where they practice bringing down a civilian from one of the pods.
Clark County officials published footage of the exercise March 29 on social media. 
In the videos, firefighters are shown in all of their gear, climbing and scaling the observation wheel, located on the Las Vegas strip. 
Officials said the observation Ferris wheel is an "ideal tool for complex, high-angle rescue drills."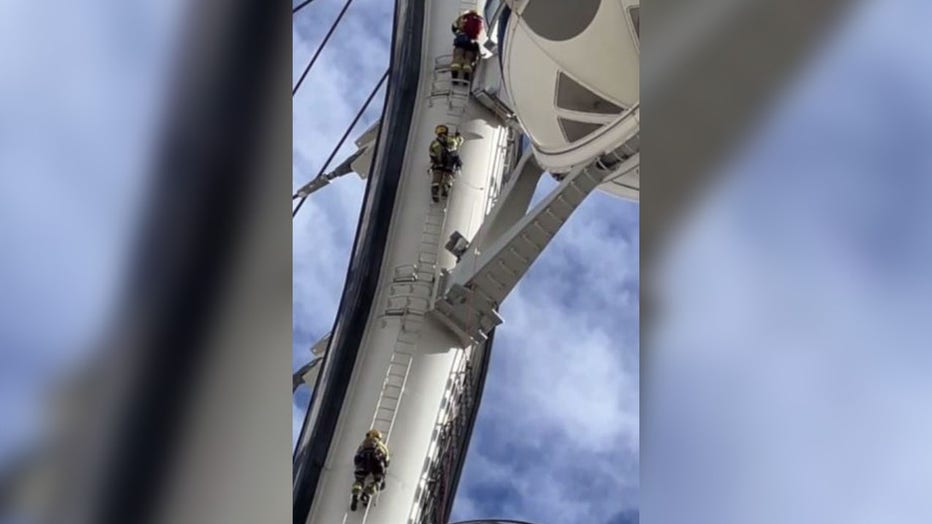 "The skills our firefighters hone today will be useful for a variety of emergency scenarios such as when rescuing window washers or construction crew members from scaffolding," the county wrote.
RELATED: Snow falls on Las Vegas on Valentine's Day - 1st time since 1937
Owned and operated by Caesars Entertainment, the High Roller Ferris wheel opened to the public on March 31, 2014 as the world's tallest Ferris wheel. The Ain Dubai in the United Arab Emirates is now the tallest Ferris wheel in operation at 820 feet. It opened to the public in 2021.
This story was reported from Los Angeles.