Diocese of Orange announces limited public masses can begin June 14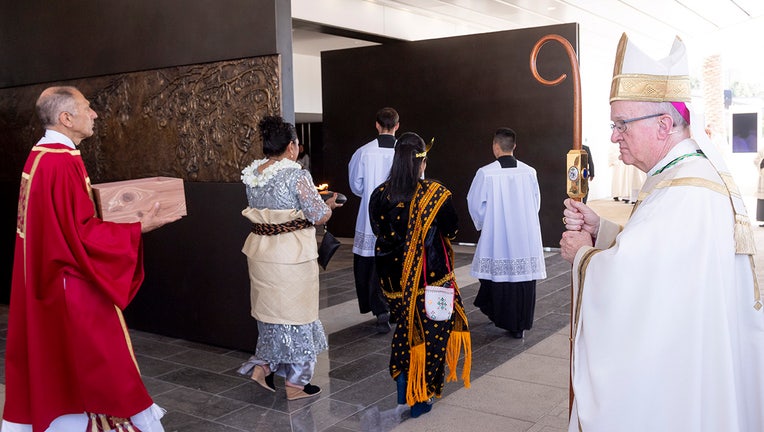 GARDEN GROVE, Calif. - The Roman Catholic Diocese of Orange announced Friday that public masses can begin in Orange County starting June 14 in a phased-in approach that will include measures to safeguard public health.
"After extensive consultation over these past few months with civil authorities, County of Orange Health Authority, as well as with our medical advisors, the decision was made to gradually open the churches for Mass with strict guidelines for attendance including important requirements for the distribution and reception of Holy Communion and the safety and health of all who attend," the Diocese said.
Officials say all phases of this plan require following strict guidelines for social distancing and sanitization, including:
· Those over age 65 and/or with a co-morbidity will be encouraged to consider not returning to Mass just yet, and anyone showing any symptoms of sickness, or anyone who has a household member who is sick or showing symptoms of sickness should not come to church.
· The church will be thoroughly sanitized/cleaned before and after each service, including all entryways and doors. Holy water fonts will be empty, and hymnals removed.
· Hand sanitizer will be available at all churches.
· All local safety orders specifically relating to proper face coverings will be followed.
· People will be instructed to not engage in any physical touch, such as by greeting each other.
· Signs and other instructions will encourage normal safe practices necessary to avoid the spread (e.g. cough or sneeze into a shirtsleeve, handkerchief, or tissue; avoid touching the eyes, nose, and mouth).
· Ventilation will be increased as much as possible by opening windows and doors, as weather permits.
· The sign of peace and distribution of the Precious Blood is suspended.
"The pandemic is far from over so we will begin with small steps," said Bishop Vann. "Realizing that reinfection is a concern, as we saw occurred in Texas and elsewhere, I am asking our pastors to prepare their churches to ensure that these guidelines are followed without exception."
The Diocese announced that phase one brings smaller groups of healthy Catholics back to a limited Mass with strict social distancing guidelines and rules. Phase two would allow larger groups while phase three would allow choirs to return to church and social gatherings to resume. 
Catholics should visit the website of their parish for eventual specific instructions on how their parish will offer Masses and how attendance will be allowed, officials said. Many parishes will continue to live stream Masses.
The Diocese encourages anyone who is at-risk or does not feel comfortable attending a public gathering should stay home.