'AirBNB of fashion': New app wants to help you rent out your closet and save the planet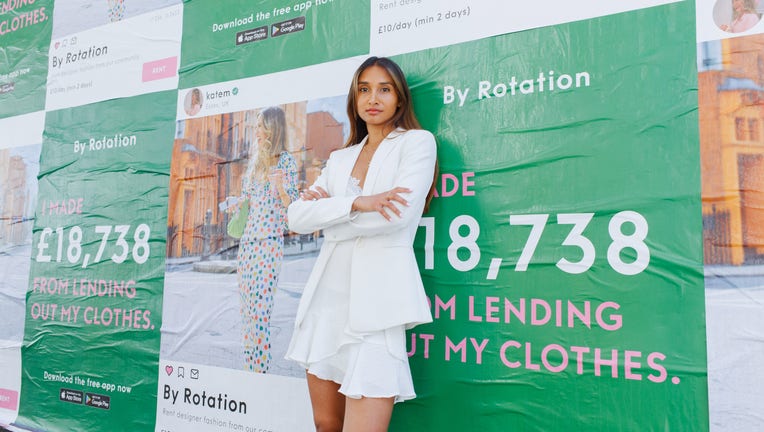 article
LONDON - A peer-to-peer fashion rental app, nicknamed "the AirBNB of fashion," launched this year in the United States – aiming to help eliminate the negative impacts of fast fashion by helping you rent out your clothes. 
The app, called By Rotation, first launched in the U.K. in 2019 with a focus on community and sustainability in fashion and expanded to the U.S. in May. With larger players like Rent the Runway, Le Tote, Nuuly, and more, it's among a number of online clothing rental companies that have sought to reach consumers who can't afford to – or simply don't want to – shell out cash on clothes for just one or two occasions.
One thing that sets By Rotation apart is that it has no clothing inventory and doesn't charge its users a subscription fee. Instead, it relies on users to rent out and monetize quality pieces from their own wardrobes. 
By Rotation, founded by ex-investment analyst Eshita Kabra, uses "smart pricing," where it suggests a rental price based on the retail value of the item to be loaned. There's also a minimum rental period that the lender can set themselves. Lenders and potential renters can communicate on the app about the clothing items and terms of the rental.
"So they are very much in control of how they want to price the item, how they want to exchange the item with the renter, and how they want to clean the item, because they can add a cleaning fee if they want," Kabra explained to FOX Television Stations. "Very similar to Airbnb."
For those who rent out their closets on the app, Kabra said they have a certain standard of what's acceptable. You won't find fast fashion items, or the low-priced items that drop every few weeks at retail stores to meet trends. Instead, users are encouraged to rent out vintage, contemporary or high-end pieces, which are curated and approved by the app team.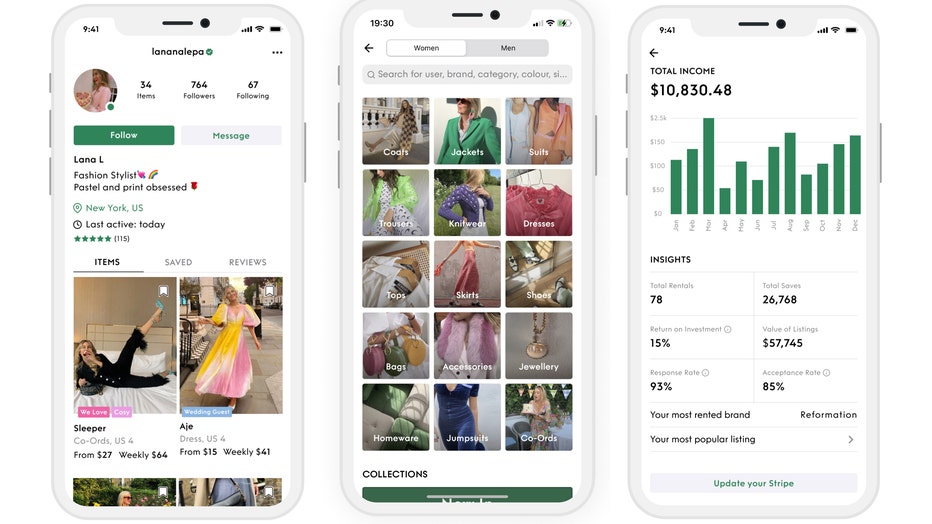 By Rotation, an app that launched in the U.S. in May 2023, is pictured in provided screenshots.
"Things like fast fashion or fake items of designer brands – that's against the values and principles of what we're doing at By Rotation, because for us, it's very much about consuming less and also transforming fashion consumption for good," Kabra said.
If an item is damaged, By Rotation says it will help facilitate a reimbursement for the cost of repair. If the item is damaged beyond repair or stolen, the renter is required to reimburse the lender for the estimated market value of the item – or replace the item.
By Rotation says it has more than 350,000 registered users in the U.K., and since launching last month in the U.S., has added over 4,000 registered American users. 
Online clothing rental market projected to grow
The fashion rental pioneer, Rent The Runway, allows customers to rent, subscribe or buy designer apparel from its inventory and has enjoyed significant growth in the nearly 15 years since its launch. Earlier this month, Rent the Runway reported a record-high active subscriber count for Q1 of 2023 and a 10.6% revenue increase year-over-year.
Overall, the global market for online clothing rentals was worth an estimated $1.21 billion in 2021, and expected to grow by 8.5% by 2030, according to the firm Grand View Research. 
Experts say a number of factors are likely fueling growth in the online fashion rental space, including more environmentally-conscious consumers. 
A 2022 report published by IBM and the National Retail Federation found that half of consumers say they're willing to pay a premium for sustainability. Additionally, purpose-driven consumers – or those who choose products and brands based on how well they align to their values – made up the largest segment (44%) of consumers.
Meanwhile, social media platforms like TikTok have given rise to a number of lightning-fast clothing trends. With inflation squeezing consumers' wallets, access to higher-quality pieces at a fraction of the price may increase the attractiveness of clothing rentals. 
"People are now viewing fashion more and more as an investment," Kabra noted. "It's kind of something that people are very conscious and strategic about… We've actually made it cool to be much more pragmatic and conscious about how you're spending on fashion."
Fast fashion was 'affecting my own people'
By Rotation was started as a "side hustle" while Kabra worked in the investment management industry. Around the time she was planning her honeymoon to Rajasthan, India, she had the initial thought of renting clothes "for the trip of a lifetime."
"I thought, 'Wow, it would be so nice to borrow some clothes for this beautiful holiday," Kabra said. "If only all these women who you see on social media could lend out their belongings because you never see them repeating their clothes, ever. So that's when this idea for sharing, renting clothes came about."
With the idea brewing, Kabra noticed a lot of textile waste once she was actually on her honeymoon in India – particularly in her suburban hometown. 
"I just couldn't help but feel that this love for fashion that I had was actually very, very harmful to the planet and in fact, had a very ugly side of it to it, which was affecting my own people," Kabra said.
The environmental impacts of the fast fashion industry that Kabra noted have been well-documented. 
The fashion industry produces between 2% to 8% of global carbon emissions, according to the United Nations Environment Programme — while other more recent figures have estimated 8%-10%. It also consumes a large amount of water, requiring around 2,000 gallons to make a typical pair of jeans. 
Meanwhile, textile dyeing is also the second-largest polluter of water globally, the UN program says. As many experts have pointed out, factories moving overseas may be in countries without strict environmental regulations — resulting in untreated water entering the world's oceans. 
Cheaply-made clothing is also easily discarded after being worn only a few times, which ends up in places like Chile's Atacama desert, where some 39,000 tons of discarded clothing have amassed, according to a 2021 report by the Agence France-Presse. 
In India, textile waste accounts for 8.5% of the global total, and only 59% of the textile waste in the country finds its way back into the industry through reuse and recycling, according to a Fashion for Good study released in 2022.
When in Rome, dress like the Romans do
While By Rotation has focused so far on the working professional woman – with most of its users being female – they also have menswear items listed, and she envisions a future app that expands beyond clothing to other categories like homeware, sports equipment and other rental items.
"I would love to rent Paddleboards," Kabra said. "You could also probably rent art in the future. Say if you were having a pop-up store for a week or month, maybe it's your big birthday, or like a wedding celebration and you want to have a really cool piece of art."
But for now, clothing remains the focus as the company works to expand its presence in the U.S. and aims for a world where people take vacations and pack light.
"We've been joking with the team. Say you're going to Miami – So when in Miami, dress like LMFAO or whatever it is, right? In the future you could just go with an empty suitcase and rent from locals," she said. "That's the world I want to live in any way."
This story was reported from Cincinnati.